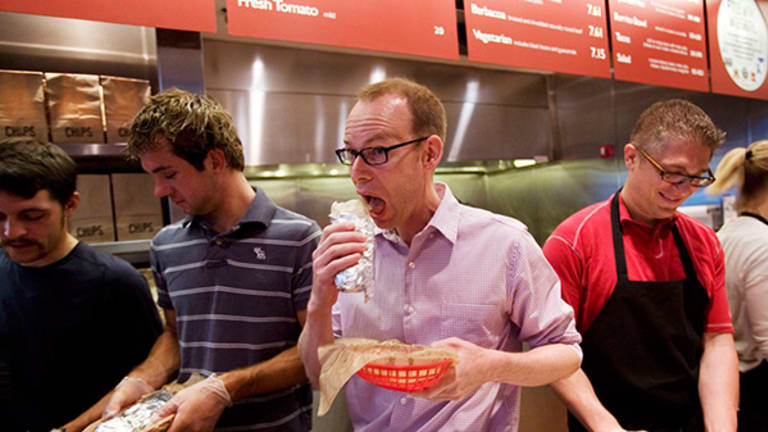 Is Chipotle's Founder Incompetent?
No punches pulled here. Chipotle's Steve Ells still doesn't get it.
Putting aside Chipotle (CMG) - Get Chipotle Mexican Grill, Inc. Report founder Steve Ells' missing likability factor, it's very hard to root for a comeback for the better burrito joint, for one overarching reason.
Even after more than a year of financial struggles and social media ridicule following its high-profile food safety issues, Chipotle still doesn't get it on so many fronts. Ells and his team are operating on the assumption that Chipotle continues to be an unstoppable restaurant growth juggernaut. There is no sense of humbleness from executives on earnings calls. The company continues to keep the media at bay -- hell, this is a company that won't even share what new dessert they recently completed testing. It's dessert, for Pete's sake!
And amid all of this, there is the wild-eyed Wall Street coverage crew. This group of suits don their still-insane price targets on Chipotle shares and pen notes waxing poetic on how the company could easily return to its glory days.
It all needs to be called as such, borderline insanity.
"There is a level of incompetence of Steve Ells to articulate a strategy he never had to grow a company through turbulent times," well-known restaurant analyst Howard Penney of Hedgeye Risk Management tells TheStreet. Penney, who has a $200 price target on Chipotle (that is 53% below current levels, for those wondering), has been one of the rational thinkers on Chipotle throughout the chain's fall from grace, unlike most on Wall Street.
Chipotle founder Steve Ells
As for the reason why Chipotle's stock hasn't plunged despite continued weak sales, Penney explains that Wall Street is banking on the company hitting its profit goals for the year. But by September, says Penney, it will likely be apparent Chipotle will not come anywhere near its bottom line expectations.
Here are two very simple examples of Chipotle still not getting it.
Continuing to Open a Ton of Stores
Chipotle said Thursday that it will open an astronomical 195 to 210 new restaurants this year. That is despite Ells admitting that Chipotle continues to struggle retaining store employees, keeping the stores clean and offering good customer service. "Every restaurant company that has been through a crisis has hit the reset button on store growth, but not Chipotle", says Penney, who adds that Chipotle could easily earn over $12 a share if it would open around 50 or fewer restaurants a year.
"The biggest problem they have is opening all these restaurants -- if they keep doing it, they won't ever get back to peak profitability," Penney explains.
TheStreet's Jim Cramer says Chipotle has another big issue:
Overall, this is the clearest sign available that Ells and his executive team are delusional and may lack the experience necessary to successfully turn the company around. Remember, Ells didn't necessarily have to fight like hell to build Chipotle from the ground floor -- he had big-time help from former parent company McDonald's (MCD) - Get McDonald's Corporation (MCD) Report . Ells essentially took Chipotle public in 2006 as a turnkey restaurant investment with a solid balance sheet, thanks in large part to the Golden Arches. The bespectacled Ells is a classically trained chef, who for seemingly forever has only focused on Chipotle's menu.    
Outlandish Guidance
Chipotle executives on the conference call reiterated that they see a path toward $10 a share in earnings this year. To be sure, they tried to talk down Wall Street expectations by emphasizing a lot has to go right. But, just the fact they left the goal in place in the face of weak same-store sales trends, rising labor costs, its biggest ever marketing campaign this April and expense pressure from the dizzying number of new restaurant openings is disingenuous. In effect, the company is not keeping it real with analysts and investors. 
If Chipotle truly got it, it would have kitchen-sinked the earnings guidance for 2017 months ago, to set things up for a beat and raise story. Indeed, doing that would have taken a degree of humbleness that Chipotle still can't seem to muster. So instead, Chipotle leaves its inflated expectations out there for Wall Street to model on and investors to hope and pray on. 
What's a turnaround worth rooting for, you ask? Hostess Brands (TWNK) - Get Hostess Brands, Inc. Class A Report , the once bankrupt baked goods maker. It has a seasoned, humble leadership team that is quietly reinventing the company from the ground floor and likely putting it in a position to be taken over within a few years. As for Chipotle, no go.
Employees of TheStreet are restricted from trading individual securities.