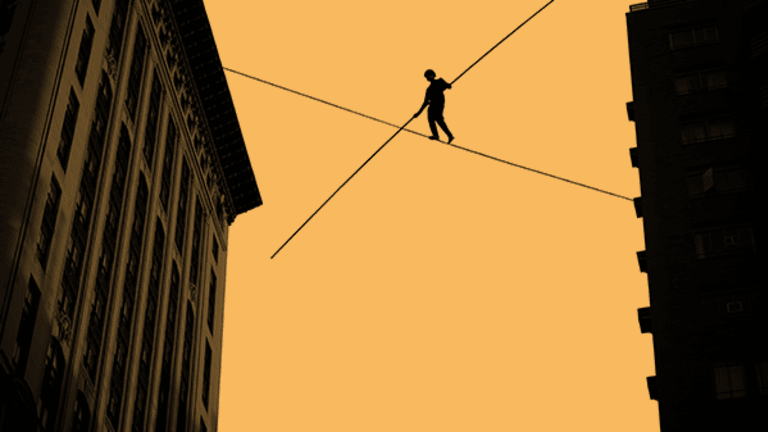 I Believe 'Ugly' Would Be the Proper Term for the Selloff: Market Recon
What differentiated traders who were injured yesterday from those able to whether a sudden storm? Diversification.
"The pessimist sees difficulty in every opportunity. The optimist sees the opportunity in every difficulty." -- Winston Churchill
Whack-A-Mole
Equity market breakdown? Not exactly. Something different? Sure, but so were Members-Only jackets. Thursday's equity markets action felt like a massive selloff, at least to those of us who sweat these things out trying to make a dollar. It felt severe. At the end of the day, there clearly were bright spots that buoyed the broader marketplace. Odd day, for sure. Performance, and opportunity? Always opportunity. Let's explore.
We first tackled the thought that the transports were starting to diverge from the Industrials in Market Recon last week. Yesterday did nothing to dissuade that thought. The Dow Jones Transportation Average has now surrendered a rough 3.5% over the last month versus a 1.5% increase in the Dow Jones Industrial Average. Yesterday's action saw the Transports lead other segments of the equity markets lower. Ugly, I believe, would be the proper term. After the airlines and railroads had already been visited by the "Stick", they were then joined by some high-flying tech and biotech names in what became something of a rout. In my opinion, some risk managers may have forced their traders to take profits in stocks, where they had them, that also trade at "tough to justify" valuations. You could see more of that this morning.
So, what did well? Energy and old economy-type value names. What differentiated traders who were injured yesterday from those able to whether a sudden storm? Diversification. Plain and simple. When rotations come out of nowhere as this one seemingly did yesterday, without a technical, nor a fundamental catalyst, that's your best defense. Now, that something different is under way, what do we do about it? Do we change what we're doing? I would say yes, and no. It's called finesse. Let me explain.
Transports
I have been long the airlines for quite some time. If you read me, you know that. Too long. That worm had clearly started to turn. I am not flat the space, but I have consolidated into what I consider to be the highest quality name in the space, Action Alerts PLUS charity portfolio holding Southwest (LUV) - Get Southwest Airlines Co. Report . While doing so, I have reduced exposure here by 40%. We saw a nice discount taken in LUV in response to earnings yesterday, and that discount was taken advantage of by the trading public very quickly. Just tread carefully. If LUV retests yesterday's lows, the name could then retest the lows of March. I am OK with that. I do not know if you are.
I have also been looking to buy into the railroad space. Honestly, they are not yet cheap enough. The most intriguing of these names, I feel, for the retail investor would still be CSX Corp. (CSX) - Get CSX Corporation Report , despite the sloppy second quarter earnings. I made some nice dough in CSX this year, but took my profits way too early. That stock closed at the $50 level last night, after peaking above $55 earlier this month. I cannot justify it here, however. The name is not quite technically oversold at this point, though it is getting there. There is no technical buy signal screaming at me that I can see. I would really like to own the name in the $45 area, but that might be kind of like checking pay phones for dimes so you can call home. I think I start legging into this one between $48.50 and $48.75 when the opportunity arises. Otherwise, I'll find something else to do with my money.
Tech
Do I buy into this tech weakness? If you're like me, your tech names took one in the teeth yesterday. You probably also can't buy any more of these names, even at these levels, without significantly increasing your effective cost basis. What that means is that yes, I am interested in getting longer some of these tech stocks, but not yet. Should this weakness persist, you all know that I have liked Intel (INTC) - Get Intel Corporation (INTC) Report , Lam Research (LRCX) - Get Lam Research Corporation (LRCX) Report , and Nvidia (NVDA) - Get NVIDIA Corporation Report for a bit. That has not changed, but they really all come out of one basket. I am not overly exposed to the space. If you are, then you may want to think about that and trade something in for equipment or software. In case you're wondering, I am completely flat FANG. I generally do play earnings for this group, but I take those positions after 3:58 on the day of, and am usually flat within two minutes of the after-market reaction. My sentiment toward that group is completely mercenary in nature.
One name to put on your watch list if you have not already is Applied Electronics (AAOI) - Get Applied Optoelectronics, Inc. Report . It reports on Aug. 3 and has had just one heck of a month. I am flat this one, sort of like a deer in the headlights. The only thing for sure, is that this name will not likely stay around the last sale (97,82). The chart is worthy of some study, gang.
Energy
What did you think, this group would trade down at its lows forever? Foolish mortal. Long we have told you here that quality was the name of the game. We have pounded the table that outside of speculation, which I do dabble with, the class of the energy space was Apache (APA) - Get Apache Corporation Report . This firm is capable of producing profits in both the crude and natural gas businesses at ridiculously low price points. Then there's Schlumberger (SLB) - Get Schlumberger NV Report . That name is considered to be the best (again, in my opinion) oil services firm out there. Guess what? Neither one of these has reached or is even close to reaching technically overbought levels on a six-month daily chart.
If you are trading scared money in this space... poof. Here is your out. If you're not scared, I think that these two could give you another $2 to $3 without much changing for the names technically. Of course, today could get rough. Futures are trading lower. Global equities are as well. On top of that, there will be another rig count put to the tape this afternoon. Bottom line? Oil stocks are not out of the woods, but they are once again very trade-able. That's what we do, right?
The GDP
It's been a while since the advance print for quarterly GDP growth has been watched this closely by traders. Economists? Yes. Policy makers? Always. Traders? To some degree, but not like this. This time it is different. Especially after the Atlanta Fed increased their second-quarter model to show annualized growth of 2.8% yesterday in the wake of some nice-looking digits (durable goods, wholesale inventories, goods trade balance).
The thing here is that if economic growth looks halfway decent, then the Fed is back on track for December. That's good for the financials. If that economic growth represents personal consumption that in turn represents improved commerce, then that's good for the beleaguered transports. Goods, resources, people... they are all going to move around more, when money is moving around more. Velocity, gang. It's all about velocity. Now, let's get out there, and start this party.
Macro
08:30 - GDP (Q2-adv):Expecting 2.6%, Q1-final 1.4% q/q SAAR. This will be our first look at the second quarter, which at least in recent years, almost always shows increased economic activity from the first quarter. This year should be no different. With the stakes so much higher this year, though, market reaction could be more than a little noticeable.
08:30 - Employment Cost Index (Q2):Expecting 0.6%, Q1 0.8% q/q. The total cost of employing folks has been increasing rapidly in recent years. Long gone are the 0.3% and 0.4% q/q prints in this space. The first quarter broke a six-quarter streak of gains that stayed between 0.5% and 0.6%. Today, we expect ... no, we hope for the sake of those looking to hire, and those looking to be hired, for a return to trend. This item can be considered a harbinger for consumer-level inflation when the increases are centered on wage growth. Not so much when it's health care and benefits doing the damage.
10:00 - U of M Consumer Sentiment (July-rev):Flashed 93.1. This item flashed well below expectations two weeks ago. That said, a 93 handle is nothing to sneeze at given what we have been through as a nation. The similar Consumer Confidence survey that is put together by the Conference Board printed at very lofty levels earlier this week. If this item continues to weaken, that would create an inexplicable divergence between the two. A slight upward revision would not be out of the question here.
13:00 - Baker Hughes Rig Count (Weekly):Last Week total 950-2, oil 764-1, Permian 374+1. The rapid growth of oil rigs operating generally within U.S. borders, and specifically within the Permian Basin, has obviously slowed over the last month or so. This has been one supportive factor in the support found for the commodity since bottoming out below $43 a barrel. The question now becomes: how fast does production start growing again, now that WTI is trading close to $50? This will be interesting.
13:20 Fed Speaker:Minneapolis Fed Pres. Neel Kashkari bats lead-off in what appears to be remarkably light speaking schedule four our esteemed central bankers in the wake of a policy decision. Ah, those lazy, hazy, crazy days of summer. Kashkari, a voting member who did not dissent to this month's statement, is set to speak from Oakdale, Minnesota. There will be some Q&A from the audience.
Sarge's Trading Levels
These are my levels to watch today for where I think that the S&P 500, and the Russell 2000 might either pause or turn.
SPX: 2492, 2483, 2476, 2468, 2458, 2449
RUT: 1451, 1446, 1439, 1434, 1427, 1418
Today's Earnings Highlights (Consensus EPS Expectations)
Before the Open: (ABBV) - Get AbbVie, Inc. Report ($1.40), (CVX) - Get Chevron Corporation Report ($0.88), (XOM) - Get Exxon Mobil Corporation Report ($0.86), (GT) - Get Goodyear Tire & Rubber Company Report ($0.74), (MRK) - Get Merck & Co., Inc. (MRK) Report ($0.87), (COL) ($1.59), (WY) - Get Weyerhaeuser Company Report ($0.27)
After the Close: (CACC) - Get Credit Acceptance Corporation Report ($4.72)
Get Morning Recon delivered directly to your inbox each market day. Click here to sign up for e-mail delivery of Stephen "Sarge" Guilfoyle's Morning Recon, Jim Cramer's Daily Booyah! or other great free newsletters from TheStreet.
More of What's Trending on TheStreet:
At the time of publication, Stephen Guilfoyle was long LUV, APA, SLB, INTC, NVDA, LRCX, although positions may change at any time.