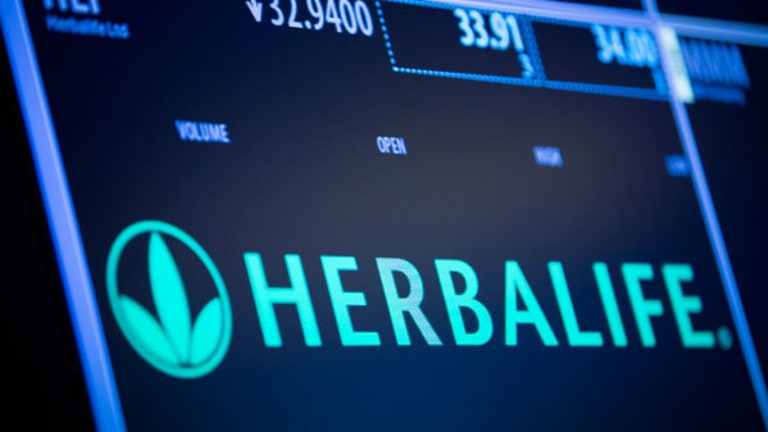 I Always Double Down on 11
It's possible that Herbalife will blow right past $82.50 by option expiration day and that selling calls will result in lower gains. But I don't predict the future, only the odds.
NEW YORK (TheStreet) -- Traders often say "you're only as good as your last trade," but don't believe it. It's a lie. You won't get any arguments from me that your last trade may emotionally bring euphoria or disappointment. The truth is, it's your overall average return from your first investment until today that determines the amount you deposit in the bank.
We can take it one step further and say it's a mistake to allow a trade or investment to affect you emotionally. OK, yes, I know that's easier said than done, but every wise speculator knows that emotion is kryptonite to a portfolio. The easiest way I know to reduce or eliminate emotion and worry is to reduce the position size.
Occasionally I'm reminded that sometimes it's not your last trade (or, in the case of financial articles, your last idea), that determines how proficient you are; it's your worst trade or idea. My latest Herbalife (HLF) - Get Herbalife Nutrition Ltd. Reportarticle drew fire because apparently it wasn't bullish enough for at least one reader. Here's my reply:
"DrunkStepmother" makes a point that I became a Tesla (TSLA) - Get Tesla Inc Report bear under $100 while shares continued higher and peaked at $194. On one level, her thinking isn't all that uncommon. People buy at the top and sell at the bottom all the time. You don't want to be a Drunk Stepmother, and I'll explain why.
I always double down on 11 when I play blackjack. (That is, when the rules of the table cooperate; occasionally, doubling down on 11 isn't optimal, depending on the number of decks, the count, various rules, etc.)
In blackjack, you, the casino and any other players all begin with two cards each. The casino only displays one of the cards. Your score is the sum of the values on your cards, with face cards counting as 10, and aces as 11 or 1. The goal is to reach a higher total than the casino without exceeding 21.
I don't know if I will win any given hand when dealt 11, and I know I won't win them all.
Most importantly, I know my probability of winning is greater than 50%. Anything less than 50% is a negative expectancy, and anything over is positive. When expectancy is in your favor, you want reasonably high risk exposure. You may win or lose any given hand, but over the course of your investing lifetime, you can anticipate your overall results to align closely with expectancy.
Wall Street doesn't give free drinks or comp a meal like Vegas, but in many ways, investing is amazingly similar to blackjack. Decisions are made based on incomplete information, and it's up to you to know what any given expectancy is.
In Real Money Pro, I give actual trade entries, exits and stops. Drunk Stepmother should get a subscription -- she would see that overall I have a strong track record that is quantifiable. In the free area, I warned that you should stay away from Bitcoin. As of this writing, Bitcoin lost about 50% since the article was published. If my articles reflect expectancy, I haven't won them all, but more than my fair share.
Turning full circle back to Herbalife, I didn't say the stock "was done", here's what I actually wrote in part:
Will Herbalife retrace 2013's gains and continue lower until it reaches $0? Not likely. If the FTC and/or other government agencies decided to play hardball, they're in no position to steamroll a $7.7 billion multinational corporation with thousands of employees and millions of independent distributors. If government agencies intended to put a dog into this fight, they would have likely done so by now.

If you're not sure about timing a sale of some shares to lock in gains, consider using options to do it for you. The January $77.50 calls are trading for about $5 a contract. If you sell this contract against your shares and the stock continues to appreciate, your gain is capped at $82.50. If you're willing to take $82.50, an option hedge makes a lot of sense. You lower your risk, and you don't take the gain until next year.

I especially like it because if the shares decline, or are not above $77.50 at the expiration, the covered call writer keeps the entire premium and can sell options again.
I didn't say the stock was finished or that anyone should liquidate their shares. I suggested (and still do) that shareholders protectively lock in some gains by selling out of the money-back month calls. I believe the premium is rich enough relative to the current price action that investors can make a positive-expectancy trade, and I always double down on 11.
It's possible Herbalife will blow right past $82.50 by option expiration day and selling calls would result in lower-than-face-value gains. But I don't predict the future, only the odds.
At the time of publication, Weinstein had no positions in any of the securities mentioned.
This article is commentary by an independent contributor, separate from TheStreet's regular news coverage.