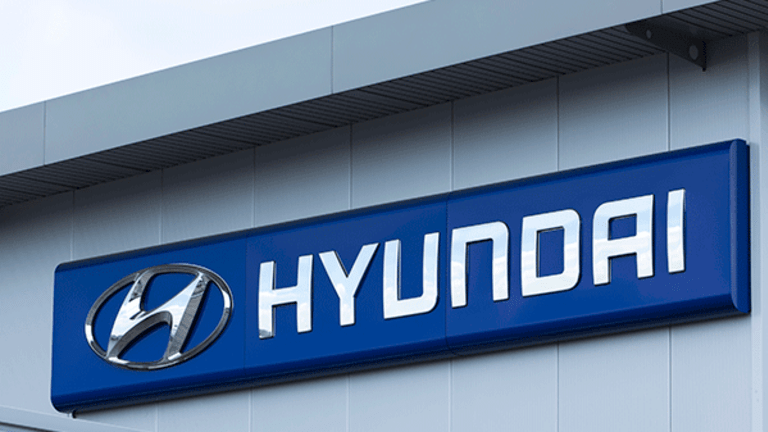 Publish date:
Hyundai Posts an Earnings Decline for 11th Straight Quarter
The South Korean industrial giant is hurt by labor troubles and a product lineup too heavy in sedans.
The South Korean industrial giant is hurt by labor troubles and a product lineup too heavy in sedans.
Hyundai (HYMLF) once appeared to be an unstoppable force, challenging the likes of Toyota (TM) - Get Report  and Volkswagen (VLKAY)  for top-tier status. But now, the South Korean automaker appears to be stuck in a financial tailspin again after announcing disappointing earnings.
Hyundai on Wednesday reported the 11th straight quarter of lower earnings, missing analysts' already pessimistic forecasts. With its affiliate Kia Motors, the company ranks No. 5 among global automakers. Its profit fell 10% in the  third quarter to 1.06 trillion won or $935 million.
A long strike by the union representing Hyundai workers in South Korea this summer led to lost production of 140,000 vehicles. The automaker settled the work stoppage with the union earlier this month, while replacing the executives in charge of operations in its home country and China.
This week, a thousand top executives at the automaker agreed to take a 10% pay cut.
In the U.S., sales of Hyundai and Kia models are running 1.8% ahead for the year. The automaker's lineup relies heavily on sedans such as Elantra and Sonata at a time when U.S. consumers prefer crossovers, SUVs and pickups. The average transaction price for Hyundai models sold in September was $24,129, more than $10,000 less than the average price of all models sold.
Vehicles sold by General Motors (GM) - Get Report , the market leader in the U.S., sold for an average transaction price of nearly $41,000, reflecting a model lineup full of larger -- and more profitable -- pickups and crossovers. GM posted earnings of $2.8 billion on Tuesday, about double that of a year ago.
Hyundai, which builds vehicles at two factories in the U.S., has juggled production to build more of its crossovers, such as the Santa Fe and Santa Fe sport. The automaker recently introduced a Genesis luxury model, the G90, for North America.
The automaker this week said it will increase production of its Tucson crossover at plants in the U.S. and China. But Hyundai may not be able to meet earlier sales forecasts for the year.
"We expect it would not be easy to achieve our sales target planned for this year," Executive Vice President Choi Byung-chul said during a conference call with analysts and journalists on Wednesday.
Compounding troubles, sales of Hyundai and Kia vehicles have flagged due to economic weakness in emerging nations such as Brazil and Russia.
Hyundai has shown a remarkable ability to rebound from difficulties and adapt to changing market conditions, having ditched a low-price strategy to upgrade the design, quality and appeal of its vehicles. Given its country's competitive stance toward global manufacturing, a turnaround for the automotive group wouldn't be surprising.
Doron Levin is the host of "In the Driver Seat," broadcast on SiriusXM Insight 121, Saturday at noon, encore Sunday at 9 a.m.
This article is commentary by an independent contributor. At the time of publication, the author held no positions in the stocks mentioned.