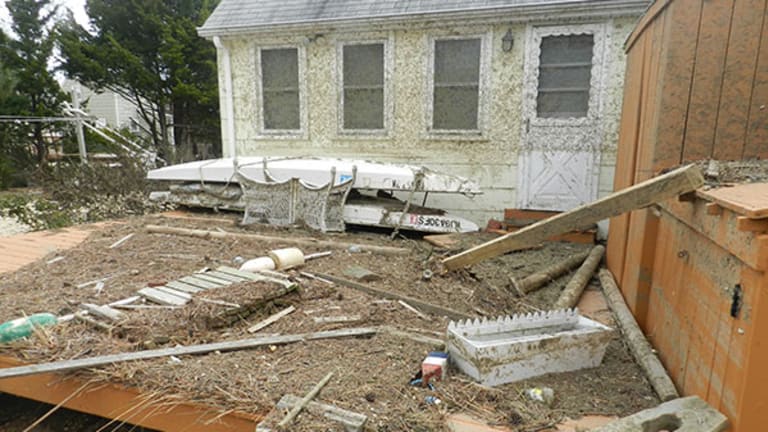 Jersey Shore Post-Sandy: One Year Later
Much work and rebuilding remains to be done as well as to brace for the next 'perfect storm'.
NEW YORK (TheStreet) -- This past Thursday's trip to Long Beach Island, a skinny 18 mile stretch of sand just off the New Jersey Coast, may have been the 50th or 60th one I've made since Hurricane Sandy hit on Oct. 29 last year. I'm not sure, I lost count.
But this trip was slightly different than most others since we'd completed much of the re-building to our small cottage, with the help of friends and family, by early August. While I did some work around the place, the primary reason for the visit was that I wanted to be there as close to the one year anniversary of the storm as possible.
This time last year I made a similar trip the weekend before Sandy hit in order to get the place "ready"; to shore up what I could. But admittedly, I did not expect much damage. We'd been evacuated the year before due to Hurricane Irene; and when that turned out to be a non-event, a false sense of security was the result. But with Sandy, getting everything off the floors, and onto the beds; putting furniture on blocks, which seemed like overkill, was more like putting a finger in the dike. The experiment of bolting two Sunfish sailboats to the back deck, my Dad's idea, was a success, well sort of. The boats did not float away, but their buoyancy pulled our deck right out of the ground. I can laugh about that now.
An early morning drive toward the southern end of the island one year later revealed few visible signs of Sandy's wrath until reaching Holgate at the very end. Here, damage to homes is still visible. The number of empty lots is a testament to Sandy's wrath. A walk to the beach reveals the real issue. There's simply not much beach left. A recent Nor'easter did not help matters, further battering what was left of the beaches.
And therein lies the biggest current challenge for this island, beach replenishment. Prior to Sandy, part of the island had undergone projects that expanded both the beaches and dunes. These areas held up well during Sandy, but in other areas where replenishment efforts were stalled due to the unwillingness of beachfront homeowners to sign the required easements in order to complete the project, the bay and ocean met, exacerbating the flooding. Once that happened, the water went wherever it found low ground.
One year later, there are still dozens of holdouts on Long Beach Island, and hundreds in the state, but a recent New Jersey Supreme Court ruling might provide the catalyst to complete beach replenishment via eminent domain. The court essentially opened the door for much lower settlements in eminent domain cases. In this particular case, the court reversed a $350,000 award to beachfront homeowners in the Long Beach Island town of Harvey Cedars who had objected to the construction of a protective dune on their property. The couple settled for one dollar, and the precedent may have removed the financial worries of beach towns considering the use of eminent domain.
Once that decision was made, the ink was not even dry when Gov. Chris Christie signed an executive order directing his attorney general to take essential legal action necessary to acquire 1,000 or so remaining easements needed to shore up the entire New Jersey Coast. Still, I don't expect quick results.
Ultimately, even if all of our beaches are replenished that does not remove the fear that another storm will ultimately hit. We will have other storms and need to prepare appropriately. That includes not just replenishing the beaches but also taking other precautions such as lifting homes above flood levels to limit future damage.
I certainly don't anticipate another storm like Sandy, at least in my lifetime. Sandy was a once in a lifetime "perfect storm" -- a direct hit to the New Jersey Coast -- during high tide and a full moon. That's about as rare as a Phillies' World Series victory.
This article is commentary by an independent contributor, separate from TheStreet's regular news coverage.
Jonathan Heller, CFA, is president of KEJ Financial Advisors, his fee-only financial planning company. Jon spent 17 years at Bloomberg Financial Markets in various roles, from 1989 until 2005. He ran Bloomberg's Equity Fundamental Research Department from 1994 until 1998, when he assumed responsibility for Bloomberg's Equity Data Research Department. In 2001, he joined Bloomberg's Publishing group as senior markets editor and writer for Bloomberg Personal Finance Magazine, and an associate editor and contributor for Bloomberg Markets Magazine. In 2005, he joined SEI Investments as director of investment communications within SEI's Investment Management Unit.
Jon is also the founder of the
, a site dedicated to deep-value investing. He has an undergraduate degree from Grove City College and an MBA from Rider University, where he has also served on the adjunct faculty; he is also a CFA charter holder.