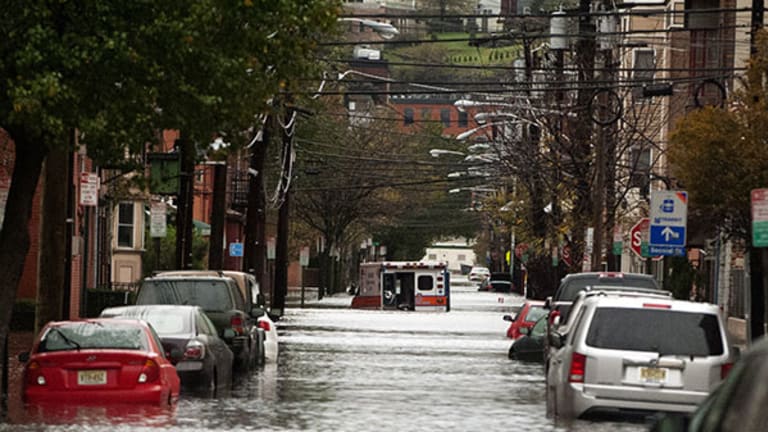 Hurricane Sandy: Hoboken, One Year Later
Hoboken, NJ was devastated by the effects of Hurricane Sandy. One year later, it's like nothing ever happened.
NEW YORK (
) -- Hurricane Sandy was the most destructive storm the Northeast has seen in 100 years, ravaging towns and cities across the Eastern seaboard, leaving Hoboken, NJ destroyed in its aftermath.
One year later
, you'd never know there was a storm.
Shops are open, businesses are running, and restaurants and bars are packed to the gills on the weekends, as football season hits the crisp fall air. That's essentially what it was like pre-Sandy, say residents. For them, nothing's really changed.
"So I was pretty new to Hoboken
following Sandy when the storm came, so I hadn't really noticed anything," said Michael Dowling, 24, of Hoboken, regarding any changes. "There 's not really much different since the storm, but if Sandy ever comes up in conversations, everyone says they will be more prepared than last year."
Though Hoboken (where I am a proud resident) is largely back to normal, there is a sense that its residents and businesses will be more prepared next time.
Christopher Tutino, 24, said the increase in attendance in his Hoboken's Community Emergency Response Team (C.E.R.T.) comes from residents wanting to do more. "I've been taking training through
CERT, and several of my colleagues noted that their inspiration came from wanting to help more during Hurricane Sandy but that they didn't have the knowledge or resources to do so," Tutino said in an email to
TheStreet
.
Images, such as the one below, were commonplace following the events of Superstorm Sandy, as rainwater turned streets into rivers, cars were destroyed, and homes and lives were ravaged.
Now, Hoboken has returned to its vibrant ways, having pushed away the destruction left by the storm, and pulled in countless visitors and new residents who seem destined to move on with their lives, Sandy or not.
Hoboken received national attention following Hurricane Sandy, with large amounts of media covering the devastation of the affluent North Jersey city 10 minutes from New York City.
Twitter
actually incorporated a few Hoboken-centric tweets into its S-1 filing, using tweets from Mayor Dawn Zimmer and the
American Red Cross
as images in the document, showcasing just how bad things were at the time.
Today, Hoboken is a far cry from where it was just eight months ago, after the Hoboken PATH station, which carries passengers between Hoboken and the World Trade Center and 33rd St station stops in New York City, became fully operational.
Ground-floor apartments that were flooded beyond belief are now back to normal, though some renters and homeowners still have claims with insurance companies outstanding. The countless images and stories about property damage have now been replaced with a new boardwalk, new landscaping and countless joggers down on the pier.
The destruction caused by the wind and flooding made Hoboken look like a warzone area, not an affluent northern New Jersey city 10 minutes from Manhattan. Now, it's all just a memory, almost surreal in nature.
Following the storm, which happened on the eve of Oct. 29, 2012, Hoboken became a ghost town. Many of the residents left for days (myself included), seeking to stay with friends or family until power returned. Despair had set in on the remaining residents' faces, and stories of hardship were the soundtrack of the otherwise silent city.
The National Guard,
FEMA
, and Red Cross set up shop in lower Hoboken, becoming tenants as important as the pizza shops, boutiques and many bars on Washington Street, Hoboken's main strip.
National Guard in Hoboken in late 2012
The city of roughly 20,000 residents has certainly not forgotten the effects of the storm, judging by the emotion invoked in stories and tales of the past year. It has, however, been able to move on, with many people proceeding as if nothing happened.
For now, the sounds you hear of cheering for post-season baseball and football season on a Sunday afternoon, not for power coming back in homes. That's the way it was, and just how Hoboken likes it.
--
Written by Chris Ciaccia in New York
>Contact by
.