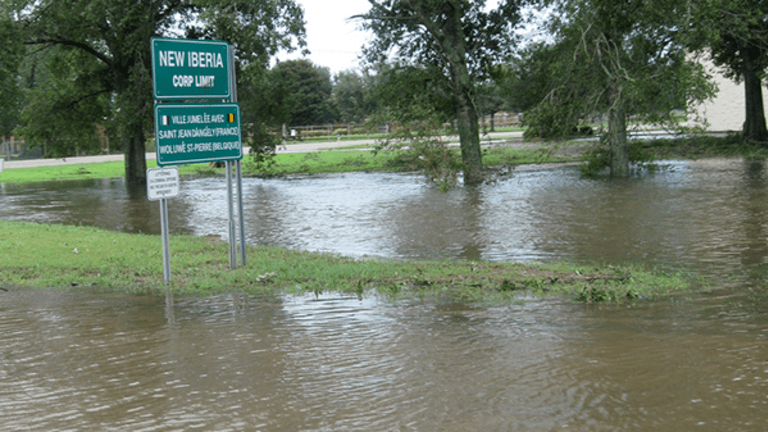 Hurricane Harvey Isn't the Bruising Storm That Wall Street Hates: Market Recon
Hurricane Harvey's potential impact on the Gulf may usurp Yellen and Draghi's time in the spotlight.
Get "Morning Recon" delivered directly to your inbox each market day. Click here to sign up for e-mail delivery.
"I've been collecting rocks since I was 8 and have over 200 different specimens." -- Janet Yellen; "Didn't know that." -- Sarge
Hurricane Harvey
The economic symposium held by the Kansas City Fed at Jackson Hole, Wyoming, was supposed to be the "big story" on Friday. It still may be (doubt it), but Hurricane Harvey's potential impact on the Gulf coast of Texas may usurp Jackson Hole's time in the spotlight, at least for now. I am sure you have noticed the "funny" reaction to the threatening storm across the energy space. One would think with looming halts and potential for damage to production and refining facilities, that related commodities would see a boost in market pricing. They have reacted that way in the past.
The 30 Nastiest Storms in Recent History
Gasoline futures did indeed roar on Thursday. That finished product ran nearly 2%, all the way to levels just under $1.60, and have come in just a few pennies on some profit taking this morning. WTI crude, however, found its way to a less fortunate outcome in Thursday's trade. Crude oil futures traded all the way down to $47.15 at the lows of Thursday afternoon in New York, before traders responded to technically oversold conditions. The commodity is still trading well below $48 a barrel in the early going on Friday morning.
You are right. Crude prices have run skyward in years past when this region has been threatened by Mother Nature. So, why are things different this time? I don't quite understand. Good question, glad you asked. You see, first off, the Gulf represents a smaller fraction of U.S. crude oil production than it did around the time of Hurricane Katrina in 2005. Back then, the Gulf of Mexico was the home for approximately 25% of total U.S. production. Thanks to the shale crowd, 12 years later, this market share is down to 18%. Now, for the kicker.
U.S. refiners are net exporters of these finished products, such as gasoline and diesel. This activity, more so than any reduction in either production nor imports, is one of the leading reasons why we have seen regularly lower numbers in the national oil inventory data that is reported every week by the Energy Information Administration. For those keeping score, the EIA has now reported a draw on those supplies in 18 of the past 20 weeks. Hence, though the storm is likely to impact production to some degree, the impact on the refining space will slow. For now, the drain is on national supply levels, which is why the storm has had an overall negative impact on headline crude pricing. Capeesh?
Gang War, Continued
Just Thursday, we covered here in the Recon the "gang war" involving Amazon (AMZN) - Get Amazon.com, Inc. Report , Walmart (WMT) - Get Walmart Inc. Report and Action Alerts PLUS charity portfolio holding Alphabet (GOOGL) - Get Alphabet Inc. Class A Report , and the way things were heating up after Walmart and Google decided to dance together at the prom. Well, it did not take long for Amazon to strike back with its own prom date, and wow ... did they ever? Amazon's acquisition of Whole Foods Market (WFM) may not close until Monday. However, plans are being made, and those plans are being announced now.
In developments that truly are incredible when you consider that the transaction is not yet final, Amazon announced coming price cuts at its Whole Foods locations, which number more than 400, and represent Amazon's first significant network for brick-and-mortar retailing.
Ouch! An industry already plagued by razor-thin margins has already started to feel more heat. Walmart, Kroger (KR) - Get Kroger Co. (KR) Report , and Costco (COST) - Get Costco Wholesale Corporation Report all took one in the mush on Thursday. But wait. It gets worse.
Amazon intends to integrate its popular Prime membership program with a loyalty program at Whole Foods. What this does, other than the obvious cross-selling, is draw folks who had abandoned Whole Foods back to the chain. Everyone has Prime, even this guy. One of the main reasons that WFM had started to flounder was the high pricing of its wares. Now along comes a new management that has long showed its willingness to forego profitability in the name of gaining market share. In other words, when it comes down to doing business, Amazon simply goes for the jugular. The only thing we do know, is that the story does not end here. Having already slayed the e-commerce world, Amazon is now going after the physical point of sale. Enjoy the under-card of Mayweather - McGregor on Saturday night. The main event will drag on, and on. There will be blood.
Jackson Hole and Bargain-Hunting as Habit
Just a few weeks ago, the main event of the Kansas City Fed's shindig in Wyoming was supposed to be the speech given today by ECB President Mario Draghi. Then, Fed Chair Janet Yellen was added to the program, and visions of widespread volatility danced in traders' heads. Well, here we are, and the headlines belong to a hurricane, to Amazon, and to the robust health of low end retailers such as Dollar Tree (DLTR) - Get Dollar Tree, Inc. Report and Burlington Stores (BURL) - Get Burlington Stores, Inc. Report . I mean, whoa! I'd rather write about the quarters that these two discounters just had than about two central bankers likely to walk a thin line as they try not to upset any apple carts today. Talk about corporate execution, and guidance.
Americans have clearly been scarred by the financial crisis. I don't care how many jobs have been gained, and how many years have passed. Shoppers have changed the way they go about their way, even when shopping for luxury items. Throw Signet (SIG) - Get Signet Jewelers Limited Report , the name behind Zales and Kay, in that box too. Even though those outlets are mall-based, they are not high-end jewelers. Yet, they report growth in same store sales. Kind of gets an old dog fired up.
Back to Wyoming. We all kind of know... OK, we think that the Fed will announce the tapering (quantitative tightening) of its $4.5 billion balance sheet on Sept. 20. We also think that further hikes in interest rates have been put off at least through December. The only threat to the marketplace from Yellen's corner today would be if she feels the need to keep the markets honest, and intentionally forces the probability of another rate hike later this year to higher levels at the CME. ECB officials have already told us that Draghi will not make any attempt to be interesting today. Further tapering of the ECB's quantitative easing program are what I would consider to be interesting. Draghi is going to have to "go there" sometime soon, but probably not today.
Here comes a recession... 
Macro
08:30 - Durable Goods Orders (July):Expecting -5.9%, June +6.5% m/m.
08:30 - ex-Transportation (July):Expecting +0.4%, June +0.2% m/m.
08:30 - ex-defense (July):Expecting -4.0%, June +6.7% m/m.
08:30 - Core Capital Goods (July):Expecting +0.5%, June -0.1% m/m. This series consists of high impact macro-economic information. It's plain to see in the June data and in the expectations for July just how much new orders for aircraft can skew the headline numbers versus the way actual conditions in this space are spread about in the real economy. The headline should show immense contraction, one month after showing gigantic growth. Such is the nature of these kinds of purchases. What will be important here is going to be core capital goods, as this measures, to some degree, business investment. We look for significant growth there today.
10:00 - Fed Speaker:Federal Reserve Chair Janet Yellen will speak from Jackson Hole. This is the main event of the day. Will Yellen sound dovish, and end up pressuring Treasuries? She will be in control. This is her court, and if she wants to raise the market's expected probability of another rate hike this year (currently around 44%), it is well within her power.
13:00 - ECB Speaker:European Central Bank Pres. Mario Draghi will also speak from Jackson Hole, and if Janet Yellen toes a very careful line, then this could easily become the day's main event. What the world wants to know is when and how the ECB will further remove overly accommodative monetary policy now that economic growth has returned to Europe. There is still, like in the U.S. and Japan, a troubling lack of inflation, but many data-points are showing strength. Word is that Draghi takes a pass today. We'll find out this afternoon.
13:00 - Baker Hughes Rig Count (Weekly):Last Week total 946-3, oil 763-5. The big story in the oil space right now is Hurricane Harvey, which is threatening the Corpus Christi area in Texas. A direct hit in that area by this powerful storm could not only slow or halt imports, but cause significant production slowdowns at Eagle Ford.
Sarge's Trading Levels
These are my levels to watch today for where I think that the S&P 500, and the Russell 2000 might either pause or turn.
SPX: 2456, 2447, 2439, 2431, 2420, 2411
RUT: 1391, 1385, 1376, 1370, 1362, 1352
Today's Earnings Highlight (Consensus EPS Expectations)
Before the Open: (BIG) - Get Big Lots, Inc. Report ($0.62)
More of What's Trending on TheStreet:
The 30 Nastiest Storms in Recent U.S. History Have Caused Mind-Blowing Damage
At the time of publication, Stephen Guilfoyle was long AMZN, GOOGL, WMT, although positions may change at any time.