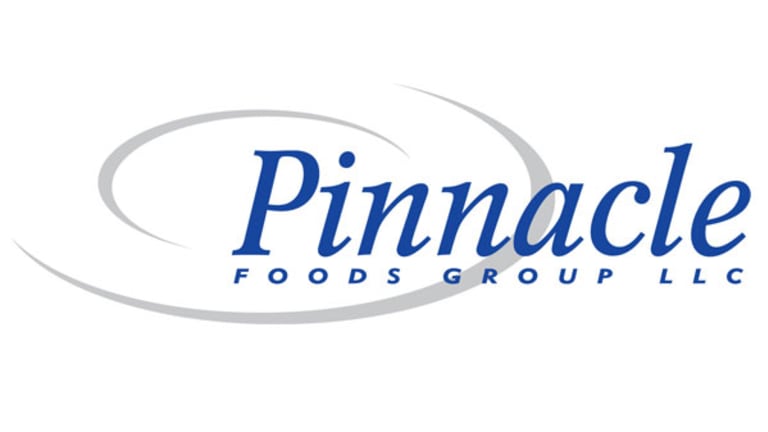 Hungry for Pinnacle Debt
Like a high-calorie meal, the Pinnacle offering is loaded with debt, but TheStreet's Debra Borchardt points out that investors don't care.
NEW YORK (TheStreet -- It's a perfect time for Blackstone (BX) - Get Free Report to unload Pinnacle (PF) from its books. Warren Buffet's purchase of Heinz (HNZ) foods has given the food group a seal of approval. Pinnacle may be loaded with debt, but new investors will ignore that stark reality. Sources say the deal is oversubscribed by four or five times.
Blackstone purchased Pinnacle in 2007 for $2.16 billion with the plan to make more acquisitions and build the company into a food powerhouse. This was so long ago that Lehman Brothers was the adviser on the deal. The only acquisition ever completed was Birds Eye Foods, purchased for $1.3 billion. Now Blackstone is hoping to raise $667 million from the initial public offering, which basically values Pinnacle at $2.3 billion. Not such a great six-year return.
Also see: Cramer Greets the 21st Century: Uber
On a positive note, it doesn't expect to sell on the offering and Blackstone will keep a 68% ownership stake. The debt is the big burn mark on an otherwise tasty company. The company has only paid back $350 million of the $3 billion in debt incurred in connection with Blackstone and Birds Eye. This payback might have been difficult since net sales from 2008 to 2012 of the Leadership Brands (its top products) grew only 2% -- essentially flat. Plus, since Blackstone will continue to own 68%, they could potentially force Pinnacle to take on more debt.
In addition to the well-publicized debt levels, another item that has gotten less attention is the pension plan, underfunded by $98 million as of December 2012. Pinnacle states in its S-1 filing that its obligation to make pension contributions can reduce its working cash. Fifty-three percent of its employees are union workers and Pinnacle's contributions to the pension have slid in recent years from $8.9 million in 2010 to just $3 million that is expected for 2013. It could be that Blackstone has backed off of the contributions in order to dress up the balance sheet.
Also see: 7 Things You Should Be Doing to Live to 100
On the product side, things are pretty positive.
Wal-Mart
(WMT) - Get Free Report
accounts for 60% of the sales. The company owns many iconic brands like Mrs. Paul's frozen fish, Aunt Jemima, Birds Eye frozen foods, Lenders Bagels, Duncan Hines and Vlasic pickles. Many of these products have a commanding market share and either rank No. 1 or No. 2 in their respective categories. The brands are familiar and iconic, so that the company is reminiscent of
B&G Foods
(BGS) - Get Free Report
.
The company touts its innovative foods like the Duncan Hines frosting creations, but in my observation, the product remains untouched on the grocery shelves. Cotton candy frosting hasn't been in big demand in the 'burbs. Then there's the Birds Eye Voila skillet dinners. Each one is a variation of chicken, broccoli, pasta or rice of some sort and an ethnic twist like teriyaki. The freezer case is filled with this idea and each one tends to be fairly disappointing in flavor. So it seems a stretch to bet the farm on these innovations.
It seems fair to compare Pinnacle to B&G Foods which has a debt-to-cap ratio of 1.57 and a debt-to-EBITDA of 3.8. Pinnacle's debt-to-EBITDA is 6.7. IPO Desktop President Francis Gaskins believes Pinnacle could do a secondary to repay some of its debt or use the free cash flow. However, Pinnacle is also choosing to pay a generous dividend to shareholders of 18 cents. That dividend will cost $113 million annually. Gaskins believes it will be a well-received offering, whose shares will move up.
"They do have revenue, they do have a bottom line, I would venture a guess by the size there will be institutional interest," said John Thompson of IPOScoop. He went on to point out that the sector has been very good this year. The Dow Jones Food Products sector is up 17% for the past year.
Also see: You Have an Advocate Within the IRS
So it seems the general public and the institutional investors are ready to gobble up Pinnacle shares and ignore its debt levels. But it could still end up like
Diamond Foods
(DMND)
. Diamond Foods has debt-to-EDITDA of 15.3 and was highly sought after during its IPO. However, it faltered when its acquisition plans only yielded Pringles. The stock is down 27% this year -- a cautionary tale in the food business.
--Written by Debra Borchardt in New York.
>To contact the writer of this article, click here:
Debra Borchardt
.
Disclosure: TheStreet's editorial policy prohibits staff editors, reporters and analysts from holding positions in any individual stocks.