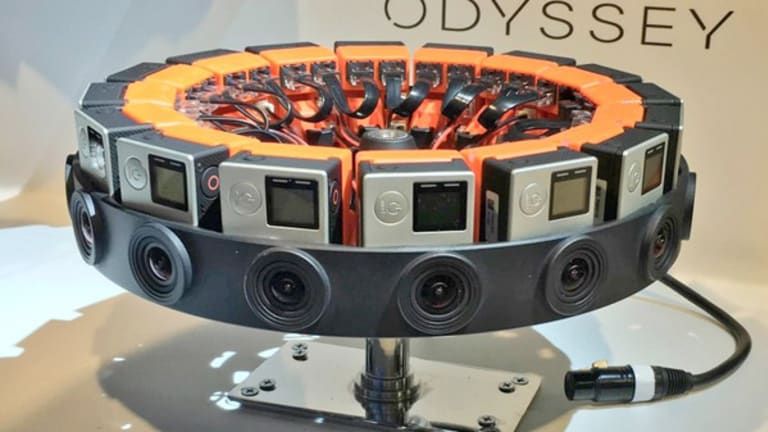 What's an Israeli 3-D imaging company to do when looking for its next project? Enter the field of virtual reality and end up competing with the likes of Alphabet (GOOG) - Get Alphabet Inc. Class C Report and GoPro (GPRO) - Get GoPro, Inc. Class A Report -- at least that's what happened to HumanEyes Technologies.
"We were thinking, 'What should be our next products?'" founder and CEO Shahar Bin-Nun said. "We explored about 15 products and narrowed it down to two pretty quickly, and one of them was a VR camera."
The effort is coming close to being a reality: On May 12, HumanEyes began taking preorders for the Vuze camera, which will ship in October. Some $799 will get you the 3-D, 360-degree camera; a VR headset; and a minitripod along with Vuze App for mobile devices and Vuze Studio for editing and sharing movies.
HumanEyes is hardly new to the 3-D market. Bin-Nun founded the Jerusalem company in 2000. It now holds more than 70 patents in areas including photographic 3-D and has worked with household names in the camera business including Kodak (KODK) - Get Eastman Kodak Company Report and Fujifilm.
"About a year back when we heard that Google and GoPro were announcing a 360-camera, we were very concerned," Bin-Nun said, referring to GoPro's Odyssey, which works in tandem with Google's Jump platform.
The Odyssey, which contains 16 GoPro cameras and sells for $15,000, reportedly shipped to members of a pilot program the same day HumanEyes began accepting preorders. Bin-Nun said the price and portability set the Vuze apart.
"We looked into the [VR] market and saw it was boiling," Bin-Nun said. "Now it's boiling a little more. It's a very hot market. We thought that this is a good product for us."
And that market is about to get even frothier. Google at its annual I/O developer conference this week announced it is building Daydream, a VR platform that would be powered by apps on Android phones certified by Google.
The HumanEyes CEO said the company planned to sell its Vuze camera in brick-and-mortar stores as well, though the process is still being worked out, explaining, "The main question is which retailers and when."
When asked what's next for HumanEyes, Bin-Nun said "98% of [HumanEyes'] attention is focused" on the Vuze camera.
"I can tell you obviously like any player in the consumer electronics" sector, Bin-Nun said, "as soon as we launch the camera, we will continue developing better and better solutions, always to make sure we are leading the market and not chasing the market."