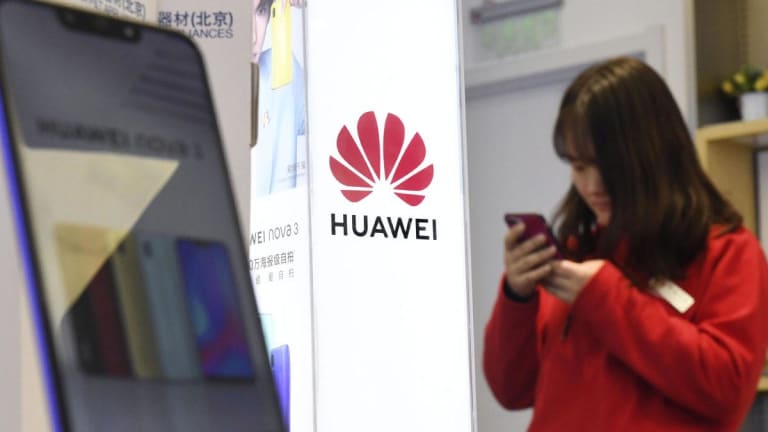 Huawei CFO's Arrest Shows How Unpredictable the Trade War Has Become
It's not a given that the arrest of Meng Wanzhou will unravel recent trade war progress. But if Beijing responds by punishing Huawei's U.S. rivals, some major tech firms could be in the crosshairs.
Given all of the twists and turns that have been seen to date for Washington's trade spat with Beijing, it makes sense not to presume just how either side will act following the arrest of Huawei CFO Meng Wanzhou.
The timing of the news is definitely worrying, however. And should Beijing respond with retaliatory measures against Huawei's U.S.-based rivals, there's no shortage of major tech companies that it could potentially target.
On Wednesday evening, it was reported that Meng, the daughter of Huawei founder Ren Zhengfei, was arrested in Canada on Dec. 1 for alleged violations of U.S. sanctions on the sale of products featuring American technology to Iran. The U.S., which is seeking Meng's extradition, wants her to appear before a New York federal court. A bail hearing has been set for Friday.
On Thursday, Reuters reported that Meng was arrested "as part of a U.S. investigation into an alleged scheme to use the global banking system to evade U.S. sanctions against Iran." It added that the U.S. has been probing whether Huawei, one of the world's largest makers of smartphones, telecom equipment and enterprise IT hardware, has been violating the sanctions "since at least 2016."
The arrest comes in a year that saw the Commerce Department temporarily ban Huawei rival ZTE from buying chips and components from U.S. firms, in response to the violation of a prior settlement deal related to product sales to Iran and North Korea. The ban was lifted after ZTE agreed to pay a $1 billion fine and allow U.S. officials to monitor its activities.
Notably, Meng was arrested the same day that President Trump and Chinese President Xi Jinping agreed to a "trade truce" under which both of their countries agreed to refrain from imposing new tariffs on the other for 90 days, while they try to hammer out a long-term trade deal. And shortly afterwards, Trump and Xi indicated China is now open to approving Qualcomm's (QCOM) abandoned bid for NXP Semiconductors (NXPI) , a move that raised hopes Beijing is now less likely to block large M&A transactions involving a U.S. suitor.
Given all of this, it's fair to wonder what Meng's arrest signals about the likelihood of a trade deal being inked before the 90-day truce is over. It's also fair to wonder why the U.S. felt it necessary to take the unusual step of extraditing and charging a senior exec at a major foreign company over an alleged sanctions violation by the exec's firm -- after all, nothing comparable was done in ZTE's case.
Looking at the potential impact of Meng's arrest on the tech sector in particular, one clear risk is that the U.S. slaps a parts import ban on Huawei, which did $92.5 billion in revenue in 2017, similar to the one that it temporarily imposed on ZTE. Numerous chip and optical component suppliers would be affected if this happened, including Broadcom (AVGO) , Skyworks (SWKS) , Qorvo (QRVO)  and Finisar (FNSR) .
Meanwhile, Chinese authorities, which are already unhappy about the U.S. government's efforts to curb the domestic use of Huawei and ZTE's products on national security grounds, could potentially respond to Meng's arrest and/or a Huawei parts ban by making life harder for some of Huawei's American rivals. The company's U.S. competitors run the gamut from Apple (AAPL)  (mobile devices) to Dell (PCs and enterprise hardware) to Cisco Systems (CSCO)  (networking and telecom equipment).
It's also possible, of course, that the U.S. doesn't impose a ZTE-like parts ban on Huawei for now, and that Beijing refrains from taking harsh countermeasures while it waits to see how Meng's case proceeds. Certainly, the fact that Chinese authorities were likely aware of Meng's arrest when making positive statements in recent days about Trump and Xi's latest trade talks is an encouraging sign.
Also encouraging is the fact that on Thursday, Lumentum announced that Beijing had approved its $1.7 billion acquisition of fellow U.S. optical component firm Oclaro (OCLR) . Lumentum and Oclaro are both Huawei suppliers. And it can't be ignored that while equity markets sold off on Thursday, the Nasdaq outperformed and was up for the day.
If all of this commentary sounds a little vague and equivocal, that's the point. In many ways, the U.S.-China trade dispute between represents (as noted by Jim Cramer on Real Money) uncharted waters, and a lot clearly hinges on what decision-makers in both Washington and Beijing choose to do in the coming months.
Some bad news has definitely been priced in, and despite some recent events, there are still arguably reasons to be cautiously optimistic that a compromise will ultimately be hammered out. But as Meng's arrest and the market's response to it highlights, there's no guarantee that things will proceed exactly how investors hope.
Apple and Cisco Systems are holdings in Jim Cramer's Action Alerts PLUS member club. Want to be alerted before Jim Cramer buys or sells AAPL or CSCO? Learn more now.