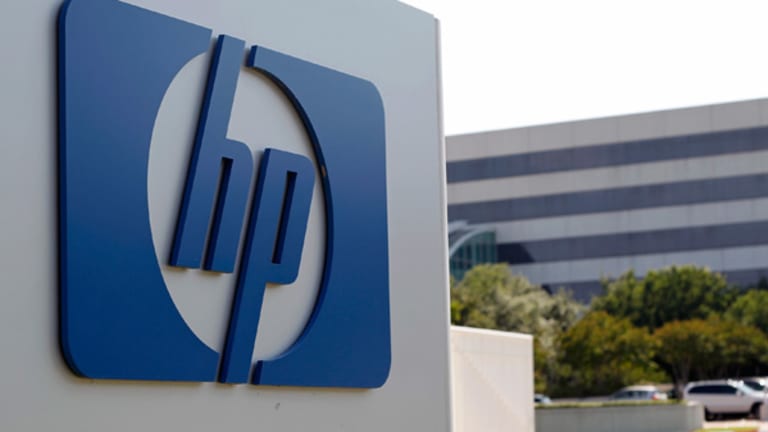 HP's Still a Value Trap
This current management team is not taking advantage of HP's underlying value.
NEW YORK (TheStreet) -- There is no shortage of experts when it comes to highlighting the problems facing Hewlett-Packard (HPQ) - Get HP Inc. (HPQ) Report. As beaten up as the company looks, it's hard for me to ignore how attractive the stock still appears.
My problem is
whatsoever that this current management team can harvest HP's underlying value.
HP investors will likely disagree. As has been the case for most of the year, I expect they'll be very determined to share those opinions.
Here's the thing: There are two schools of thought when assessing what HP has been able to accomplish. It's foolish to give too much weight to what the stock has done this year without expanding the full view of where it's come from.
I won't deny the fact that the 58% surge we've seen this year in shares of HP has been impressive. But I disagree with the idea that somehow this affirms Meg Whitman's candidacy for CEO of the Year.
What I mean by this is, over the trailing 16 months, at best, the stock has traded flat. While the stock has, in fact, rebounded nicely from last November's low of $11.35, the third quarter's 8% year-over-year decline in revenue suggests HP's recovery potential is still as rocky as it ever was. In fact, I believe the company has taken a slight step backward.
Read: Apple's Collapse: A Scholarly Perspective
Given HP's dire circumstances and what has been a perpetual restructuring operation, not much was expected going into the third quarter. But the company was also coming off two previous earnings reports where HP not only beat expectations but raised guidance. Essentially, by virtue of some "small victories," the company had, in effect, raised its own bar. So I won't apologize for having expected better results than those that came in merely in line with estimates.
To that end, given the year-to-date strong surge of the stock, I have to say the performance of every business segment, in my opinion, was a disappointment. This includes the 11% decline in PC revenue, which was not a surprise. But the 4% and 9% declines in printing and services, respectively, were much worse than I projected.
To add a bit of context to my disappointment, I need to point out that it's not so much that HP's numbers were that egregiously bad. But it's the fact that
Dell
(DELL) - Get Dell Technologies Inc Class C Report
, which has been left for dead, has essentially outperformed HP in every meaningful category. In fact,
much to the dismay of Michael Dell
, the company actually beat revenue expectations in the recent quarter -- a performance led by an 8% surge in enterprise services.
By contrast, HP's enterprise business disappointed, dropping 9% year over year. To make matters worse, HP's 16% decline in operating margin and flat gross margin makes it tough to offer any sort of endorsement for the progress of Whitman's restructuring efforts. I appreciate that HP's growth efforts are not going to happen overnight.
Read: Hedge Funds Post Puny Profits
But I can look at a company like,
Lenovo
(LNVGY)
, which has just as much exposure in the PC market, and see how Lenovo has been able to transition into the mobile market with virtual ease.
Lenovo, meanwhile, gets nary the media attention even though the company continues to execute flawlessly. I have my reasons as to why that is (but that's a subject for another time). In the case of HP, I'm willing to credit the company for some cost-related improvements. But to the extent the company is any better off today than it were a year ago, I don't believe that to be true.
There are still plenty of underlying issues that needs fixing before this company can be taken seriously as a turnaround candidate, much less of viable threat to
Apple
undefined
.
This, then, brings us back to the issue of valuation, which also makes me question whether management's growth strategies will ever work. At around $22 per share, I believe there's still at least $3 to be had in this stock, even if HP manages no growth at all for the next 12 months.
But with so many other options out there, what's the point in tying your investments to such a low ceiling, especially when margins are seemingly going nowhere, if not down? I want to like this story. But I'm not willing to get trapped.
At the time of publication, the author was long AAPL
.
Follow @saintssense
This article was written by an independent contributor, separate from TheStreet's regular news coverage.
Richard Saintvilus is a co-founder of
where he serves as CEO and editor-in-chief. After 20 years in the IT industry, including 5 years as a high school computer teacher, Saintvilus decided his second act would be as a stock analyst - bringing logic from an investor's point of view. His goal is to remove the complicated aspect of investing and present it to readers in a way that makes sense.
His background in engineering has provided him with strong analytical skills. That, along with 15 years of trading and investing, has given him the tools needed to assess equities and appraise value. Richard is a Warren Buffett disciple who bases investment decisions on the quality of a company's management, growth aspects, return on equity, and price-to-earnings ratio.
His work has been featured on CNBC, Yahoo! Finance, MSN Money, Forbes, Motley Fool and numerous other outlets.
Follow @saintssense