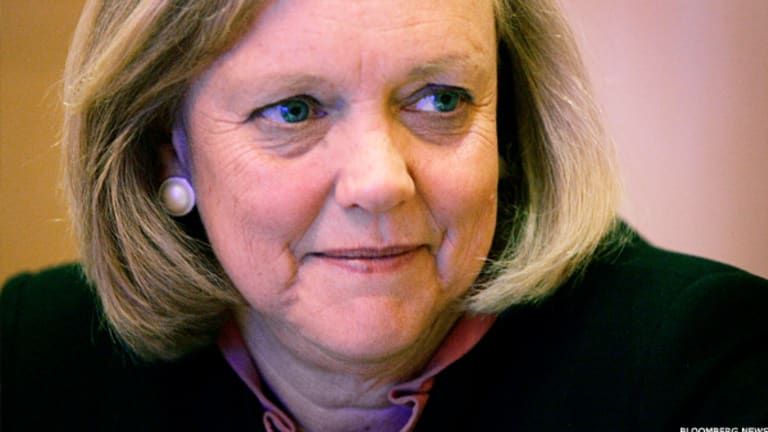 HP's Meg Whitman Setting New Lows in CEO Incompetence
'Veteran' CEO could learn a lot from Mark Zuckerberg at Facebook.
NEW YORK (TheStreet) -- As I watched the presidential debate, I had several recurring thoughts. Each one produced some mix of internal conflict, concern, sadness and anger.
I wish Bill Clinton was on stage
.
American politics died before I was born circa 1968, Robert F. Kennedy, Wilshire Boulevard, Los Angeles
.
I wish I was Canadian
.
One that made me feel like a bad person or, at the very least, a bit too dark, in a Louie C. K. sort of way:
Did Obama experience a mini-stroke before the debate?
And, the most important one of all, "
These
are the two people we have to choose from?"
It reminded me of my reaction during periods of time as a professional sports fan. I recall years, particularly in football, baseball and hockey, where teams recycled the same old names for head coaching vacancies.
There should be a rule in pro sports. Once you leave coaching and enter the broadcast booth for more than a one-off appearance, you should never be able to return to the game as a player or head coach.
That would save us from disasters such as Marty Schottenheimer.
In technology, once you leave a CEO post and enter the political arena as a candidate for something bigger than the school board, you should be prohibited from returning to tech -- or any other space for that matter -- in any leadership capacity.
That would have saved us from Meg Whitman.
On one hand, you have to respect the
Hewlett-Packard
(HPQ) - Get HP Inc. (HPQ) Report
CEO.
She's willing to put herself out there and take serious heat. You lose any sense of admiration, however, when you see the way she makes what amounts to a non-case.
On Thursday morning, David Faber, Melissa Lee and Jim Cramer did everything they could to get Whitman to answer the tough questions on
.
She came off more robotic than Obama. Like more of a politician than Romney. And, even though I didn't think it was possible, less inspiring than the two candidates combined.
The performance was beyond abysmal. Other than saying what amounts to
trust us
, she offered absolutely no reason why anybody in his or her right mind should buy HPQ stock.
Faber asked Whitman why HP puts so many eggs in the printing basket, given the shift to mobile environments and the cloud. Cramer wondered aloud how she'll overcome the fact that nobody cares about an HP product release; it's all about
Apple
(AAPL) - Get Apple Inc. (AAPL) Report
. He followed that up by asking for reaction to
Oracle
(ORCL) - Get Oracle Corporation Report
CEO Larry Ellison's contention that HP was down before Mark Hurd, up with him and back down immediately after his tenure.
In total, Whitman took five minutes responding to those three questions; however, just 15 seconds went towards actually answering any of them directly.
Shockingly, Whitman made herself look even more incompetent than 2011's worst performers:
Research in Motion's
(RIMM)
former co-CEOs and
Netflix
(NFLX) - Get Netflix, Inc. (NFLX) Report
top dog Reed Hastings.
No doubt. I'm being incredibly harsh. If you're an HP shareholder, you should be as well.
As Cramer explained yesterday on
TheStreet
, what's happening at HP is "jaw dropping."
I thought guys like
Facebook
(FB) - Get Facebook, Inc. Class A Report
CEO Mark Zuckerberg and other young, wildly successful tech executives made it perfectly clear. You need to bring your "A" game when you face investors and the media. If you're not capable, put somebody else in front of the camera who is. That's what Hastings should do. That's what Mark Pincus at
Zynga
(ZNGA) - Get Zynga Inc. Class A Report
should do.
Compare Zuckerberg's highly-publicized appearance at the
conference a couple of weeks ago with Whitman's debacle on
CNBC
.
Whitman gave weak answers; Zuckerberg killed it.
But, it wasn't simply that he looked and sounded good. Zuckerberg actually said something. He provided investors with what they need to support a stock before the magic happens -- something material. Zuckerberg talked specifically about the space, mobile, Facebook's mistakes and how they're recovering from them.
A 28-year old first-time CEO of the company people suddenly love to hate schools a 56-year old veteran on how to handle crisis and communicate with investors.
I'm not sure why we continue to put up with it in politics. Because, in tech, the days of accepting lip service and empty talking points are long gone. We're not complete fools, Meg. We can see right through it.
If Whitman thinks she can get 320,000 HP employees across six divisions on the same page, she's certifiably insane.
As David Faber noted, HP has 2,100 different SKUs of laser printers.
The fact that she proceeds with any of this only highlights how out of touch she is with reality.
When Steve Jobs returned to Apple, the first thing he did was slash the product line down to what would evolve into a handful of winners. Whitman needs to do something similar and probably more drastic at HP.
And she needs to do it with far fewer cooks in the kitchen, alongside innovators who can come up with something other than a retool of what hasn't been working for the last several years.
At the time of publication, the author was long FB
.
This article is commentary by an independent contributor, separate from TheStreet's regular news coverage.
Rocco Pendola is a private investor with nearly 20 years experience in various forms of media, ranging from radio to print. His work has appeared in academic journals as well as dozens of online and offline publications. He uses his broad experience to help inform his coverage of the stock market, primarily in the technology, Internet and new media spaces. He has taken a long-term approach to investing, focusing on dividend-paying stocks, since he opened his first account as a teenager. Pendola, 37, is based in Santa Monica, Calif., where he lives with his wife and child.