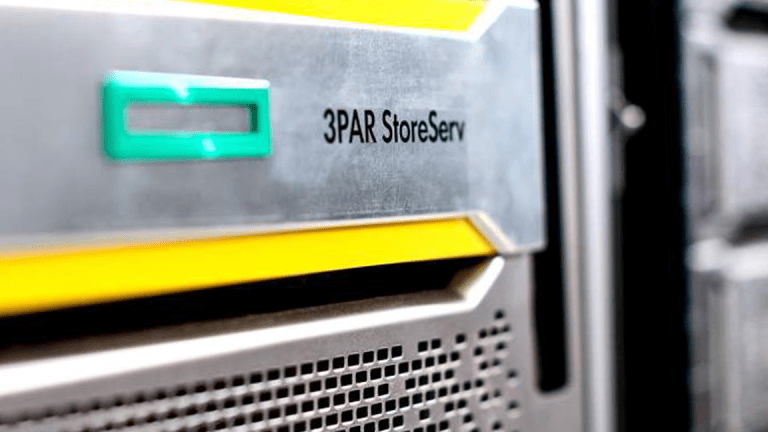 HPE Gains After Beating Estimates: 5 Key Takeaways
Job cuts, buybacks and favorable IT spending trends helped HPE top estimates. But revenue didn't grow much.
For a company whose stock trades at pretty cheap multiples, HP Enterprise's (HPE) - Get Report latest earnings report was all right.
However, it hardly puts to rest the long-term growth concerns that have swirled around the IT hardware giant for some time. Particularly since HPE's numbers benefited from a pretty favorable macro and IT spending backdrop.
After the bell on Tuesday, HPE reported July quarter (fiscal third quarter) revenue of $7.76 billion (up 3.5% annually in dollars, and 1.2% in constant currency) and non-GAAP EPS of $0.44. Revenue topped a $7.68 billion consensus, and EPS topped a $0.37 consensus.
Tempering the enthusiasm for those numbers a bit: October quarter non-GAAP EPS guidance is set at $0.39 to $0.44, which is merely in-line with a $0.42 consensus. HPE notes that some tax payments it expected to make in the July quarter are now set to be made in the October quarter; this served to boost July quarter EPS a little, and will weigh on the current quarter's earnings.
Also: HPE announced that Tim Stonesifer, who has been the company's CFO since the old HP split in two in late 2015, is stepping down. Former Sprint CFO Tarek Robbiati will become HPE's new CFO on Sep. 17th. The shakeup comes about six months after Meg Whitman stepped down as CEO, and was replaced by Antonio Neri.
Shares rose slightly in pre-market trading on Wednesday. Here are some takeaways from HPE's earnings report and call.
1) Server and Storage Sales Didn't Grow a Lot
HPE's "compute" (server) revenue, which accounts for over 40% of its total revenue, rose 5% annually in dollars to $3.51 billion, and just 2% in constant currency (CC). Storage revenue rose 1% in dollars to $887 million, and fell 2% in CC. Rivals such as Cisco Systems (CSCO) - Get Report , IBM (IBM) - Get Report and NetApp (NTAP) - Get Report have posted stronger server and/or storage numbers in recent weeks amid a favorable IT spending environment and solid Intel  (INTC) - Get Report server CPU and IBM mainframe upgrade cycles.
HPE does note its server growth would've been stronger if not for declining shipments of commodity servers shipped to "tier-1" cloud service providers, following a 2017 decision to exit this business. Of course, as those cloud service providers keep growing their capital spending, and as more enterprise server workloads move to public cloud infrastructures, HPE's limited exposure to tier-1 cloud firms is a clear growth handicap.
Storage revenue growth is promised to improve in the October quarter, although HPE doesn't say by how much. Neri asserts recent sales hires and product launches will both provide a boost.

HPE has generally been seeing limited revenue growth over the last two years. Source: HPE.
2) Margins are Improving
Giving a lift to EPS: HPE's non-GAAP gross margin (GM) improved to 30.7% from a year-ago level of 29.3%. Cost cuts have helped, and so has a revenue mix shift away from commodity servers towards more differentiated offerings such as HPE's ProLiant Gen10 server line (now slightly over half its server mix), its modular Synergy systems and hyperconverged systems that can scale to hundreds of server/storage nodes. Hyperconverged revenue was said to be up over 130% (Nutanix (NTNX) - Get Report , HPE's top hyperconverged rival, has also been seeing strong growth), and Synergy revenue over 100%.
In addition, though HPE has been passing on memory price increases to customers, a more favorable memory pricing environment is also helping margins some. NAND flash memory prices have begun falling, and while DRAM prices remain high, Stonesifer said DRAM cost increases "appear to have peaked."
3) Networking Remains a Strong Point
HPE's "Intelligent Edge" revenue, which covers products and services sold by its Aruba Networks Wi-Fi/Ethernet unit, rose 10% in dollars to $785 million, and 8% in CC. That more than offset a 6% revenue drop for HPE's small data center networking business.
The numbers come two months after HPE promised to invest $4 billion in Intelligent Edge technologies and services over the next four years. On the call, Neri mentioned demand for campus networking offerings (they're used to connect office environments) was a strong point last quarter.
4) Services Demand is Muted
HPE's PointNext IT services business saw revenue drop 1% in dollars to $1.79 billion, and 2% in CC. The company did add that PointNext orders rose 4%, and asserted that its hardware mix shift towards "more value-added offerings" will be a positive for PointNext growth going forward.
Financial services revenue rose 3% in both dollars and CC, and totaled $928 million. The segment's financing volume rose 15%, but its net portfolio assets were flat at $12.9 billion.
5) Job Cuts and Buybacks Continue to Boost Earnings
Thanks in part to job cuts, non-GAAP operating expenses equaled 21.1% of HPE's revenue, down from 22.3% a year ago. Together with GM growth, that helped HPE's operating margin rise to 9.6% from 6.9%. Nonetheless, citing strong demand for "volume" products, HPE is cutting its fiscal 2018 (ends in Oct. 2018) operating margin target to 9% from 9.5%.
EPS also benefited from the fact that HPE bought back $936 million worth of shares last quarter. Stonesifer says HPE will now "likely exceed" a fiscal 2018 buyback target of $3.5 billion.