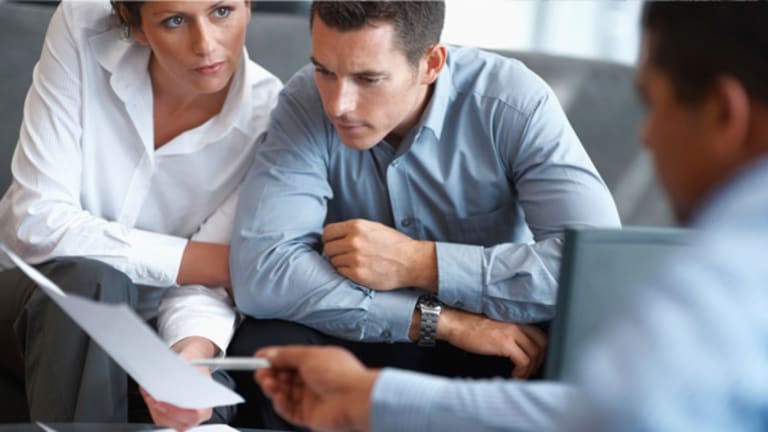 HP Needs Leader Like Apple's Steve Jobs
HP once served as the inspiration for Apple's Steve Jobs and now the situation needs to be reversed.
PALO ALTO, Calif. (TheStreet) -- HP (HPQ) - Get HP Inc. Report, once a source of inspiration for Apple (AAPL) - Get Apple Inc. Report, now needs a transfusion of its original product DNA.
A succession of HP leaders -- from
to
-- have looked everywhere but within the company itself to get the right products and live up to the company's heritage of innovation. Fiorina infamously bought Compaq and Hurd brought Palm into the family.
Yet the company is still struggling for relevance in a world in which consumer expectations have moved beyond the technology inside the machines to the lifestyle aspects that technology can enhance. This is what Apple does so well.
HP once led the pack in this regard and served as an early model for Apple CEO Steve Jobs, instilling in him a laser focus on creating products that delight and engage customers to the point of mobilizing an incredibly loyal following. In fact, Apple's other co-founder, Steve Wozniak, was working at HP before he teamed with Jobs.
In a 2004
Jobs said he and Wozniak "got our view of what a technology company should be while working for HP in the late 1960s and early 1970s. And the first rule over there was to build great products."
HP now needs to get that focus back and it needs to come from the top. That's why hiring the next CEO is going to be a pivotal moment for the company. HP has plenty of engineers and technologists, but it needs a cohesive force -- like Jobs is at Apple -- to get everyone focused on creating great products that excite customers the way Apple's Mac, iPod, iPhone and iPad have done.
I'm not saying HP needs to be rescued by Apple -- though crazier things have happened and Apple certainly has the financial muscle to pull that off (a simple stock swap would cost Apple only 0.16 of a share per HP share even without factoring in Apple's $9.7 billion in cash and HP's $14 billion in cash, according to
).
Rather, I'm pointing out that HP doesn't need another efficiency expert like Mark Hurd or a merger maniac like Fiorina as much as it needs someone who can inspire and motivate HP's demoralized workforce and get the company focused on innovations that consumers want.
To quote co-founder
, "the creative process is also an essential ingredient for increased productivity and improved quality."
Early scuttlebutt in the markets pointed to the possibility of HP wooing someone from Apple like COO Tim Cook. That's not a bad choice. As TheStreet's James Rogers noted in a previous piece making the case that
HP investors want an innovator
, hiring someone from Apple would add instant cache to HP.
Cook would be an outsider with an insider's understanding, since he previously served as a vice president at Compaq. But as a sales and operations guy at Apple and a procurement and inventory guy at Compaq, he may not bring the visionary magic that HP needs.
Maybe it's time for former Apple Evangelist Guy Kawasaki to step out of the Garage, a venture capital group focused on early-stage technology companies, and put his motivational style and customer focus to work for HP.
Some may recall that Kawasaki once carried the official title of "Evangelist" at Apple and, as he puts it in his blog
, his last duty at Apple was to "rejuvenate the Macintosh cult."
That's the kind of leader HP needs, someone to rejuvenate and evangelize.
These days, it seems like most of those kinds of people come from Apple, but they once came from HP.
Disclosure: TheStreet's editorial policy prohibits staff editors and reporters from holding positions in any individual stocks.