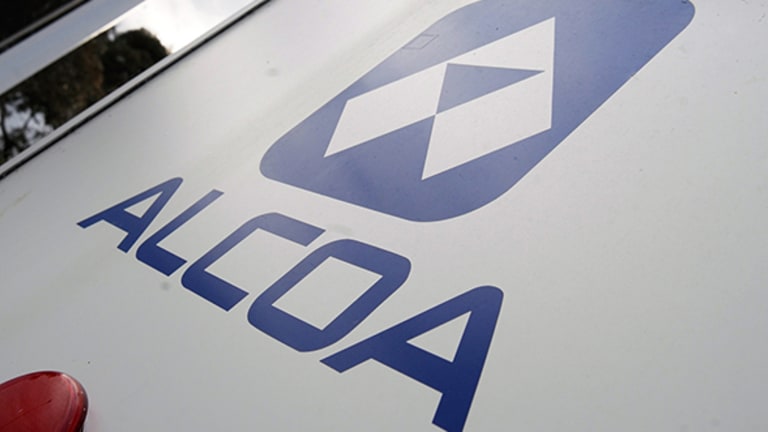 How You Can Profit From the Alcoa Split -- Plus What Jim Cramer Thinks
Alcoa management thinks it's found just the solution to shareholders' problems: split the company apart. Here's what investors should do now.
Updated with additional content.
BALTIMORE (Stockpickr) -- There's no doubt that 2015 has been a rough year for shareholders of Alcoa (AA) - Get Alcoa Corporation Report . Since January, this $12 billion aluminum giant has shed about 42% of its market value, making it one of the worst-performing S&P 500 components year-to-date.
But management thinks it's found just the solution to shareholders' problems: split the company apart.
Alcoa, it seems, isn't worth more than the sum of its parts. Quite the contrary, in fact.
The pummeling that aluminum prices have taken in the last year has forced investors to apply a bleak valuation on the whole company -- not just the commodity-centric portion. In other words, Alcoa's trading at a hefty discount by staying in one piece. And breaking the firm apart holds the promise of unlocking some significant value for shareholders.
The terms of the split are still undisclosed -- as is the name of the new company. For now, it's just being referred to as the Alcoa "value-add" company. Likewise, ticker symbol and share price are a long way away from being finalized.
Current Alcoa shareholders will automatically get shares in the new company, though the deal will need shareholder approval first. That's when the terms will be finalized. Presumably, current shareholders will receive a share in the spinoff equal to their ownership in Alcoa as a percentage of the total business.
For example, if you owned 10% of Alcoa, you'd end up owning 10% of Alcoa and 10% of Alcoa Value-Add after the spinoff. (More realistically, anyone who owns 0.0000000001% of Alcoa today will own shares equivalent to the same stake in each company.)
So what are Alcoa's two businesses in the first place?
Alcoa's core business is its "upstream" business. That legacy side of Alcoa's operations include its aluminum mining, refining and production business -- the part that Wall Street hasn't looked on very kindly in 2015. Despite setbacks in the aluminum prices Alcoa has been capturing this year, it's still a substantial business that accounts for approximately 10% of the world's supply of aluminum and alumina.
In the last 12 months, that side of the company has accounted for about $13.2 billion in revenue.
The other side of Alcoa, its "value-add" business, is made up of higher-margin materials such as engineered products and precision aluminum parts used by everyone from aerospace firms to beverage can makers. And while most investors think of the firm's legacy business when they think of Alcoa, the value-add business was actually a bigger share of revenue last year, contributing $14.5 billion in sales over the trailing 12 months.
By splitting those two businesses apart, Alcoa thinks that it can remove the legacy discount from the value-add side of the business and create value for shareholders in the process.
At first blush, the numbers do appear to add up. A recent analyst note from Morgan Stanley, for instance, valued the separate parts of the company at $14 per share. That's a 45% upside move from Friday's closing price. 
"We are Overweight on Alcoa because we believe shares will re-rate on rising earnings contributions from higher-growth end-markets," the note read. "The aluminum business remains challenging, but we see limited downside. We think aluminum-price recovery could take some time. That said, we believe that Alcoa shares offer attractive leverage to long-term price recovery." 

According to TheStreet's Jim Cramer, portfolio manager of the Action Alerts PLUS Charitable Trust Portfolio, "This deal brings out tremendous value." Cramer said that the value-add side of Alcoa "looks a lot like Precision Castparts  (PCP) ," which recently got a "huge bid" from Warren Buffett.

Exclusive Look Inside:
You see Jim Cramer on TV. Now, see where he invests his money and why.Learn more now.

So how do you make the most of the Alcoa announcement as an investor?
How to Buy Alcoa
The obvious solution is to buy shares of Alcoa.
For the time being, Alcoa is still in one piece. The firm expects to break off its value-add business in a tax-free transaction that will take place in the second half of 2016. Put simply, anyone who owns shares of Alcoa today gets to own both sides of the business after the spinoff is complete.
And while you might think that it only makes sense to own the more profitable value-add business, the fact of the matter is that Alcoa's legacy operations are just as attractive right now following the selloff that this stock has seen in 2015.
That's because while shares of Alcoa have practically been halved this year, aluminum prices have only fallen about 16%. It's normal for commodity producers to see their share prices fall more than the commodities they pull out of the ground -- after all, any price drops cut directly into their margins -- but the situation at Alcoa is pretty overblown.
That's nothing new. Alcoa has looked undervalued for a while now, but it's still continued to sell off. To make money on the spinoff story, you've got to think like a technical trader too.
From a technical standpoint, the good news is that we could be on the verge of a reversal here.
Alcoa hit price support back in late August at $8, and shares have been moving higher since then. At this point, shares are forming an ascending triangle bottom, a bullish price pattern that signals a breakout with a move through $10. And with today's spinoff announcement as a catalyst, shares are going to end up within grabbing distance of that big $10 level.
Once shares move above $10, the downtrend that's harangued shares all year long is officially broken. That's a pretty big technical signal in and of itself.
Momentum, measured by RSI up at the top of the chart, has been building since earlier in the summer, weeks before Alcoa's price action bottomed. That's been a bullish divergence that indicates buyers were stepping into shares.
With lots of eyes on the Alcoa story this week, now looks like as good a time as any to be a buyer.
From a risk management perspective, it's not a bad idea to build a small starter position in Alcoa now and then scale into a full-sized position size once our $10 level gets taken out.
Either way, make sure to keep a protective stop in place. Our strong support level at $8 from earlier in the summer is a logical place to park that stop loss level. If that $8 line in the sand gets violated, then the ascending triangle setup is broken and sellers are back in control of the price action.
Worst-case, that's an 11% downside risk. And if Wall Street's numbers are right, the tradeoff is a 45% upside target. That's a risk worth taking. There's still money to be made on the Alcoa trade.
Disclosure: This article is commentary by an independent contributor. At the time of publication, the author held no positions in the stocks mentioned.