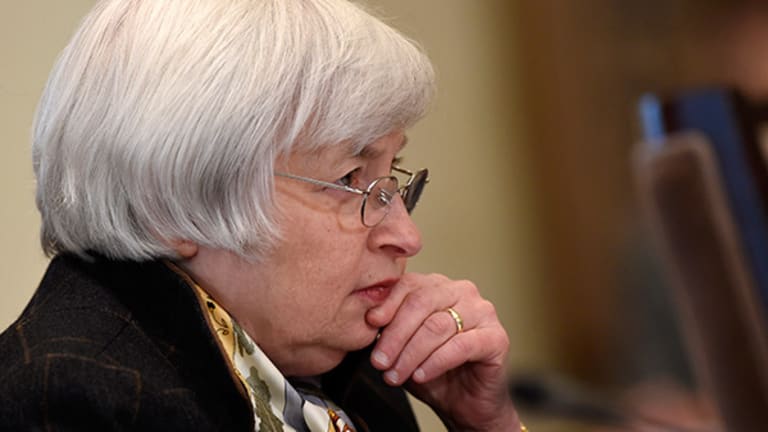 How Will Federal Reserve Policy Affect U.S. Stocks in 2015?
Here are six reasons the market can still rise even after this recent Fed-led rally.
NEW YORK (TheStreet) -- Did investors go a little too wild when the Federal Reserve hinted last week it would be both "patient" about raising interest rates and also willing to wait "a considerable time" before ending the nearly free financing that has nurtured the recovery?
And does that mean investors should be wary about the U.S. stock market heading into 2015?
Generally, the answer is no, strategists say. Big banks and advisory firms are still holding to forecasts that call for the Standard & Poor's 500 index to gain between 5% and 8% next year. That's not as good as this year's 12% gains and nothing like last year's 29.6%. Still, there are several good reasons to think the news will be at least as good as forecast.
The market really didn't go crazy after the Fed's announcement. Though it took a day or so for the market to decide the central bank had turned more dovish, meaning rates will stay lower for longer, the 5% rally that followed the Fed's meeting hasn't really been much. In fact, all it did was recover the ground lost since Dec. 5 -- Monday's close of 2078.68 was only a hair higher than the 2075.37 then. Its valuation is still about 17 times next year's expected earnings, which is just above the middle of historical norms, Standard & Poor's Capital IQ strategist Sam Stovall says.
If anything, the Fed is more dovish than it looks. Heading into a year when the central bank is widely expected to raise rates, with the only question being how soon and how rapidly, changes in the voting membership of the Federal Open Market Committee point to easier policy. Two of the committee's biggest hawks, Dallas Federal Reserve Bank President Richard Fisher and Philadelphia Fed President Charles Plosser, won't have voting rights on policy next year. Lower rates for longer are good for growth, so they're good for stocks. Low rates also make bonds less competitive.
The Fed's priorities are pro-growth as its members. After years of talking about inflation and unemployment, the Fed is now squarely focused on wages as a key trigger for higher rates. Inflation-adjusted household incomes are still about three percentage points lower than when the recession ended in 2009, according to Sentier Research.
It would be a lot to bet on a big jump in 2015 after the last two years, T. Rowe Price equities chief Bill Stromberg says. But there should be some growth left in this middle-aged bull market.
"Continued economic growth, ample liquidity and generally reasonable valuations seem to support modestly positive expectations for 2015," Stromberg writes. "However, with earnings growth likely to remain in the single digits, and little room for multiple expansion, investors would do well to keep their return expectations in check.''
This article is commentary by an independent contributor.