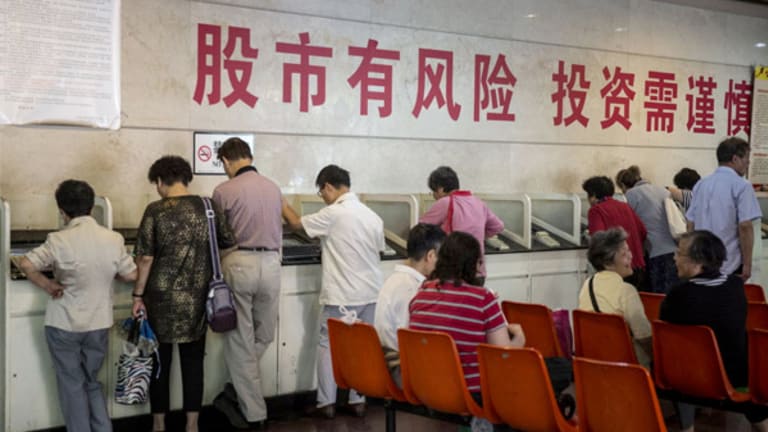 Publish date:
How Will China's Stock Market Slump Affect U.S. Stocks?
The selloff in China's stock market isn't the problem. The problem is what that selloff means.
The selloff in China's stock market isn't the problem. The problem is what that selloff means.
Economists, historians and your stock broker will all tell you that China's stock market should not have a profound impact on your stocks. The key word here is "should," and this advice may no longer be true.
On Jan. 4, the Shanghai Composite index dropped 7%, forcing Chinese authorities to halt trading in stocks. The selloff sparked selling in markets around the globe, and the Dow Jones Industrial Averagesank as much as 450 points that day. Although it recovered some of those losses, it still finished the session down 276 points, at 17,148.94. Since then, the blue-chip U.S. stock index has continued to slide, finishing Friday's session at 16,093.51, down 7.6% for the year.
U.S. stocks managed to recover following a previous China-induced selloff last August, but this time around, the damage is likely to last longer and be more significant.
It's important to note that the real issue here is not the Chinese stock market per se. Experts have noted repeatedly that the percentage of Chinese household wealth that is tied up in stocks is relatively small, and that it's not the primary source for companies to raise money.
The real issue is that the selloff in Chinese reveals a lack of confidence in the world's second largest economy and comes amid official statistics showing that the company's once red-hot growth is slowing. And because China is also the second largest importer of both commercial goods and services, its economic health is crucial for the global economy. The prospect of a significant slowdown in China has serious repercussions for other emerging-market nations that have been relying on Chinese purchases of their commodities for years. For example, Brazil's economy is already foundering, and slowing growth in China will only make things worse.
Obviously, Beijing is aware that it faces some big economic and financial challenges, and part of the government's response has been to devalue China's currency, the yuan. A devaluation last summer marked the largest downward move in the yuan in 10 years, and earlier this month, a devaluation took the currency to a five-year low vs. the greenback. Although these moves have received plenty of media attention,  there are ominous implications that some observers may have missed.
China's leaders are under pressure to keep their economy going, and the obvious motivation for devaluation is to make exports cheaper in the global marketplace. But a weaker yuan could lead to a flow of capital out of China, which would causes the value of the yuan to fall further. In order to ensure that the devaluation happens smoothly and gradually and doesn't unleash global panic, Beijing must use its reserves. But this can be followed by additional capital flight, creating a vicious circle. Beijing may have lots of reserves, but they're not infinite. This Business Insider article explains how this dynamic could spell disaster for the country.
And managing the yuan is just one aspect of a complex web of challenges China faces as it seeks to balance its domestic economic needs with its international ones, as Mohamed El-Erian discusses in this Guardian article from earlier this month. 
"In the meantime, it seems likely that China will continue to feel compelled to place its domestic obligations first, but in a nuanced way aimed at avoiding large disruptive tipping points for the global economy," El-Erian writes. "Whether that will be enough to avoid disorderly outcomes, however, is not totally assured."
For U.S. stockholders, then, the collapse of the Shanghai market is not the main cause for worry. That's just a symptom of the real problem, which is a significant slowdown in the world's No. 2 economy -- a slowdown that Beijing may be unable to successfully manage. Such a slowdown will have a big impact on global emerging markets, which accounted for more than half of global economic growth from 2010 to 2015, according to the International Monetary Fund. The combination of weakness in China and other developing economies -- and the potential they could send the global economy into a recession, or worse -- are the real problems that will weigh on U.S. stocks.
This article is commentary by an independent contributor. At the time of publication, the author held no positions in the stocks mentioned.