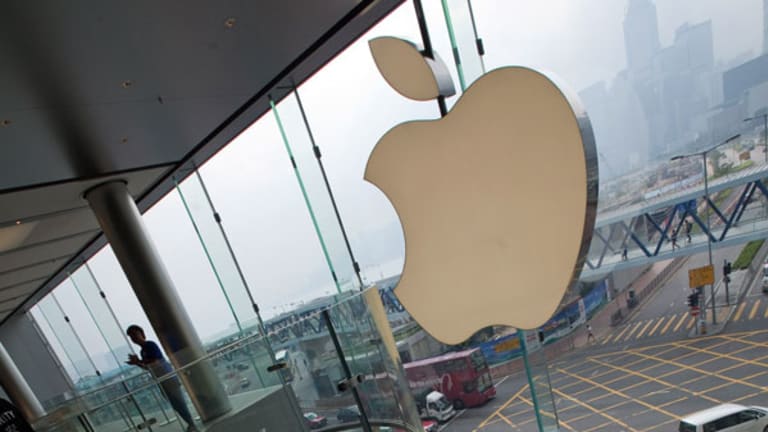 NEW YORK (TheStreet) -- Quite a few people downplayed David Einhorn's Friday court win over Apple (AAPL) - Get Apple Inc. (AAPL) Report. Even TheStreet's Antoine Gara referred to it as a small victory.
If Tim Cook views it the same way, that's a major mistake. We could be watching the beginnings of the long-term, post-Steve Jobs unraveling at Apple I warned about shortly after his death.
What David Einhorn is in the process of doing to Apple is nothing short of groundbreaking and monumental.
In recent months, I left my long-term bearish view of a post-Steve Jobs Apple on the back burner.
Why?
Because, at some point during the second half of 2012, the financial media and Wall Street analyst community latched onto the argument, diluting, misunderstanding and bastardizing it in the process.
We now have whole swaths of people confounding Apple's short-term prospects with its long-term fate under Tim Cook. That led to
a sell-off that came at least a year too soon
. While we do not know what the future holds, we do know that Apple continues to dominate mindshare and, to the extent it can via its current strategy, market share against scant meaningful competition.
So, in some respects, you have to give Tim Cook a pass. Apple remains Apple, with or without Steve Jobs. In others,
your long-term radar of concern absolutely must pique
. It's all about keeping short-term vs. long-term Apple and
the media's Apple vs. Apple's Apple
in proper perspective.
Steve Jobs Would Have Hated iPrefs Even if He Actually Liked Them
This whole thing would not be about capital allocation for Jobs. He would not give David Einhorn credit for offering an imaginative and unconventional idea (iPrefs) to solve Apple's cash "problem." Jobs would not have spent much time with that angle; rather, he would have been annoyed that Einhorn is (A) no matter the method, prescribing MBA convention for Apple and (B) doing it in the most public way.
The MBA side of this would not interest Jobs. Nor should it interest you because it's not the interesting part of this epic tilt. The psychological aspects matter more. What's fascinating here is the rhetorical battle Einhorn decided to wage. He's not an MBA. And, based on what I know of the guy, he realizes that, even as he talks up iPrefs, what he's doing is bigger than Apple and bigger than preferred stock.
In a war that requires the best rhetoricians, Apple lacks. In Steve Jobs, David Einhorn had a more-than-worthy battle partner. In fact, if Steve Jobs were alive, my guess is that Einhorn would not have charted the present course. If he did, Jobs would never have let it get to this. He would have shot the whole thing down before it turned into such a massive issue.
Tim Cook calls this thing a sideshow, but it's his fault it is one. Within the context of how it plays out in the media and, subsequently, with shareholders (because that's what matters, not what the court says) Einhorn outwits Cook by a mile.
In a Thursday night email conversation
(after his iPrefs presentation, but before the court ruling), Einhorn told me: "Proper capital management is not in conflict with an innovative product culture, which we believe will continue to persist under Tim Cook."
That's little more than an extension of the
slide
show presentation Einhorn gave last week where,
, he painted Apple, particularly Cook, into an unworkable corner.
It's all too masterful; Einhorn adapts Jobs' reality distortion field and presents iPrefs as an idea only a stubborn egomaniac who hates his company's shareholders could oppose. That's why -- mark my words -- Apple will, sooner rather than later, cave like a house of cards.
Einhorn won this battle. There's no way out for Tim Cook because he let this thing go too far in the first place. Now, pretty much all Einhorn has to do is sit back and wait.
Issuing the preferred stock and paying the dividend on it -- that's secondary.
An external force coming in and dictating the terms of engagement to Apple management -- that's what matters. If you don't consider this groundbreaking and monumental, particularly within the context of what Apple is going through, you're deluding yourself as a shareholder or not studying the situation close enough as an observer.
No doubt, I boil this down to the philosophical argument: Is there a meaningful connection between the seemingly unconnected (Einhorn pushing Cook around in a way he never would have and/or could have Jobs) and Apple's success?
I think there is and, while Jobs is the face of this unorthodox, sometimes antisocial and quintessential Apple attitude, it was -- or at least it should be -- bigger than him. Jobs created a complex culture comprised of many actors; it was never a one-man show. Evolution is necessary, welcome and expected; misunderstanding how this culture permeated and impacted Apple's entire being is not.
Maybe I am being melodramatic, but when Steve Jobs told Tim Cook,
Don't ask what I would do, just do what's right
, he didn't mean sell out the fiber of what made the company he built great.
--
Written by Rocco Pendola in Santa Monica, Calif.
Rocco Pendola is
TheStreet's
Director of Social Media. Pendola's daily contributions to
TheStreet
frequently appear on
CNBC
and at various top online properties, such as
Forbes
.