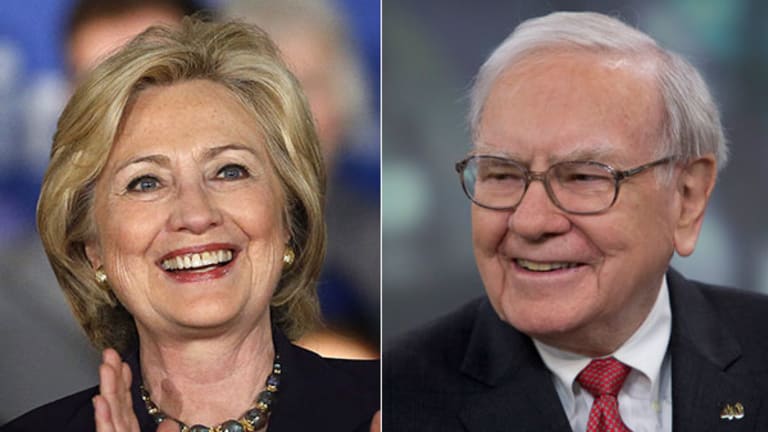 How Warren Buffett Will Help Solve Hillary Clinton's Wall Street Problem
Billionaire investor Warren Buffett will be joining Hillary Clinton on the campaign trail next week -- here's how cozying up to a billionaire investor will help her tough-on-Wall-Street story.
Is Hillary Clinton in the pocket of Wall Street insiders or ready to take them down if she becomes president? Cozying up to a billionaire investor could help answer that question, but not in the way you think. 
Warren Buffett has made no secret of his support for Hillary Clinton, and on December 16, he'll join the Democratic presidential frontrunner on the campaign trail in his hometown of Omaha for a fundraiser. For someone who has pledged to get tough on Wall Street, you might think that teaming up with one of finance's top players would look bad for HRC. But that's not the case.
"Warren Buffett is perceived by the public as America's investor," said Robert Schmuhl, a professor of American studies at the University of Notre Dame. "The 'Wizard of Omaha' isn't really seen as a creature of Wall Street, and as a result his association with Hillary Clinton isn't a detriment to her candidacy."
Clinton has promised to take a strong stance against misbehavior in finance on the campaign trail. She penned an op-ed for The New York Times outlining her plan of attack for the industry just this week in part to prove she is not in the Wall Street's pocket, as has been suggested. The other leading candidate for the Democratic nomination, Vermont democratic socialist Senator Bernie Sanders, called her approach to Wall Street "not good enough."
Buffett's seal of approval, however, should boost Clinton's tough-on-Wall-Street creds. 
First, Buffett has been critical of Wall Street and supportive of policies that Wall Street typically hates. 
At Fortune's Most Powerful Women Summit in October, he took aim at the compensation structure most hedge funds employ (a 2% management fee and a 20% performance fee) and put a bull's-eye on activist investors.
"[They're after] publicity. They're after results to some extent. And they're attracting more money," he said. "I mean, these guys get paid very often on something that's both fee based on assets managed and performance. And if you can get $20 billion under management and you charge 2 and 20, the 20 doesn't really get to be that important -- the 2 is $400 million a year."
Perhaps Buffett's most famous stab at Wall Street came in a 2011 editorial in TheNew York Times, calling for higher taxes on the investment class and the wealthy. But isn't he one of them? 
Yes and no. While Buffett, America's second-richest man, has amassed his estimated $67-billion-dollar fortune through investing, he is not considered your typical Wall Street guy. His narrative of wealth is a self-made one, and he has cultivated a folksy public persona over the years by doing things like playing the ukulele and tossing newspapers while keeping less image-boosting activities under wraps. 
"Buffett is a unique player in the world of finance. He's announced that he's giving away his fortune and is in favor of higher taxes for the wealthy. He's not a bank or an investment house so he really doesn't fit into the Wall Street mold," said Chris Arterton, a professor of political management at George Washington University.
And with Buffett, it's not just rhetoric. When the 2008 financial crisis struck, Wall Street was cast as the villain. Buffett, on the other hand, appeared as a white knight.
In the fall of 2008, he swooped in to save flailing Goldman Sachs. His Berkshire Hathaway made a $5 billion investment in the banking giant in a move heralded as a vote of confidence in the company and the market (a move that also made him a ton of money).
Berkshire made a $3 billion crisis-era investment in General Electric as well, which The Times dubbed "almost as good as a bailout" at the time. Buffett called GE "the symbol of American business to the world" and said he was "confident that GE will continue to be successful in the years to come." The firm also gave a helping hand to USG and Harley-Davidson. (Many of these investments have been quite lucrative for Buffett over time.)
The Oracle of Omaha did more than invest his own money during the financial crisis -- he encouraged others to do so, too. He penned an op-ed published in The New York Timesin October 2008 titled "Buy American. I Am."
He wasn't just talking about drinking six cans of coke a day. Under the Berkshire Hathaway umbrella are railroads, utilities, insurance and energy -- symbols of American progress and industry. And Buffett's investment portfolio includes iconic U.S. firms like Coca-Cola, Wells Fargo and American Express.
On top of all of that, and best of all for Clinton, is that Buffett has been an avid supporter of her bid for the presidency for quite some time.
In 2014, before the former secretary of state had even officially tossed her hat into the ring, he said he believed she would win the White House in 2016. He has reiterated his stance more than once this year as well, in May tellingFox Business Network, "I think that she is the most likely person to be president of the United States, elected in 2016, and I'm going to vote for her."
Buffett has put his money where his mouth is, too.
Open Secrets, a campaign funding website run by the Center for Responsive Politics, shows he donated $2,700 -- the maximum individuals are allowed to give candidates during the primaries -- to the Clinton campaign in April. In October 2014, he contributed $25,000 to Ready for Hillary, the super PAC created to draft the former first lady to the election. (Even though Buffett has also donated nearly $100,000 more this year to other Democratic party entities, this is a pittance compared to the amounts of money other politically motivated billionaires are spending. Conservative brothers Charles and David Koch have reportedly set aside $889 million for the 2016 election cycle, and former New York Mayor Michael Bloomberg has spent $72 million over the past four years on various campaigns and causes, according to the New York Post.)
While most of Buffett's money has gone to Democrats, he has been known to make contributions to GOP candidates. In 2012, he insisted he is not a "card-carrying Democrat."
What card Buffett carries probably doesn't matter to Clinton, especially as he provides some billionaire balance against another of America's most-visible super-wealthy. 
"Buffett's involvement might help to provide balance to all the political weight Donald Trump is currently exerting," said Schmuhl.
At the political dinner table, Buffett's wise, friendly grandpa may be the perfect foil to Trump as the drunk, racist uncle.