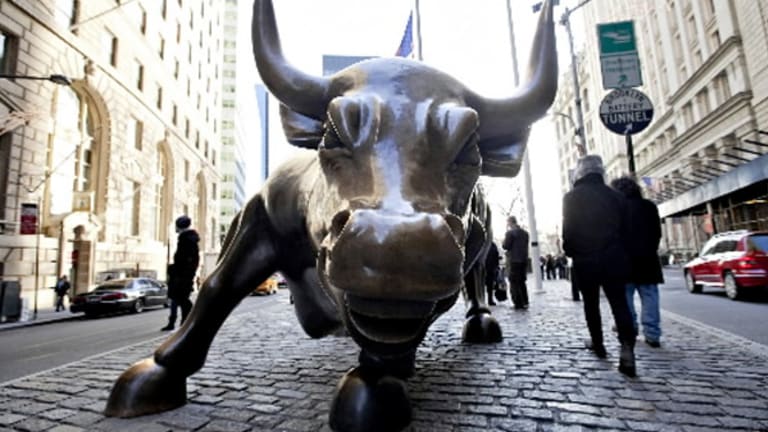 How Wall Street Keeps Outrageous Gender Bias Quiet 20 Years After the Boom-Boom Room
Hopes for reform were high when women at Smith Barney filed a discrimination lawsuit 20 years ago last month. Since then, the industry has worked hard to keep complaints quiet.
Editors' pick: Originally published June 1.
Everybody loves a half-price sale, and if you're a recruiter on Wall Street, there's always a markdown on female employees. 
Women in finance last year earned 52 cents for every dollar that men made in a job category the Bureau of Labor Statistics calls "securities, commodities and financial services sales agents." That's about as bad as it gets for women workers. It was the biggest pay gap among 119 occupations evaluated in a recent report by the Institute for Women's Policy Research in Washington, D.C.
But the revealing lawsuits that used to challenge this outrageous pay gap and economically hostile work environment to women are few and far between today -- and that's how Wall Street wants it. The country's biggest banks have made it harder than ever for women with complaints of unequal pay or treatment to make their cases in a public forum.
It was 20 years ago last month when three women in the Garden City, New York branch of Smith Barney triggered an industry-wide migraine, filing a class-action lawsuit that exposed egregious sexual harassment and unequal pay. It was dubbed the "boom-boom room" suit, the namesake of a party room in the branch's basement.
The worst public relations damage initially was restricted to Smith Barney on that Spring day in 1996. But C-suiters at other brokerage firms didn't have to look far to find evidence of unequal pay and sexual harassment at their own shops. Indeed, emboldened by the Smith Barney group, women all over Wall Street mobilized to sue and make their stories of discrimination public.
Merrill Lynch's women filed a class-action lawsuit in 1997. After that, Morgan Stanley, Goldman Sachs, Citigroup, Deutsche Bank -- sadly, I could go on -- all were hit with complaints by women filing alone or on behalf of a class. 
It all led to an initial burst of hope for women in finance. Leaders in the securities industry made the requisite noise about diversity training. Firms flooded their websites with photographs of smiling female employees. Every time you turned around, another big-name Wall Street firm was sponsoring a feel-good networking event for women.
Under the pressure of bad publicity, an insidious policy that forced Wall Street women to have discrimination complaints heard behind closed doors got fixed. In 1999, the Securities and Exchange Commission revised the language in the licensing agreement for securities industry workers that had required all employment disputes to be heard in arbitration. Under the new policy, people who had civil rights claims would no longer be forced to use private tribunals. The policy change gave those who were mistreated more effective recourse for their grievances while putting Wall Street on notice that it could no longer treat women like second-class workers without risking very public consequences.
The industry was smart enough to lie low for a few years after that as rounds of discrimination cases kept the women's issue in the news. Eventually, though, most firms got around the SEC's change by requiring employees to sign contracts agreeing to give up their rights to court before their first day on the job. 
These days, a court trial for a Wall Street pay or harassment claim is a rare thing indeed.
Roberta Thomann, one of the three women who brought the lawsuit against Smith Barney, left the industry just before the 1996 suit was filed. Having been out of the loop on securities industry developments since then, she was shocked when I told her that firms have figured out new ways to force women into arbitration. "I can't believe there is still mandatory arbitration," she said. "I thought it was done -- that we'd gotten rid of it."
She and her former colleagues believed that the private handling of discrimination claims was the engine that fueled entrenched discrimination, allowing harassers and bosses who underpaid women the assurance that they would never be judged in public.
Beyond arbitration, firms use other aggressive tools to keep allegations of unequal treatment secret. There are non-disparagement agreements, agreements not to participate in class actions, strict gag orders in settlements, speedy firing of complainers and sealing of damaging documents that might find their way into a public court file.
When a securities firm isn't able to keep an incriminating document off a court docket altogether, redaction keeps the public from seeing the most damning information. Take a look at the lengthy redactions in this document filed in 2014 in a case against Goldman Sachs to get an idea of how much the plaintiffs had to take out before they were able to file it publicly.
Firms send clear messages to women who dare to speak up. Megan Messina, a managing director in the structured credit products division of Bank of America Merrill Lynch, says she reported alleged gender discrimination and violations of securities laws to management in recent months only to be put on administrative leave on May 2. She sued the firm on May 16. A bank spokesman said it takes allegations of inappropriate behavior seriously and investigates them thoroughly.
William T. Bielby, a sociologist who has written expert reports in six civil rights cases against Wall Street firms, said in an interview that a series of Supreme Court rulings has made it very hard for women to mobilize to pursue the class action complaints that are most effective at bringing measurable change.
So instead of achieving an increase in the numbers of women, or a decrease in their pay gap, Bielby said firms boast about soft evidence that they've made progress, such as a good diversity rating from a trade magazine. But a spot on a "best places to work for women" list doesn't necessarily mean hiring and pay numbers have improved.
"The problem these days is it's generally good enough for firms to go through the motions and offer a lot of diversity talk," he said. "Because nobody is really looking over their shoulders."