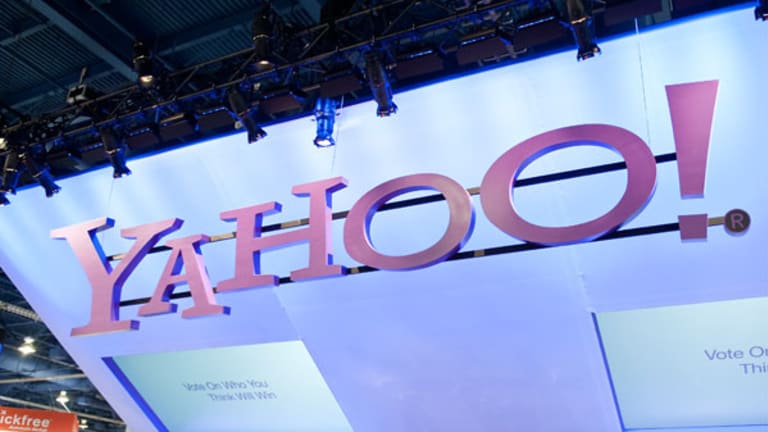 How Video Can Propel Yahoo!'s Growth
After finally posting an increase in display revenue, Yahoo! has turned toward original video content as a growth area.
NEW YORK (TheStreet) -- Yahoo! (YHOO) can seriously grow its video views by more than double in the coming months thanks to two major developments: four original Web series and a major acquisition.
The company has recently released its quarterly results, in which it managed to increase its search as well as struggling display revenue. Earnings were also better than market expectations.
Since the earnings release, Yahoo!'s shares are up 3% although, at around $34 now, they are down 15% for the year to date.
Interestingly, this improvement comes just a couple of months after Henrique De Castro, Yahoo!'s former COO and sales chief, left the company after he failed to increase ad sales.
Yahoo! is now reportedly working on four high-quality Web series and is in talks to acquire News Distribution Network, or NDN, one of the biggest players in online videos. I believe Yahoo! could spend roughly $340 million on the Web series and acquisition.
Through these efforts, Yahoo! could easily post triple-digit growth in its monthly video views. Consequently, the relatively higher-priced video ads can increase Yahoo!'s display revenue.
Although Yahoo! has not confirmed its Web series or its acquisition plans, investors should watch out for the NewFronts event starting from Monday. Rumors abound that Yahoo! will use this opportunity to give a taste of its original video offerings to advertisers.
During the previous quarter Yahoo!'s revenue, excluding traffic acquisition costs (TAC) increased by 1.2% from the same quarter last year to $1.09 billion. The company's net earnings dropped 20.2% to $311.58 million, or 29 cents per share. Adjusted earnings came in at 38 cents per share, flat from last year. The results were better than market earnings expectations of 37 cents per share from revenue of $1.08 billion, according to data compiled by Thomson Reuters.
Display revenue, excluding TAC, increased by 2% to $408.86 million. This was encouraging as Yahoo! has not reported any growth in first-quarter display revenue since 2011. Although price per ad declined by 5% from last year, the number of ads sold rose 7%.
Search revenue increased by 9% from the same quarter last year to $444.77 million. Paid clicks climbed 6% while price per click increased by 8%. This was the ninth consecutive time that the company reported year-over-year growth in search revenue.
Yahoo! gets more than 75% of its total revenue from display and search.
Yahoo! also seems to be increasing its focus on online videos. For that purpose, according to the WSJ, Yahoo is planning to acquire high-end original programming, the likes of which are planned by Amazon (AMZN) - Get Free Report and Netflix (NFLX) - Get Free Report.
Yahoo! is working on four Web series that will have around 10 episodes each. For this purpose, the company will spend anything between $700,000 to a couple of million dollars for a single episode. As a result, Yahoo! could end up spending roughly $40 million to produce these four shows.
With this video push, Yahoo! can lure its users to watch the pricier video ads. The cost per thousand impressions (CPM) is estimated to be around $1.28 for display ads and $1.02 for mobile ads. Online video ads, on the other hand, command a much higher CPM of nearly $11.
With high-quality content, Yahoo! can even lure the traditional television ads. On a larger scale, with Amazon, Netflix and Yahoo! moving towards original Web series, in the long term, the online videos could start competing with the mainstream television for the ad dollars.
For now, Yahoo! could also heat up competition against the world's biggest video Web site, Google's (GOOG) - Get Free Report YouTube. However, Yahoo! will not become a major threat to YouTube's dominance. This is because Yahoo! is a very small player in this industry with just 384 million videos views in January compared to YouTube, which had more than 12 billion views in the same period.
In the meantime, if Yahoo! buys NDN, the deal could be valued at $300 million. NDN says it is the fourth-largest video property in the U.S., with more than 573 million monthly views, even bigger than Yahoo! in these terms. However, unlike most video websites, NDN is a syndication service that works with other publishers.
If it's true, this acquisition can give a significant boost to Yahoo!'s video-content offering. The company's monthly views can climb from less than 400 million to more than 900 million.
Yahoo!'s growth in videos can be powered by Alibaba's initial public offering. Yahoo! owns 24% of the Chinese e-commerce giant, but will sell 10% of its stake once the public offering is complete. Yahoo! can generate $15.3 billion from the sale since Alibaba is valued at an average of $153 billion.
However, investors should note that Yahoo! has a poor track record of making unsuccessful bids to acquire video Web sites. The recent news comes after the company unsuccessfully bid for Hulu and France Telecom's Dailymotion last year.
At the time of publication, the author held no positions in any of the stocks mentioned.
This article represents the opinion of a contributor and not necessarily that of TheStreet or its editorial staff.