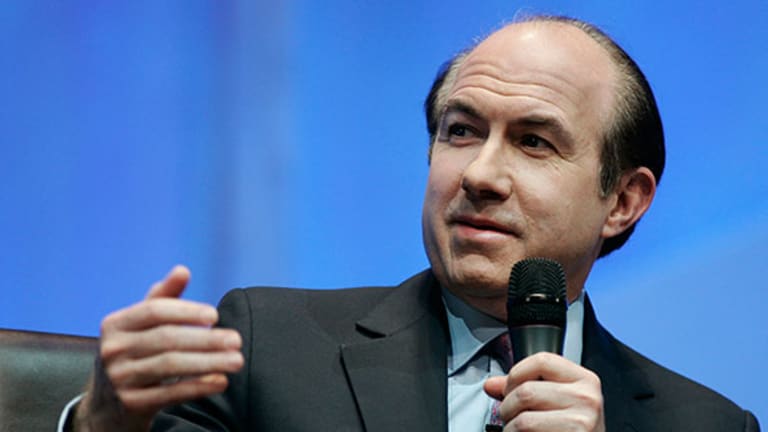 Many of the world's biggest corporations are headed by outspoken executives. Tesla Motors has its charismatic and occasionally controversial Elon Musk. The bombastic Steve Ballmer led Microsoft with a fair share of profanity and chair-throwing. And Delta Air Lines is preparing to say goodbye -- sort of -- to the legendary and contrarian Richard Anderson, who is hanging up his CEO mantle and retiring to a position as executive chairman in May.
Sometimes outspoken CEOs can be a blessing, attracting investors to their hot stocks with their shoot-from-the-hip attitudes. Other times, execs have a tendency to put their feet in their mouths. Take, for instance, Viacom's (VIAB) - Get Viacom Inc. Class B Report Philippe Dauman, whose candid remarks Tuesday sent the entertainment behemoth's shares plummeting. Dauman's strident performance Tuesday is an indication that you should shun Viacom.
On a conference call, Viacom, the parent company behind MTV, Comedy Central and Paramount Pictures, as well as other popular cable networks, released weak results for the three months that ended on Dec. 31, 2015. Total revenue fell by 6%, compared with the year-earlier quarter, to $3.2 billion. Profit for the first fiscal quarter was $449 million, or  $1.13 per share, compared with $500 million, or $1.20 in EPS, the year before.
Viacom's stock has been performing poorly for years. In 2014, the stock lost 14%. And it fell 45% in 2015. So far this year, the stock is down 20% (including Tuesday's decline). 
VIAB data by YCharts
Viacom had long been led by Sumner Redstone, who also helmed CBS until stepping down last week due to poor health. Viacom's board voted CEO Dauman to be Redstone's successor as chairman of Viacom, a move that was called into question on this morning's earnings call.
Richard Greenfield, analyst for BTIG, remarked, "Given the exceedingly poor performance of Viacom over the past several years ... can you give us color on why you were the board's choice to be both chairman and CEO?"
Dauman launched into a tirade. "Our outlook and the facts have been distorted and obscured by the naysayers, self-interested critics, and publicity seekers," he bristled. He refused to go into further specifics.
Dauman is not known for being combative, but his defensive rant, coupled with the company's weak performance, sent investors heading toward the exit doors. Shares fell 21% Tuesday.
Viacom simply hasn't shown a willingness to adapt and reflect changing media tastes. Last December, Standard & Poor's even downgraded the company's credit rating, writing Viacom was "more vulnerable" than its peers, including Time Warner, parent company to cable success story HBO. Viacom has been slow to adopt services such as on-demand and digitally delivered programs. Without a big reversal in attitude and strategy, Viacom looks particularly doomed. There are better places for your money.
We'll see what happens behind the scenes. Reportedly, several members of the board, including Sumner's daughter Shari Redstone, Viacom's vice chairwoman, opposed Dauman's executive appointment. In addition, there are several activist investors with large stakes in the company, including SpringOwl Asset Management. There could be a revolution in the works.
In the meantime, Viacom is a stock worth avoiding.

We've found a tiny stock that has the potential to surge 100% or more in the coming months. This is a growth story with major momentum, so it's important to learn the full details as soon as possible. The stock is trading under $8 a share, and its long-term prospects have never been better, making it a great value. I expect this rocket could take off soon, so be sure to click here now and learn more.
This article is commentary by an independent contributor. At the time of publication, the author held no positions in the stocks mentioned.