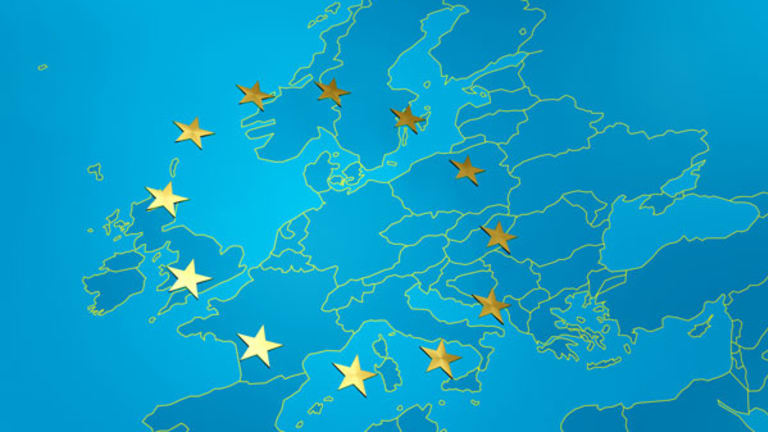 How U.S. Investors Can Play Europe's Expected Stimulus Plan
U.S. investors should buy European financial stocks such as banks and insurers as well as more cyclical sectors like construction and mining, say two Barclays analysts.
U.S. investors should buy European financial stocks such as banks and insurers as well as more cyclical sectors like construction and mining, say two Barclays analysts.
NEW YORK ( TheStreet) -- A European stimulus program might not only calm financial markets but offer investors some opportunities in the region, some market pros believe.
The European Central Bank is expected to announce a bond-buying program on Thursday to help revive the region's faltering economy. Stocks in Europe and the U.S. rose Wednesday in anticipation of the move, which some reports said would involve about $58 billion in stimulus a month.
U.S. investors looking to capitalize on the quantitative easing plan should buy European financial stocks such as banks and insurers as well as more cyclical sectors like construction and mining, say two Barclays analysts.
"We believe that the consumer discretionary sector should perform well if the ECB announces sovereign QE," Dennis Jose and Ian Scott wrote in a note Wednesday. Indeed, they are overweight in the sector on their European portfolio.
They noted that quantitative easing programs in the U.S. and Japan helped consumer-discretionary stocks become "the best-performing sector" in both of those countries.
Among their picks: automaker BMW, British brewer Whitbread and German tour operator TUI AG. As for banking and insurance financials, they are overweight in Italian insurer Generali (G) - Get Report and British financial stocks Lloyds Bank (LYG) - Get Report  and HSBC Holdings (HSBC) - Get Report .
But despite the upbeat sentiment among analysts, Europe's banking sector comes with risk. Institutional debt analysts at Royal Bank of Scotland expressed doubts in November about some parts of Europe's banking sector.
Their note said that 25 of the banks surveyed by the European Banking Authority in its 2014 stress tests had a gross shortfall of €24.6 billion, or $21.1 billion. Moreover, 13 banks still had a net shortfall totaling €9.5 billion, or $8.2 billion, despite raising fresh capital in 2014.
And although banks such as Italy's mid-tiers failed the stress tests and dominated headlines, many German and Austrian banks just scraped a pass grade.
Nonetheless, in line with the optimism on the equity side, the RBS debt analysts added that financial stocks such as banks benefit from improved transparency, increased capital and continued structural reforms.
The same pattern is evident outside the eurozone in the United Kingdom where, again, two sectors stand out: financial services and so-called cyclical stocks such as construction or mining. In common with financials, investors see cyclicals as potentially sensitive to QE measures in Europe.
"This is certainly an area that investors will be monitoring," said Keith Bowman, an equity analyst with broker Hargreaves Lansdown.
"You can even argue that something that is tracking the FTSE 100 is sensitive to QE. We've perhaps seen the market a little strong recently, and that is really ahead of any decision on Thursday," he said in a telephone interview.
In common with analysts at Barclays -- who made it a top pick for 2015 -- Bowman singles out Lloyds Bank as worth a look.
"In the context of QE, they are certainly seen as a stock that is sensitive to the U.K. economic environment." He added: "If you are looking for a recovery play on the U.K. economy, Lloyds Banking Group remains a core focus.
The question mark hanging over this stock, however, is when it will pay a dividend. The bank was part-nationalized when the 2008 financial crisis hit, and the U.K. taxpayer now holds almost 25 percent of the issued ordinary stock in the bank.
Any movement on dividends lies in the hands of the regulators rather than the boards of the respective banks. Recent small-scale actions by the U.K. government to reduce its holdings in Lloyds have, some speculate, suppressed the bank's recent price.
Away from the banks, the U.K.'s increasingly cash-generative homebuilders could also deliver for investors. Having built up substantial land bank holdings for building on, if anything, says Keith Bowman, homebuilders have done their best to become less cyclical than they were.
Investors, however, do tend to view them as cyclical, a fact that is reflected in the high degree of volatility in their share prices. Writing in a Jan. 7 note in response to a trading update from homebuilder Persimmon, Keith Bowman said that "analyst consensus opinion currently points towards a cautious buy."
Barclays homebuilding analyst Jon Bell broadly agreed with this assessment. "Persimmon, which has no operations in London, has given a reassuring update ahead of full-year results" on Feb. 24, he wrote in a Jan. 8 note. Buoying the U.K. housing market have been low interest rates, a government help to buy scheme and attractive mortgage deals.
This environment helped Persimmon to grow revenue by a comfortable 23%. However, on the downside tougher mortgage regulation has arguably played a role in cooling the wider housing market. Also, fears remain of an interest-rate hike in the U.K..