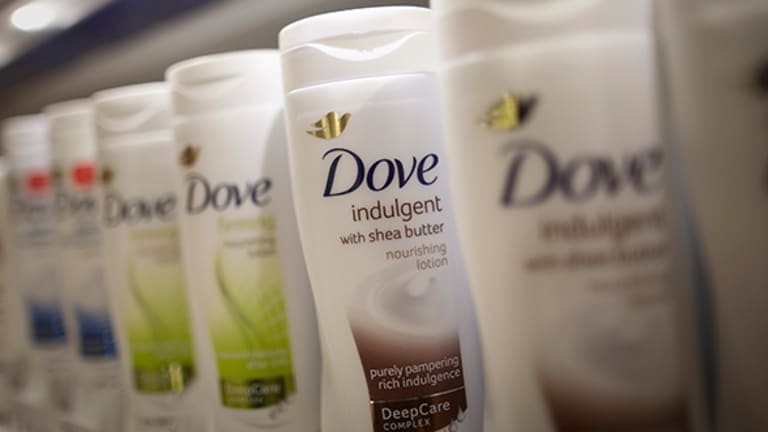 How Unilever is Cleaning up Its Portfolio
As arch-rival P&G sheds brand, Unilever is both buyer and seller.
Unilever (UL) , the Anglo-Dutch consumer powerhouse behind Dove soap, Signal toothpaste and Rexona deodorant, is on a quest to reinvent itself in a challenging market environment, just like American arch-rival Procter & Gamble (PG) .
Both have been tweaking their portfolios, Unilever as both a buyer and a seller, as the Cincinnati-based maker of Crest toothpaste, Head & Shoulders shampoo and Bounty paper towels, sheds brands with a vengeance.
While it's still too early to declare a winner on strategy and corporate vision, Unilever stands out against its European consumer staples peers.
"We would highlight Unilever as a potential winner, supported by the strength of its HPC (home and personal care) franchise," Barclays analysts  Simon Hales, Kenny Lam and Cedric Besnard noted in a sector report published in April.
They predict Unilever's earnings growth to accelerate above their peer-group average amid its "reliable cash cows" in personal care, as the company fixes "low-hanging fruit" in emerging-markets home care and refreshments.
Their upside scenario includes a recovery in emerging markets, which accounts for more than half of Unilever's business, while the pessimistic case entails further deterioration in key emerging markets like India and Brazil and pressure from commodity price inflation.
But they still cite Unilever as their "key pick" from a peer group that includes Germany's Henkel (HENKY) , Dutch brewer Heineken  (HKHHF) and British American Tobacco (BTI)  . They assign an overweight rating to Unilever.
In the first quarter, Unilever saw its underlying sales, excluding the impact of changes in exchange rate, rise by 4.7% to €12.5 billion ($14 billion), in line with expectations, with personal care accounting for €4.8 billion of the total. Personal care grew ahead of the group average, registering a 5.8% increase, while foods were the laggard at only 1.9% above last year. Underlying sales growth was strongest in the Americas, with strong pricing delivering 18% growth in Latin America.
Unilever and P&G are both faring well with investors.
Unilever shares are up 14.5% from a year ago, trading at 2,095.50 pence in London on Wednesday for a market cap of around £92.2 billion ($130.8 billion). And P&G is 10.4% higher over a year ago, closing at $82.57 Tuesday in New York to give it a market value of around $221.8 billion.
On the dealmaking front, both companies are active but in different ways, as borne out by figures compiled for The Street from Dealogic.
Out of Unilever's total 13 M&A deals in 2015 and 2016, there were only five acquisitions and eight disposals.
So far this year, there have been only disposals - the pending sale of Unilever's AdeS soy beverage business in Latin America to Coca Cola (KO) for $575 million, announced earlier this month, and the agreed sale of the Hindustan Unilever's rice exports business in India to LT Foods Middle East for $4 million.
P&G, on the other hand, has had nothing but divestments - nine of them - in the same period. Four of those deals have been agreed in 2016, including hair care brands in Russia, Saudi Arabia and Turkey being sold to Germany's Henkel, the Hipoglos diaper rash cream brand in Brazil being sold to Johnson & Johnson (JNJ) and the Escudo soap brand in Mexico that will go to Kimberly Clark (KMB) .
Unlike Unilever, P&G got out of the food business long ago. That was in 2011, when it sold Pringles to Diamond Foods (DMND) for $2.35 billion to focus on high-growth and high-margin beauty and personal care brands. P&G today has a portfolio of 65 brands in 10 product categories that yielded 2015 sales of $70.7 billion. It sold its Duracell batteries business to Warren Buffet's Berkshire Hathaway  (BRK.A)  in 2014.
Unilever had 2015 sales of €53.3 billion from more than 400 brands, of which 13 have sales above €1 billion. 
Rather than go for a big-bang slim down, Unilever is getting rid of assets of non-core areas like its struggling food business, especially in the U.S. where it last year sold its North American pasta business, the Slim-Fast diet product line and its meat snacks business to Jack Link's.
On this side of the Atlantic, Unilever acquired a Turin, Italy-based gelato business last year with over 60 shops in Italy and worldwide, as it its ice-cream product innovations appear to be paying off.
In personal care and other consumer products, Unilever is bulking up - snapping up a several skincare brands last year including Dermalogica and Kate Somerville, and the Camay and Zest soap brands, sold by P&G.
Unilever is also on a drive to improve its core operating margin and strong cash flow amid "fragile" consumer demand in the fourth quarter and slowing volume growth in all of its market - weak in emerging markets, "negligible" in North America and negative in Europe, in the company's own words.
On the bright side, Unilever says its personal care business its growing ahead of the group average as a push into more premium segments paid off and new areas like male grooming with the recent launch of the Axe range.
But Unilever has no intention to get out of foods entirely as P&G did five years ago, reporting good growth in cooking products in emerging markets in the first quarter and in Hellmann's mayonnaise driven by a new 'Real' campaign, squeezable packaging and the launch of Carefully Crafted and Organic variants. 
Over at P&G, expect the disposals drive to keep going in what the company sees as the biggest transformation in its history, albeit with lower market growth rate expectations as it said in April.
But no matter what lies ahead this year for P&G and Unilever, expect more portfolio shifts and dealmaking from both.