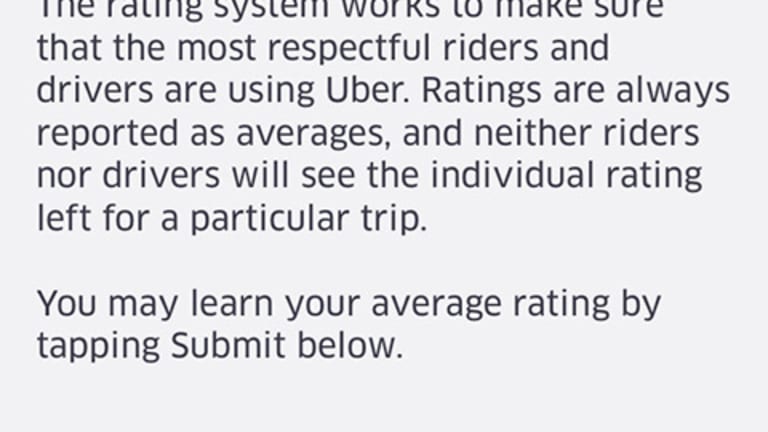 How Uber Is Actually Killing the Value of a New York City Taxi Medallion
Since the summer of 2013, taxi medallion owners have seen their income decline considerably. Several lenders could be left holding the bag.
Since the summer of 2013, taxi medallion owners have seen their income decline considerably. Several lenders could be left holding the bag.
NEW YORK (TheStreet) -- Since New York City taxi-meter revenue peaked in May 2013 at $599 per day per medallion, according to the New York Taxi and Limousine Commission, the average taxi-medallion owner has experienced a sharp drop in pre-tax income after debt service -- more precipitous than anyone has yet admitted.
The culprit? Primarily Uber, the hot on-demand car-service start-up that has been valued in excess of $40 billion -- a number that keeps on rising, even as valuations fall for medallions, the license needed to operate a cab in New York. Corporate medallions (those sold in pairs for use as part of a taxi fleet) were last auctioned in April 2014 and sold for $2.6 million per pair, or $1.3 million each. In March 2015, there were transfers of medallions for as little as $1.8 million for a pair, or $900,000 each. 
The introduction of new, free-market-based, for-hire vehicles, for the first time in the seven-decade history of the New York City taxi medallion system, is shaking incumbent medallion owners and threatening to render the historically bullet-proof medallion a superfluous piece of tin. 
The stress on taxi medallion cash flows, in turn, is affecting lenders like Medallion Financial (TAXI) , SignatureBank (SBNY) - Get Report and credit unions Montauk, Progressive, Melrose and Lomto Federal, according to conference call transcripts as well as filings over the last two quarters with the Securities and Exchange Commission and National Credit Union Administration, the body that regulates credit unions. 
In 2014, there were eight New York City medallion foreclosures, which are unusual during times of economic expansion. In 2011, 2012 and 2013, there were a total of 12 foreclosures, four each year. Citi (C) - Get Report attempted to seize 89 medallions from the largest fleet owner, Gene Freidman, a foreclosure that was headed off for the time being by a last-minute deal. New York Community Bank (NYCB) - Get Report, which owns a portfolio of medallion debt worth "just south of $200 million," is seeking to divest.
This reality contrasts with claims from both media advocates in the industry's trade press (Why the NYC Medallion is Alive, Well, and Will Survive!) and the New York Taxi and Limousine Commission. "Frankly, a lesser market would be destroyed; the New York yellow taxi market has instead taken a mild dip," said TLC Commissioner Meera Joshi at a recent Center for New York City Law Breakfast Series event.
These assertions fail to account for increased medallions issued (368 new medallions hit the market between November 2013 and March 2014), further diluting the shrinking taxi pie, as well as the acceleration in taxi market share declines versus new competitors like Uber. Uber's popularity in New York began rising starting in the summer of 2014 and has continued well into 2015. Contrary to industry claims, the taxi losses are significant.
Through a Freedom of Information Act request, we have obtained Taxi and Limousine Commission meter revenue and trips data for New York City taxis through March 2015. Combined with information from medallion holders, fleet operators and industry consultants, we were able to calculate the effect on owner-operator income of increased competition from Uber.
Because of operating leverage, every incremental 10% drop in farebox revenue translates into roughly a 25% decline in medallion owner net income. Earnings for a typical owner-operator have already declined by approximately 24% since June 2013, as shown in the table below. The seasonal change from June to March has consistently been in the upward direction (every nine-month June-to-March comparison from 2009 through 2013 showed increases); hence, the table may understate the earnings erosion. When taxi drivers bring in less revenue, the profit margin on the medallions decreases even more because of fixed costs, like payments on the medallion loan.
1 Avg. Daily Farebox for month (from TLC), divided by total medallions, divided by two shifts per day.
2 320 shifts per year for an individual driver is typical in the industry, according to interviews with taxi fleet garage general manager.
3 This figure is based on several calculations. Based on TLC data on we assume 77% of medallion holders lease their taxis out for a second shift for $120 a day, 365 days a year. In 2013, the daily income was $132 a day. Daily rates are based on a taxi leasing schedule obtained by the author.
4 Assumed $900K: Peak medallion price $1.05 million, and common for owners to raise cash via refinancing as values rise. Debt amounts and interest rates as reported by Medallion Financial, a leading lender. 
Historically, a New York City Taxi medallion has been a fantastic investment: from 2000 to 2014, its value rose more than the stock market and did so with very little volatility. Firms that made the loans on these investments could rely on payments from fares, and with interest rates at historical lows over the past few years, it was attractive for investors to buy. As long as medallion holders made enough money from fares to make payments and the value of the medallion increased, they could refinance their loans to make more investments or subsidize their lifestyles. And even when lenders did foreclose, because the assets kept on rising in value, they could recoup their capital by selling the medallion. 

If cash-flow decreases enough due to new competition, and the value of the medallion (which is based on the current and future cash flow it generates, and how safe that cash flow is perceived to be) decreases below the the loan amount, that's when defaults will happen. And when defaults happen now, lenders may not be easily able to recoup their capital because the value of medallions has fallen. 
All medallion loans are at risk. Should Uber continue to chip away at the income a medallion can generate, those purchased or refinanced at prices higher than the current value of a medallion will go "under water." As it is, there are more Uber cars in New York than medallion cabs. 
Barring a regulatory reversal (multiple schemes from increased regulation of ride-share apps like Uber to outright bailouts are under discussion), the end game is massive defaults and write downs for these lenders, and hardship for medallion owners.
How has Uber done it? Much has been written about Uber's product. And last summer Uber announced a 20% fare reduction for non-peak trips for UberX, which is the company's lowest-cost service. The company also began to more aggressively recruit drivers, increasing overall competition in the market for riders, while at the same time diluting trips and meter revenue of the cabs still on the road. Uber increased its driver network to nearly 16,000 in the city, up from 7,000, between July and December 2014. Uber announced plans to add another 10,000 drivers in New York City in 2015. Other operators including Lyft, Gett and Via are all angling for a bigger bite out of the Big Apple for-hire market. Carl Icahn, who is well-known for savvy investments, just invested $100 million in Lyft. 
The next two charts show the steady downward trends in NYC taxi trips and farebox, down 12% and 16%, respectively, since the peak in June 2013. The five-month moving average is a conventional adjustment for smoothing out seasonal volatility.
Taxi Meter Revenue Decline From June 2013 to March 2015
It should be noted, average farebox for the month of March has exceeded the prior June in each year since June 2009, until 2014 and 2015. This seasonality suggests that even the latest, dismal numbers may understate the earnings erosion taxi medallion owners have experienced so far.
Taxi Trips Decline From June 2013 to March 2015
It is worth noting that November is normally a point at which the five-month moving average for farebox and trips starts to rise seasonally. Hence, the flattening of the decline observed in the two charts above should not be confused as a slowdown in market penetration of the new for-hire vehicle supply in New York City. As is shown more clearly in the chart below, the year-over-year declines for farebox in the second half of 2014 was nearly twice that of the first half, and the decline in trips were nearly 50% higher in the second half.
Taxi Trips and Farebox Decline Acceleration in Second Half of 2014
To be sure, the introduction of green all-borough taxis, the addition of more yellow taxis and a number of other ride-share entrants have contributed to these declines. Further, at least some of the exposed lenders remain optimistic. 
"I don't think Uber has had the full impact on cash flows that people think it has," Andrew Murstein, president of Medallion Financial, said in an interview. "Cash flows have dropped very little for our owner driver borrowers. That is very different than other lenders who financed some of the larger fleets that are highly leveraged."
This article is commentary by an independent contributor. At the time of publication, the author was short TAXI.