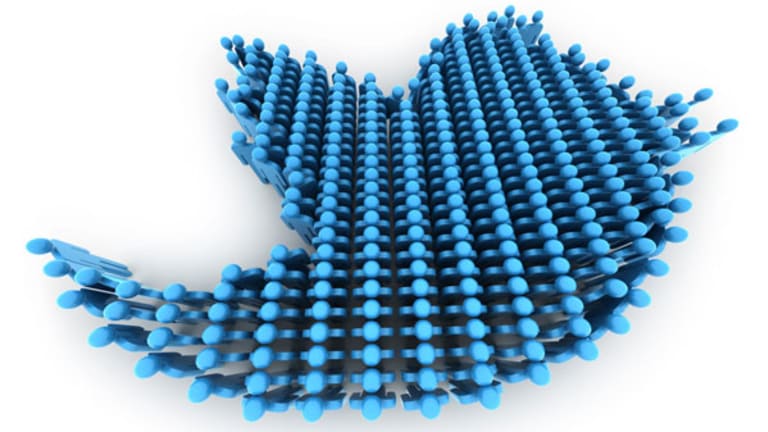 How Twitter's Blowout Quarter Changed My Mind -- It's Not Overvalued
Twitter's forecast is much higher than expected -- and it's investing to push sales even higher. Janet Yellen, this is why we value tech stocks so highly.
NEW YORK (TheStreet) -- Complain about the valuation all you want, but Twitter (TWTR) - Get Twitter, Inc. Report just put on a textbook show of how to manage a growth company and a growth stock.
The microblogging leader beat Wall Street forecasts for the second quarter by a mile, saying it earned $14.6 million, or 2 cents a share, on revenue of $312.2 million. That topped forecasts for a loss of 1 cent a share and sales of around $280 million. Twitter's already-expensive stock zoomed by more than 28% in after-hours trading.
As well it should. The numbers were almost hard to wrap your mind around -- and a reminder of why Federal Reserve Chair Janet Yellen and the Fed's staff were on such dicey ground making even a mild warning about the "substantially stretched" valuations of social-networking stocks earlier this month.
Consider..
-- It's impressive enough that Twitter's sales grew 121% in the first half of this year, compared with 2013. The really off-the-hook number is that Twitter's second-half forecast says the company will grow more than 34% in the second half -- from the first six months of this year. It's a rate of compounding that makes even Twitter's multiple -- at Tuesday's closing price, it was 17 times this year's expected sales -- look increasingly sane.
-- The amount of revenue Twitter gets for each user is growing far, far faster than the number of users themselves. It has room to grow much more. The monthly average user base grew by about 24% in the second quarter (from last year) while ad sales jumped 129%, with 81% coming from mobile ads. Twitter is getting more advertisers to buy in, and finding more ad formats and strategies for them to use.
Revenue per user is now up to $4.60 a year. Ad sales per thousand timeline views, a related metric, doubled in the quarter. And yet, Facebook's (FB) - Get Meta Platforms Inc. Class A Reportrecent report that its revenue per user is up to $8.92 a year suggests that Twitter is nowhere near its ceiling.
Facebook has a lot more to offer -- more sites like Instagram and WhatsApp, and more types of ad inventory it can promote -- so Twitter won't catch up any time soon. But the example of the older company, like the sustained near-hypergrowth of LinkedIn (LNKD) , reinforces the message that the ceiling is a long way from at hand for any of the three. It's out there somewhere, but not visible yet.
-- Capital spending at Twitter is extremely heavy and rising -- and that's good. In Corporate America generally, it's weak enough to be dragging down the economy. But Twitter is reinvesting about a quarter of its revenue this year -- as much as $390 million. That's where the new products and ad units to keep boosting revenue per user will come from, along with  acquisitions
As it stands, Twitter is already beginning to throw off cash. (Accounting profit, after non-cash charges for depreciation of that capital investment, is another story. On that basis, Twitter lost a hefty $144.6 million, or 24 cents a share, in the quarter). But operating cash-flow was 26% of sales in the second quarter, or $81.7 million, making clear that Twitter will be a pretty hefty financial machine -- and soon.
Yellen's problem is that her testimony to Congress reflected what companies like Twitter -- and even the very richly valued real estate listing site Zillow (Z) - Get Zillow Group, Inc. Class C Report,which has some social-networking features -- were last quarter, or are today. But when growth companies are working, there are game changers like this earnings report or Zillow's $3.5 billion merger with rival Trulia (TRLA) that are announced nearly every day.
And they change the numbers. The idea that Twitter can make $500 million before non-cash expenses next year suddenly looks pretty reasonable, and that makes a $22 billion valuation look normal at these growth rates, and the $30 billion valuation that's likely tomorrow morning. That means that all of a sudden complaints that Twitter was the new poster child for irrational exuberance look like yesterday's news. Even if the complainers had included yours truly.
At the time of publication, the author held no positions in any of the stocks mentioned, although positions may change at any time.
This article represents the opinion of a contributor and not necessarily that of TheStreet or its editorial staff.
Tim Mullaney writes on the economy, health care and technology. Contact him at tim.mullaney@outlook.com or follow him on Twitter @timmullaney.