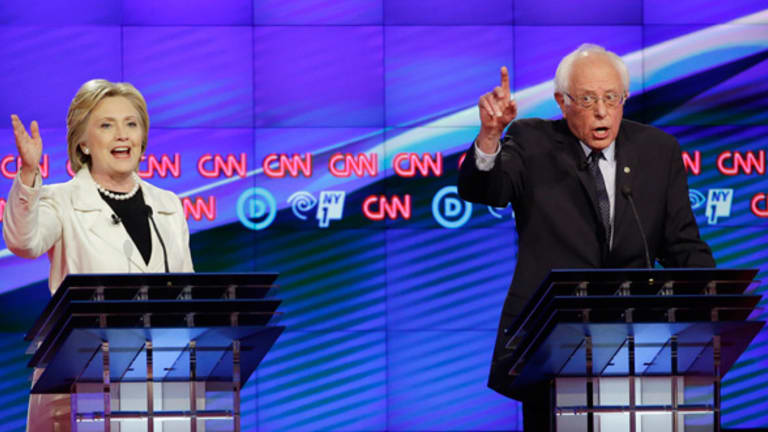 How Trump, Clinton and Sanders Stack Up on Financial Regulation and Dodd-Frank
Hillary Clinton agrees with most of the 2010 bill meant to prevent another financial meltdown. Bernie Sanders doesn't think it goes far enough, while Donald Trump wants to dismantle it.
Hillary Clinton agrees with most of the 2010 bill meant to prevent another financial meltdown. Bernie Sanders doesn't think it goes far enough, while Donald Trump wants to dismantle it.
The turbulent state of the U.S. economy, particularly an ongoing imbalance of wealth, has pushed the government's regulation of too-big-to-fail banks and businesses to the forefront of this Presidential election's policy debates. American voters want financial reform, but they are unsure about the best approach to achieving that goal. 
The Presidential candidates, Hillary Clinton and Bernie Sanders on the Democratic side and Donald Trump, the presumptive Republican nominee, have starkly different views on regulation and on the Dodd-Frank Wall Street Reform and Consumer Protection Act, which lies at the core of this issue. The bill, passed by President Obama and the Democrat-controlled Congress in 2010, consolidated the regulatory agencies that evaluate financial risk and included other measures to help ensure that there will be no repeat of the 2008 financial meltdown. Among other high points, the law prevents the Federal Reserve from granting loans to specific institutions, instead requiring that loans be issued to a wider variety of organizations. 
Sanders thinks Dodd-Frank didn't go far enough and that more regulation is required. He wants to do more to break up major banks. Trump thinks there's already too much regulation and the bill went too far. Clinton favors most of the bill. Here's a summary of each candidate's views.
Hillary Clinton
Clinton strongly defends the framework of the bill, but she has also called for the expansion of its sanctions. She plans to hinder the potential for risk-taking from large financial institutions, as well as target "shadow" banks. Under her plan, all organizations with more than 50 billion dollars in assets will be subject to heavy fines when making high-risk credit swaps. Clinton has said that she will impose harsher punishments on those that violate financial law, lengthening the statute of limitations in such instances from five years to 10, and providing more incentives for whistle-blowers than the law currently does.
Bernie Sanders
As one might expect from the self-proclaimed democratic socialist, Senator Sanders believes in strictly regulating Wall Street and the financial industry, but does not believe that the Dodd-Frank act is sufficiently capable of doing so. He believes that too many politicians have received private loans from companies such as JP Morgan and Goldman Sachs for them to be expected to adequately reform Wall Street. Sanders promises new legislation that will disassemble large banks, declaring that "if an institution is too big to fail, it is too big to exist."
Donald Trump
As a self-described fiscal conservative, Trump plans to bring an immediate end to Dodd-Frank. He stands for the protection of large banks, arguing that an excess of regulatory power has prevented banks from providing loans to those with the ability to create jobs. He also believes that regulations intended to reduce risky lending by large financial institutions cause the working class to suffer by forcing them into a position where they cannot receive loans or investments.
The Democratic Party tends to favor increased governmental involvement and regulation regarding business, while the GOP opposes regulation and believes that competition should dictate pricing and the economy. 
-- Jake Stein and Dina Green contributed to this article