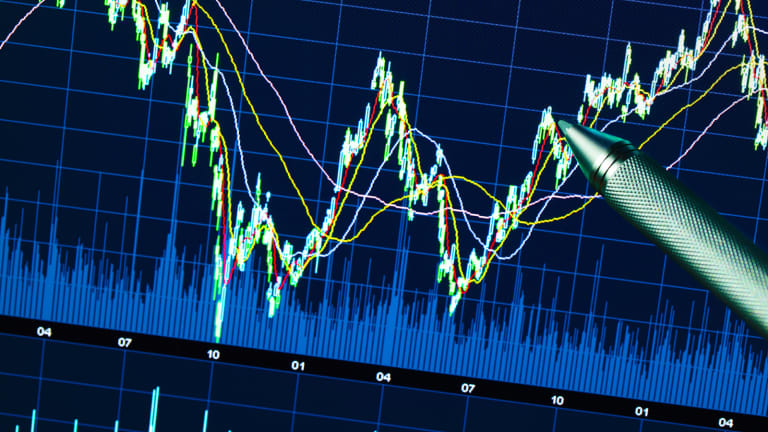 How Traders Can Make a Fortune Trading the VIX and VIX-linked Products -- Right Now
As long as we're on this markets roller-coaster, the VIX is a good bet.
NEW YORK (TheStreet) -- Want strong returns when the market is on a wild ride and most investors are in selloff mode? Take a look at the I:VIX . 
VIX is the ticker for the CBOE Volatility Index, which measures implied volatility of S&P 500 index options. As markets have been plunging over the last days and insecurity is high, it's good advice to take a look at volatility indices. They are great trading tools in a down-turning market.
The VIX is calculated by the Chicago Board Options Exchange (CBOE) and shows the market's volatility expectations for the next 30 days. In order to do this, the index tracks put and call options of the S&P 500. Currently, the VIX is the most commonly used method of measuring expected volatility.
A VIX value below 20 indicates low volatility. That means prices are not changing very quickly. On the other hand, a VIX above 30 is a sign of high volatility, which means uncertainty is high and there is fear in the markets. That's why the VIX is often referred to as the "fear index."
Due to the latest global sell-off, volatility is currently skyrocketing. Yesterday, the VIX had a closing value above 40 (as of August 24, 2015), which has been the highest value since more than three years. Today, it has fallen significantly to about 30 basis points.
VIX-Linked Products Make It Possible to Gain Directly From VIX Movements
There are several options to trade the VIX. The simplest approach is to buy Exchange Traded Notes (ETN) or Exchange Traded Funds (ETF) on the index.
The largest vehicle is the iPath S&P 500 VIX Short-Term Futures ETN (VXX) - Get iPath Series B S&P 500 VIX Short-Term Futures ETN Report . This product holds long positions in the first and second month futures contracts on the VIX. Hence, if markets are insecure and volatility goes up, the product gains in value.
The iPath S&P 500 VIX Mid-Term Futures ETN (VXZ) - Get iPath Series B S&P 500 VIX Mid-Term Futures ETN Report is a similar product, but it holds long positions in fourth, fifth, sixth and seventh month VIX futures. Additionally, there are other products which are structurally similar, but bear higher risk due to increased leverage.
Traders Don't Have to Trade the VIX Directly to Make Money Off of It
However, an investor who wants to make money investing in the VIX doesn't have to trade it directly. Another strategy is to buy put options during times of low volatility. This way, investors make a bet that markets are overbought and will turn bearish soon.
On the contrary, if the VIX is high, it makes sense to buy ETFs that track the S&P 500. Once the VIX is above 30, investors are panicking and selling their stocks based on fear. That leads to quickly falling stock prices. If the VIX starts to decline, it's a good time for investors to place their buy.
In general, if volatility declines, stock prices will increase. 
Investors should keep in mind that VIX-linked products are designed for knowledgeable traders who can assess the risk and understand market movements. Traders who are familiar with the concept of volatility and understand the basic structure of the VIX, will find this a great tool to trade in the current market environment.
<P><I>This article is commentary by an independent contributor. At the time of publication, the author held no positions in the stocks mentioned.</I>