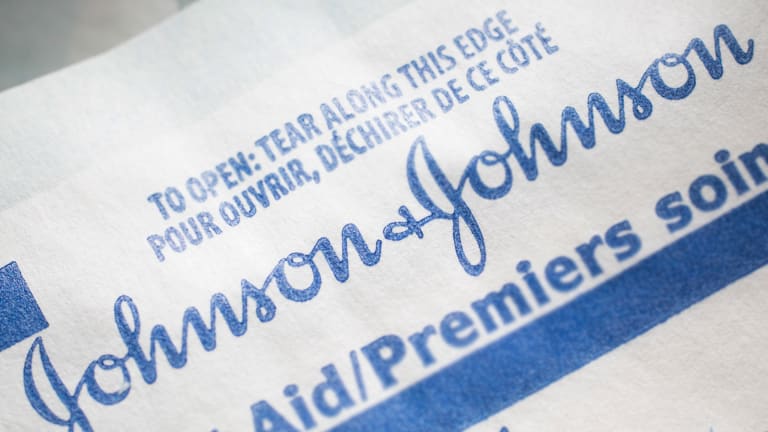 How to Use Options to Profit From Johnson & Johnson's Success
Johnson & Johnson shares should move higher eventually, and here's how to use options to make money from such a move.
NEW YORK (TheStreet) -- Johnson & Johnson (JNJ) has been on my watch list for several months now because I have liked the trading action of the stock relative to the overall stock market averages. Since early February, JNJ has been making a strong base while the Dow and S&P 500 have been trending lower or being stagnant.
Fundamentally, JNJ has a strong balance sheet with $12 billion in cash. JNJ trades at a forward price-to-earnings ratio of less than 16. The dividend annual rate of return is currently 3%.
Just last week JNJ management announced that the company has 10 "blockbuster drugs" that will become available over the next four years.
And yesterday Jim Cramer said he was buying Johnson & Johnson for his Action Alerts PLUS charitable trust because it has the most upside of the major pharmaceutical companies.
My prosthetic knees are those of JNJ's DePuy Knee Replacement System. Call me walking proof of what a great company JNJ is! (Note: I start my mornings walking three miles on these JNJ knees, six days a week.)
Over the past five years I have posted seven trades on JNJ at various times and prices. And one thing JNJ has been doing is moving in a pattern of new highs before reaching a plateau. Thus, from a technical standpoint JNJ could once again be readying to move up into another level of new highs.
This trade takes into consideration an elongated time factor for JNJ to eventually break out to new and higher stock price ground as the expiry is in January 2016.
Trades: Buy to open JNJ Jan 105 calls for $2.65 and sell to open JNJ Jan 110 call at $1.30.
The total risk for the trade is $1.35 per spread. The suggested target to close for a gain is a bid of $1.75 and the suggested target to stop out is a bid of $0.95. 
As always, this is a guideline, and you should always stick to your trading plan and what's best for your risk/reward tolerance.
OptionsProfits can be followed on Twitter at twitter.com/OptionsProfits
Skip Raschke writes regularly for Options Profits. You can get his trades first and interact with him there with a free trial.
At the time of publication, Skip Raschke held no positions in the stocks or issues mentioned.