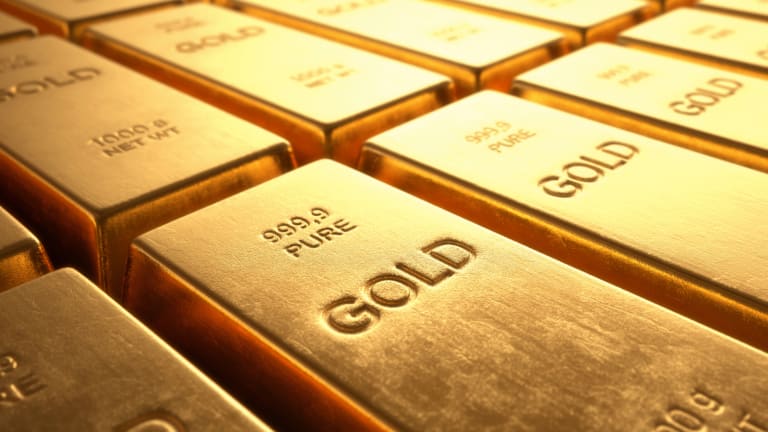 How to Use Leverage to Profit from Gold's Likely Rise
Geopolitical turmoil and market volatility will probably propel the price of gold in the coming months. Here's how to optimize your gold investing strategy.
When it comes to the power of leverage, the ancient Greek mathematician Archimedes put it best: "Give me a lever long enough and a fulcrum on which to place it, and I shall move the world."
A good way to harness the power of investment leverage is to buy the stock of a company that uses leverage at the corporate level. Corporate leverage (e.g., the judicious use of debt) is a powerful driver because it directly multiplies the corporate earnings of the company, which in turn drives stock prices.
An exciting example of this dynamic right now is Goldcorp (GG) , the world's largest gold miner by market value. Below, I explain why buying Goldcorp would be like buying bullion on steroids.
GG
data by
When a company such as Goldcorp uses leverage, more of its top line revenue growth flows through to its bottom line earnings number. And when you break down stock investing to its essence, a stock's value is solely dependent on the present value of the future earnings that will be generated by the company.
A good way to illustrate the concept is to examine the difference between owning gold and owning a gold-mining stock such as Goldcorp.
An investor who buys gold outright owns an asset that will fluctuate in value. If you buy an ounce of gold at $1,000 and the price goes up to $1,100, you've just captured a +10% return. Not too bad. And chances are good the price of your asset won't fall all the way to zero, so the limited upside you're exposed to is balanced out by the limited downside risk. Un-leveraged positions are inherently conservative.
But if you own gold stocks and the price of gold goes up, the notion of "operating leverage" comes into effect. A bump in gold prices will likely exert an exponentially huge boost on a gold producer's top line revenue. And because the producer doesn't have to put a whole lot of additional labor or capital into digging out increasingly valuable gold, its earnings-per-share (EPS) should go up and take the stock's share price with it.
At +10% increase in the price of gold should eventually lead to a more extreme price movement in the price of gold mining stocks because the gold miners have debt on their balance sheets.
Goldcorp released third-quarter results that ostensibly were terrible. But let's see why Goldcorp is actually in far better shape than most investors think.
Plummeting bullion prices in the third quarter weighed on Goldcorp's earnings. The company's net loss grew to $192 million, or 23 cents a share, from $44 million, or 5 cents a share, during the same year-ago quarter.
Goldcorp's stock is now down more than 34.75% year to date, compared with a year-to-date decline of 9.53% for the SPDR Gold Trust and a drop of about 0.83% for the S&P 500.
The earnings drop, though, masked an important statistic: Goldcorp also reported a robust 42% year-over-year rise in gold production.
Gold prices have now steadied at around $1,073 an ounce, but some analysts have been calling for gold to spike to at least $1,700 by the summer of 2016. The conditions that are favorable for gold will prove fatal for overvalued stocks that are looking for a trigger to tumble.
Here's the real story behind Goldcorp's third-quarter operating results: Management has reiterated its optimistic full-year 2015 forecast for gold production at the high end of between 3.3 million and 3.6 million ounces, all-in sustaining costs of $850 to $900 an ounce and capital expenditures of $1.2 billion to $1.4 billion.
Gold mining stocks already represent a time-tested way to leverage the price of gold, but Goldcorp is taking this tactic a step further, by "doubling down" on higher production at continually declining costs, to set the stage for an expected leap in gold prices.
The residual inflationary consequences of seven years of near-zero interest rates in the U.S., combined with newly aggressive monetary easing in Europe and Asia, position gold for a rally in coming months. The continual threat of terrorism and social dislocation also provide plenty of fodder for this classic hedge against international crisis.
Compared to gold mining rivals Barrick Gold and Newmont Mining, Goldcorp can tout many competitive advantages, notably production growth that's combined with a rock solid balance sheet. In the gold game, the spoils go to the low-cost producer with the greatest ability to leverage gold's rise -- and right now that describes Goldcorp.
Goldcorp looks like a great way to hedge your portfolio against the coming turmoil of 2016. But when a market correction or terrorist attack occurs without warning, there's a group of stocks that will hit the skids and never recover. Click here for a free report that lists the dangerous stocks you should sell immediately.
John Persinos is editorial manager and investment analyst at Investing Daily. At the time of publication, the author held no positions in the stocks mentioned.