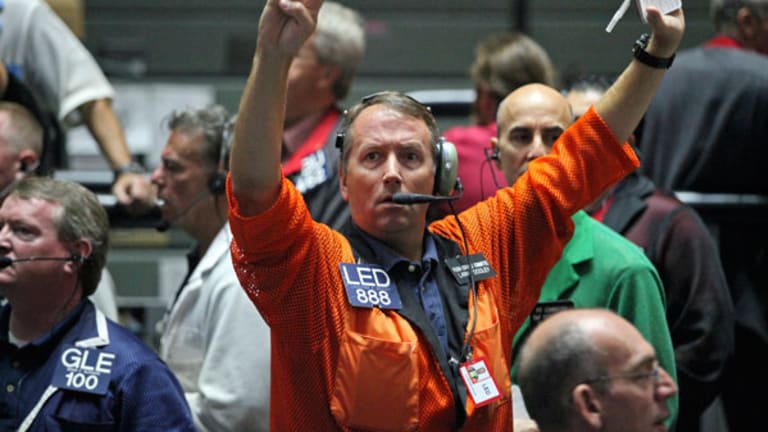 How to Trade the Bounce With Limited Downside Risk
There is still life left in this bull market. Trade the previous market sector leader for near-term profits. Take a look at the ProShares Ultra Russell 2000 ETF.
NEW YORK (TheStreet) -- Concern among investors is growing that the long-term stock market uptrend may be coming to an end. Overall earnings are up, but stocks are down for the third quarter. The iShares Russell 2000 ETF (IWM) - Get iShares Russell 2000 ETF Report, which has outperformed its larger-cap brethren (the S&P 500 and Dow Jones Industrial Average) since the bull market began back in March 2009, topped out at $120.97 per share on July 1. It subsequently fell 8.5% over the next month.
Is leadership changing, or is IWM signaling that the next move for the market is lower? I believe that there is still life left in this bull market. Even if the major indices don't take out their respective highs in the near future, there is still a trade available for profit today, for those inclined to take limited risk.
Here is the setup. Technically, IWM has been in a trading range from $107.44 to $109.32 on the low side to between $120.58 and $120.97 on the high side. Should IWM fall below those levels, the sector would be considered failing and it would be time to get out of any trade related to that index. Should the price go above $121, it is a breakout to new all-time highs and the price most likely would go even higher!
Since we are now near the lower end of that spectrum, with IWM trading near $114 per share, using leverage is encouraged to accelerate returns. Therefore, I am recommending you look at ProShares Ultra Russell 2000 ETF (UWM) - Get ProShares Ultra Russell2000 Report; it should give you more bang for your buck on this bounce. Currently at $82.07, I believe a price target of $90 is possible. Above $92.50 and this would become a longer-term hold. However, I would limit my downside exposure to just a nickel below last week's low of $76.52, or approximately 7%.
The market may be topping out here with quantitative easing set to end in October, but that may be priced in already. The bulls aren't going to give up easily.
No market ever goes straight up or down. If the old highs are not breached, then covering this trade at a profit will be warranted and adding an inverse ETF will be in order.
The markets are overdue for a bounce higher, which I feel started Friday, August 8. Measuring that bounce will tell us the next move, but for now, trading the bounce with limited downside risk is in order. This topping or breakout process may take a week or two to play out.
As summer comes to a close, volumes will dry up even further and I believe so too will volatility. In my opinion, any fireworks will be delayed until after Labor Day.
At the time of publication, the author held no positions in stocks mentioned, although positions may change at any time.
This article is commentary by an independent contributor, separate from TheStreet's regular news coverage.