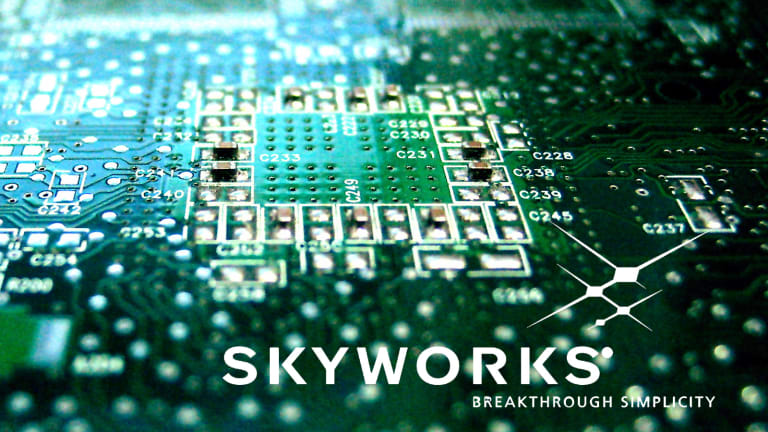 How to Trade 3 Semiconductor Stock Buyout Targets -- Must-See Charts
Semiconductor stocks are on traders' radars after news of the Broadcom acquisition. Here's how to trade three other chip stock targets.
BALTIMORE (Stockpickr) -- As an investor, there's nothing like waking up one morning to find out that one of your favorite stocks just got acquired for a fat premium -- and the semiconductor industry has been the place to be for buyouts in 2015.
Year-to-date, merger and acquisition activity in semiconductor stocks is up 921% to $69.7 billion in deals. That number got a big shot in the arm this morning, after Avago Technologies (AVGO) - Get Free Report announced it was buying Broadcomundefined in the biggest acquisition deal in the tech sector.
The question now is "Who's next?"
Instead of focusing on the fundamentals behind the next potential chip acquisition target, today we're turning to the charts for a technical look at three big chip stocks that could become buyouts.
For the unfamiliar, technical analysis is a way for investors to quantify qualitative factors, such as investor psychology, based on a stock's price action and trends. Once the domain of cloistered trading teams on Wall Street, technicals can help top traders make consistently profitable trades and can aid fundamental investors in better planning their stock execution.
Looking at the technicals for a buyout candidate actually makes a lot of sense. After all, when it comes to getting in to a stock trade, timing is everything. Technical analysis provides a risk management framework that helps you get the timing right. Likewise, technical strength can also be a buyout indicator. For instance, it indicates when market participants are accumulating shares.
(That's also a big part of why huge hedge funds such as SAC Capital have turned to technical tools such as DeMark indicators to try to spot buyouts ahead of time.)
Without further ado, let's take a look at five technical setups worth trading now.
Skyworks Solutions
Up first is $21 billion analog semiconductor stock Skyworks Solutions (SWKS) - Get Free Report. Skyworks has been a phenomenal performer in 2015, rallying more than 50% since the calendar flipped to January. For comparison, the broad-based SPDR Technology ETF (XLK) - Get Free Report is only up 5.6% so far this year. SWKS is absolutely stomping its peers.
But don't worry if you've missed the move in SWKS. Shares are kicking off a second leg higher this month.
After powering higher at the start of the year, Skyworks started consolidating sideways in a "rounding bottom" pattern back in late March. The rounding bottom is a bullish price setup that looks just like it sounds. The pattern indicates a gradual transition in control from sellers to buyers -- and while it's typically a reversal pattern that comes at the bottom of a down-move, SWKS' chart popped up at the top of shares' recent range. The breakout signal came on last week's move through $102.50 resistance. Now, with that level taken out, it makes sense to buy Skyworks.
Relative strength adds some confidence to the SWKS trade right now. Skyworks' relative strength line (not to be confused with RSI) has been in an uptrend of its own going back more than a year now, which is an indication that shares are outperforming the broad market in good times and bad ones.
As long as that uptrend in relative strength remains intact, this stock should keep meaningfully outperforming the S&P.
Cirrus Logic
Cirrus Logic (CRUS) - Get Free Report is another analog chipmaker that's been rallying hard in 2015; shares are 59% higher today than they were at the start of the year. Like SWKS, they could be headed higher still -- and the good news is that you don't need to be an expert technical trader to see why. The price action in Cirrus Logic is about as simple as it gets.
All year long, CRUS has been bouncing higher in an uptrending channel, a price pattern formed by a pair of parallel trend lines that identify the high-probability range for shares of Cirrus to stay stuck within. In other words, every test of trend line support has provided a low-risk high-reward opportunity to be a buyer, and as shares come off a support bounce yesterday, we've got a fresh signal to get in.
Waiting for that bounce is important for two key reasons: It's the spot where shares have the most room to move up before they hit resistance, and it's the spot where the risk is the least (because shares have the least room to move lower before the channel breaks, and you know you're wrong). Remember, all trend lines do eventually break, but by actually waiting for this bounce to happen first, you're ensuring CRUS can actually still catch a bid along that line before you put your money on shares.
If you decide to buy CRUS here, the 50-day moving average is a logical place to park a protective stop.
InvenSense
Last up on our list is small-cap electronic sensor stock InvenSense (INVN) . This chart is a pretty stark contrast from the others. For starters, shares are actually down 13% in 2015. But there's still an opportunity to get in on this buyout candidate, as long as you're patient enough to wait for buyers to regain control.
After selling off hard last fall, INVN started tracking sideways in a price consolidation called a "rectangle pattern". The rectangle pattern gets its name because the setup basically "boxes in" shares between those horizontal support and resistance lines on the chart. For InvenSense, the levels to watch are resistance up at $17 and support at $14.
It pays to be reactionary with this price chart, after all, rectangles are "if/then patterns". Put a different way, if INVN breaks out through resistance at $17, then traders have a buy signal. Otherwise, if the stock violates support at $14, then the high-probability trade is more downside.
The recent pullback in INVN could actually make this stock more attractive for potential acquirers – at least from a value standpoint. But for investors trying to hold shares, it's smart to wait for buyers to regain control with a move above $17 before putting your money on the line…
This article is commentary by an independent contributor. At the time of publication, the author held no positions in the stocks mentioned.