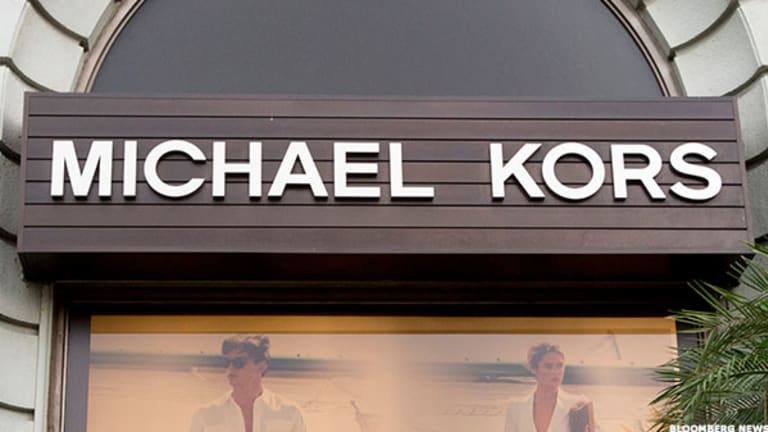 How to Trade 3 of the Market's Most Active Stocks
Here's a technical look at how to trade KORS, AAPL and ABBV.
BALTIMORE (Stockpickr) -- Put down the 10-K filings and the stock screeners. It's time to take a break from the traditional methods of generating investment ideas. Instead, let the crowd do it for you.
From hedge funds to individual investors, scores of market participants are turning to social media to figure out which stocks are worth watching. It's a concept that's known as "crowdsourcing," and it uses the masses to identify emerging trends in the market.
Crowdsourcing has long been a popular tool for the advertising industry, but it also makes a lot of sense as an investment tool. After all, the market is completely driven by the supply and demand, so it can be valuable to see what names are trending among the crowd.
While some fund managers are already trying to leverage social media resources like Twitter to find algorithmic trading opportunities, for most investors, crowdsourcing works best as a starting point for investors who want a starting point in their analysis.
Today, we'll leverage the power of the crowd to take a look at some of the most active stocks on the market.
Michael Kors Holdings
Nearest Resistance: $59
Nearest Support: $45
Catalyst: Q4 Earnings
No two ways about it, this week has been a rough one for shares of accessory maker Michael Kors Holdings (KORS) . Shares of the $12 billion handbag stock dropped more than 24% in yesterday's session following the firm's fourth-quarter earnings numbers. The big driver for the huge drop came from a bad sales forecast for the year ahead. While the firm estimates profits to end up between $4.40 and $4.50, analysts were expecting closer to $4.72 on average.
Technically speaking, KORS hasn't been particularly attractive for the past year. Shares have been slumping lower in a textbook downtrend in the long-term, but this week's big drop means that the chart is downright broken. From here, KORS is best avoided until this stock can find some semblance of support again.
Apple
Nearest Resistance: $132
Nearest Support: $125
Catalyst: Technical Setup
Because of its sheer size, Apple (AAPL) - Get Report is no stranger to the news cycle -- or to being one of the biggest-volume stocks on the Nasdaq. But despite this week's news items, the biggest driver of AAPL's upside move yesterday was technical. Apple is flirting with a major technical level just above $132. If shares can clear the $132.50 level, then there's a big new buy signal in everyone's favorite technology sector name, and that's driving some pretty conspicuous volume in shares this week near new highs.
If buyers can shove AAPL above $132.50, a whole lot of upside potential suddenly opens up.
AbbVie
Nearest Resistance: $68
Nearest Support: $66
Catalyst: Lawsuit
AbbVie (ABBV) - Get Report is getting some extra attention this week, following news that the results of a patent battle with Mylan (MYL) - Get Report over HIV drug Norvir are likely to come out by the fourth quarter of this year. AbbVie presented its side at a claim-interpretation hearing on May 22, a major step in the battle over the drug patent. Investors clearly feel good about the outcome, and they helped to shove ABBV to new multi-month highs in Wednesday's trading session.
From a technical standpoint, ABBV looks solid here, but it looks buyable on a move above $68. That $68 resistance level has acted like an important price ceiling going back to December, and if ABBV can crack through it, it means that buyers definitively have control of shares.
This article is commentary by an independent contributor. At the time of publication, the author was long Apple.