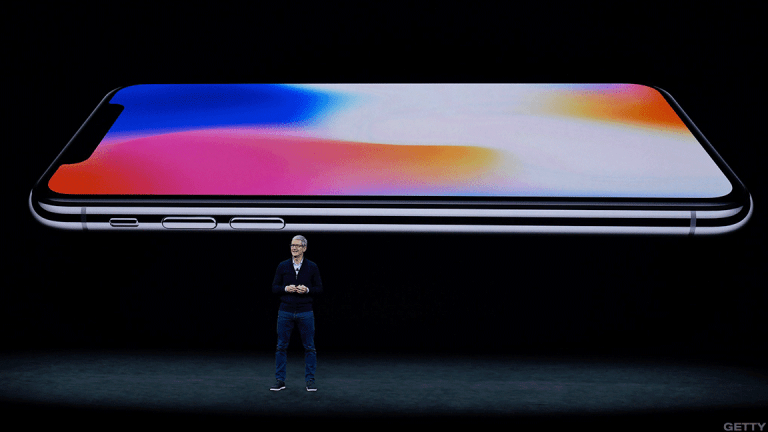 How to Sleep Well in These Markets (and What to Do With Apple): Market Recon
A market top cannot be timed, but two rules I've used have kept me out of big trouble.
"There are hunters, and there are victims. By your discipline, cunning, obedience, and alertness, you will decide if you are a hunter or a victim." -- James Mattis
Scaredy Cats
October. The Crash. Black Monday. There have been many crashes. Know what? The only folks who say there have been many crashes are the folks who showed up after 1987. For everyone old enough to have started their careers before Oct. 19, 1987, there is only "the crash". There were some other panics, but they either happened in slow motion, or after-market models had undergone some automation, so the sheer pandemonium felt across the marketplace was far less severe for those. One of the most common types of questions that I field from the retail investment crowd are ones that deal with getting out of the markets in time. Heck, even while I traipse around the trading floor of the New York Stock Exchange, pretending to be popular, this is one of the most common topics that come up. Professional or home-gamer, this is what's on the mind of most market-watchers, and the talk heats up in October.
I simply tell the folks that this cannot be timed, but there are two guidelines that I have used throughout my entire professional life. One, if my mother read about this in the newspaper, or could see me now, would she be embarrassed? That one can keep a kid out of a whole mess of trouble. Secondly, if you have such a large percentage of your portfolio in equities that worrying about it is impacting the quality of your life, then cut back. No joke. As long as you aren't the "would've, could've, should've" type (and those types are worthless and weak anyway), then this will help you sleep at night. I told you yesterday. I'm net long. I'm diversified, and where I'm a tad nervous, I'm hedged. I'll sleep tonight.
Apple: Buy, Sell, or Hold?
All those folks who ask, or at least want to discuss markets with a friendly face... they all want to talk about Apple (AAPL) - Get Apple Inc. Report as well. (By the way, Apple is a holding in the Action Alerts PLUS charitable trust portfolio, which Jim Cramer co-manages). Rather than try to answer everyone individually, I'll try to tell you what I think about this name. Let us look at the fundamental, as well as the technical picture. You ain't getting quality stuff like this for free anywhere else, gang. First off, I own the shares, I'm long. This is the kind of name that one (or at least this one) often thinks about making a break from the product line, and going over the border. The same reason I don't, is the same reason why APPL maintains an advantage. Who wants to learn a new system? We all know someone who made the break, went to an Android phone, screamed at their new phone for months in anger, and then came back. If you are a professional, finding time to sleep is a challenge. You are not going to find time to effectively immerse yourself into an entirely new electronic ecosystem.
What are "They" Saying?
Well, let's start with some bad news ... or is it? Foxconn has shipped its first batch of iPhone X devices out of China, a mere 46,500 units. "Oh, no" says the crowd, as they gasp in unison. Production delays abound, due to parts issues related to the OLED panel and the 3D sensor system. Enter KeyBank. By the way, KeyBank is the primary subsidiary of KeyCorp (KEY) - Get KeyCorp Report . The kid is long that one too, so you can send me on my way if you so desire. KeyBank upgraded AAPL from Sector Weight to Overweight before Monday's opening bell at 11 Wall Street, and Times Square (Say hi to Father Duffy). Analyst Andy Hargreaves indicates that the firm's "storage step-up pricing" will bring in more gross profit than previously expected. Hmm. The service revenue stream. Ahh. The gem of this ecosystem, if you ask me as a shareholder. This analyst took his full-year 2018 guidance on EPS up to $11.68 from $11.07. Oh, get some.
Another KeyBank analyst was less enthusiastic (can't make this stuff up). John Vinh soberly notes that the iPhone 7 is still outselling the iPhone 8. A negative? Not if you are GBH Insights analyst Daniel Ives. Ever hear of him? He's the kid that came over from FBR Capital Markets. Ohhh. Ives says that these delays will result in a "super cycle upgrade" that will be a "major growth catalyst" for next year. Hmm. Ives feels that this could be the firm's "strongest product cycle to date". Ives is looking for sales of 265 million units over the full year, and slapped a price target of $190 to $200 on the name. Let's see. The last sale is below $160 ... that's more than 18% from here, kids.
What Does Sarge Think?
The first thing that I notice is that the stock is cheap, trading at 18 times trailing earnings and 14 times forward-looking (next 12 months) projections. Though the firm has already brought much of its foreign held cash home, in absentia, in the form of collateralized debt, should there ever be an actual repatriation event the name will still benefit. The firm's current ratio of almost 1.4 is one of a firm that will have no problem meeting both short-term and long-term obligations. That's something I look at with every firm I invest in, regardless of size or reputation. Everyone should. Revenue is expected to grow more than 5% this year, which is an improvement over last year's hiccup, but still relatively pedestrian in this world. Next year is the key (get it?). Consensus on the street for next year is for growth of a whopping 16%. Now, the stock is trading at 14 times the EPS number that this growth is based on. That's almost $265 billion, gang. Getting this kid all warm and fuzzy inside.
Other product lines, such as personal computers, TVs, iPads, and watches are niche products. The watches are likely aimed at lower price point customers who can't afford the phones. These products are not the needle movers, in my opinion. It's all about the phones and servicing the eco-system.
What to Do
For the home-gamer who is still flat the name, I would not chase the stock the morning after a run like Monday. I would initiate a long position on a down day (I only buy shares in any stock when they are depressed) with 20% or less of the intended size of your position. The same goes for an investor looking to add. For the trader, you may want to take advantage of the run, make a sale to get back in lower. That takes skill, as well the time to be agile, and it can backfire.
I recently sold Nvidia (NVDA) - Get NVIDIA Corporation Report (a stock I very much like, and very much believe in) at $180 resistance, thinking that I could buy in back around $170. I bought it back at $186. (last: $197.93) The stock is higher, but I gave up six bucks that were mine to have because I thought I was smart. Lastly, if the stock has reached your target, do not be afraid to take some off. Nobody ever got hurt taking a profit.
Those familiar with my analytical style know that I always give clients and those in need two target prices, as well as a panic point, which is where you either place your stop-loss order or are forced to make an impactful decision.
What to know right now about Nvidia from TheStreet's Jim Cramer.
Target Price: $176
Aggressive Target: $197
Panic Point: $141
Chart of the Day 
This is a one-year daily chart of AAPL. Technically, I think a case can be made across many levels for equity ownership of the name. Sure, there are plenty of fundamental reasons to own this one, as we have mentioned up above, but check out this chart. Is it noisy? Of course. It's noisy in the subway, but you still managed to get to work today, right? First, look at the chart itself. A strong chart, but with a great deal of sideways action since May. There are several items that stick out at me, and at least from my vantage point, they are all positive.
1) AAPL sports Relative Strength of 61, and the number is in visible ascent. For those who do not follow, 50 would be neutral, and 70 is where we start to think about a stock being overbought.
2) AAPL's moving average convergence divergence (MACD) experienced a bullish crossover last week, and on top of that, the 12-day exponential moving average (EMA) just pushed past the zero bound in Monday's trading session. That makes this MACD a twice positive indicator. Call it vanilla ice cream with chocolate sauce, or maybe just call it a pretty decent chance to make some dough.
3)Did you happen to see AAPL's Chaikin Money Flow? Nice shade of green, ain't it, sport? All month. Institutional Investment. Don't know about you, but I find it reassuring to know that the big cats are buying this thing with me.
4) Lastly, and I may be the only weirdo still usingAndrews' Pitchfork Models, but you know what? they tend to work, and they're kind of cool as well. You can see here that using last November's selloff, the rally in May, and the recent selloff in September for reference, AAPL's share price scraped along lower trend line support until Monday. Then what?
5)Then, the name ran 1.8% Monday, escaping the clutches of that support line, and blasting through the 50 day simple moving average (SMA), which had been resistance. Huzzah.
You can e-mail me if you need any of this mumbo-jumbo explained, gang. I will eventually get back to you.
Sarge's Trading Levels
These are my levels to watch today for where I think that the S&P 500, and the Russell 2000 might either pause or turn.
SPX: 2578, 2571, 2563, 2557, 2549, 2542
RUT: 1521, 1515, 1507, 1500, 1492, 1482
Today's Earnings Highlights (Consensus EPS Expectations)
Before the Open: (CMA) - Get Comerica Incorporated Report ($1.23), (CSX) - Get CSX Corporation Report ($0.51), (GS) - Get Goldman Sachs Group, Inc. Report ($4.16), (GWW) - Get W.W. Grainger, Inc. Report ($2.56), (HOG) - Get Harley-Davidson, Inc. Report ($0.40), (OMC) - Get Omnicom Group Inc Report ($1.10), (PGR) - Get Progressive Corporation Report ($0.36), (SNV) - Get Synovus Financial Corp. Report ($0.65), (UNH) - Get UnitedHealth Group Incorporated Report ($2.57),
After the Close: (CP) - Get Canadian Pacific Railway Limited Report ($2.88), (IBM) - Get International Business Machines Corporation Report ($3.28), (LRCX) - Get Lam Research Corporation Report ($3.27)
________________________
Join Jim Cramer, CNBC's Jon Najarian and Other Experts Oct. 28 in New York
Jim Cramer will host CNBC's Jon Najarian, TD Ameritrade's JJ Kinahan, famed analytics expert Marc Chaikin and other market mavens on Oct. 28 in New York City to share successful strategies for active investors.
You can join them as they discuss how smart investors can make the most of options trading, futures contracts, fundamental and quantitative analysis and great ETFs to buy right now. Participants will also get a chance to meet Jim and other panelists and take photos.
When: Saturday, Oct. 28, 8 a.m.-3 p.m.
Where: The Harvard Club of New York, 35 West 44th St., New York, N.Y.
Cost: $250 per person.
Click here for the full conference agenda or to reserve your seat now.
More of What's Trending on TheStreet:
At the time of publication, Stephen Guilfoyle was long AAPL, CSX, KEY, LRCX, NVDA, although positions may change at any time.