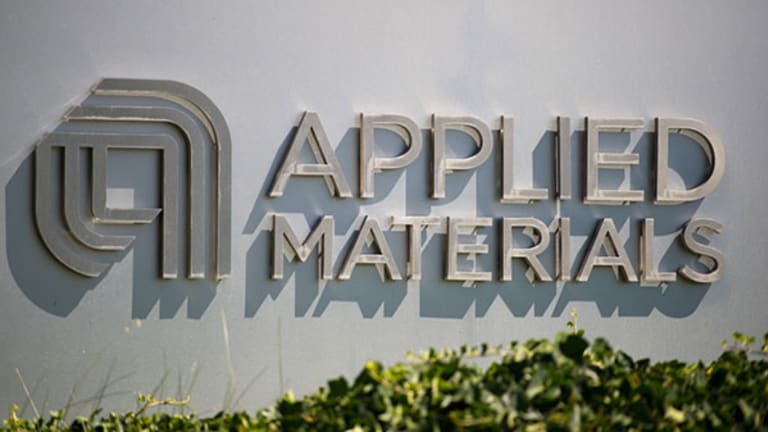 How to Separate Fact From Fiction at Chip Maker Applied Materials
The company's stock has risen 20% since its conference call last month. But looking deeper into what was said raises important questions.
Applied Materials' (AMAT) - Get Report chief executive and chief financial officer both made bold statements about the chip-making company during its fiscal second-quarter conference call on May 19.
CEO Gary E. Dickerson spoke about the strength across the company's businesses, while CFO Robert Halliday discussed the company's strength in orders, which was led by silicon systems and was the highest level in 15 years.
Analysts upgraded the stock, and shares of Applied Materials have risen about 20% since then.
But the truth is that things aren't as rosy at the company as some might believe.
First, in Applied Materials' filings the company reports revenue for its semiconductor business, a single number that represents a compilation of numerous types of equipment.
The table below shows Applied Materials' market share in its major market segments for 2011, 2013 and 2015.
In addition, the table shows the served available market number, which is a compilation of revenue for all competitors in the sector, including Axcelis, KLA-Tencor and Lam Research. The next column shows Applied Materials' revenue, and the third column shows the company's market share.
Calendar 2011 was an interesting year, because it was when Applied Materials acquired Varian Semiconductor Equipment Associates and along with it Dickerson, Halliday and most of Varian's other employees. It was also the year that Applied Materials gave out golden parachutes to seasoned employees to make room for the new people.
Varian, with Dickerson as chief executive, was a market leader in ion implantation, and 2011 combines a partial year of Applied Materials' and Varian's revenue in the implantation sector.
Looking across the table allows comparison of Applied Materials' share in each sector prior to Dickerson taking the helm in 2011 and afterward in 2013 and 2015. The most obvious feature is that Applied Materials didn't make market share gains in 2013 and 2015, disputing what Dickerson said during the conference call.
In fact, Applied Materials' total share dropped from 31% before his arrival to 29% after he took the helm.
In addition, because Dickerson's comments about in 2015 ("We made solid wafer fab equipment share gains in 2015, even though the spending mix was not as favorable for us as it is in 2016. Based on the positions we're winning, I expect much stronger share gains this year.") aren't accurate, can we really believe that the company will gain market share this year?
Let's look at a few individual sectors.
Applied Materials has been discussing its share gains due to 3D NAND. In manufacturing 3D NAND, there are numerous deposition-etch steps.
The problem is, without independent analysis to substantiate these claims, the comment sounds true.
However, looking at the deposition sector, Applied Materials lost market share since 2011 but did gain share in the etch sector. But a rising tide raises all ships, and while revenue growth for 3D NAND equipment sales occurred last year, it was made by competitors as well.
In addition, 3D NAND is in production or being ramped up at all manufacturers. But this revenue has already been registered for last year, and until production is really ramped up so that capacity purchases need to be made, there will be a lull in equipment purchases this year for 3D NAND.
Finally, there is an interesting note on this table: the implantation sector.
Again, Dickerson and the rest of management ran Varian. One would think that implantation would be a core business for Applied Materials, because the expertise merely moved from on ship to another.
Yet Applied Materials' share dropped, thanks to huge market share gains by Axcelis.
Instead of focusing on implantation, Applied Materials instead chose to focus on metrology/inspection, with competitors such as Hitachi High Technologies and KLA-Tencor. Remember that Dickerson was passed over for the CEO position while he was at KLA-Tencor and then took the position at Varian.
Applied Materials also lost share in that sector to companies such as Rudolph Technologies.
Let's take a look at Halliday's comment that the display sector had $700 million new orders. 
Looking at Applied Materials' 2015 revenue shows that $718 million was generated. So, the $700 million in new orders isn't out of the ordinary, but is in fact less than the $976 million generated in 2008 or $799 million generated in 2010.
Also, no one knows when the $700 million in orders will result in $700 million in revenue. Those orders can be spread out over a multi-year period, and there could also be push-outs if the business sours.
This article is commentary by an independent contributor. At the time of publication, the author held no positions in the stocks mentioned.