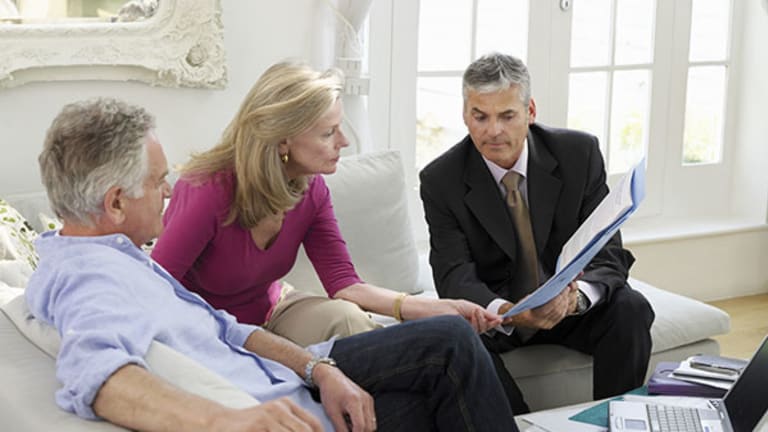 How To See A Financial Advisor Without Racking Up Fees
A financial advisor can charge you based on transactions or take a percentage of your managed assets, but use caution with those who claim to charge nothing.
NEW YORK (MainStreet) –- If you're looking for big returns on your retirement investments, an advisor's huge fee isn't necessarily part of the deal.
Median annual returns for 401(k) holders who had advisors guide their target date funds, managed accounts or their plan's online advice were 3.32 percentage points higher than returns for people who invested on their own, according a 2014 study by benefits consultancy firm Aon Hewitt and Financial Engines. However, as Corporate Insight notes, investors and Millennials in particular are skeptical of the ambiguous fees that traditional advisors charge.
"Investment fees can have a significant impact to an investor's total net returns over long periods," says Anthony D. Criscuolo, certified financial planner and portfolio manager with Palisades Hudson Financial Group in Fort Lauderdale, Fla. "The hard part is often trying to quantify how much in fees you are paying. Many of the compensation structures for advisers is complex and often purposely so."
There are are a few tiers to the advisor fee structure that can help investors get the most out of their money without costing them a whole lot in fees. The digital advisory options, or "robo advisor," uses a computer algorithm to build a low cost portfolio that charges fees as little as 0.5% of total assets a year. Greg Vigrass, president and chief executive of Folio Institutional, notes that investors focused on simply the end result can be well-served by easing into advised investments through a robo advisor.
"Those offerings tend to be lower cost, somewhat education-based and still ultimately guide you towards and advised solution," Vigrass says. "The ongoing updates and maintenance of the portfolio strategy is still under the direction of of advisors, so what you end up with a lower-cost, easier access point for investment advice. The downside is that you don't get some of what comes with an advisor relationship: the hand-holding, the personal relationship, and the safety net aspect of it."

By taking that route, or even a hybrid option that features a live advisor and an online element for trades and account access, is that you're opening yourself up to transaction fees. On top of the asset-based 1% fee that many advisors charge, there are often individual fees for trading equities and rebalancing your portfolio. For a novice investor with dozens of equities in their stable, those transaction fees can be a huge obstacle to peak asset performance.
"You need to be cautious of, have a full understanding of and differentiate between asset fees and transaction-based fees," Vigrass says. "The more traditional model is that you pay a traditional investment advisor an asset-based fee for their services and they use an independent custodian like TD, Schwab or Folio, open and maintain the account there and then the client would be open to transaction costs or commission costs if they're using equities or ETFs. Their trading costs there are how many investments they own, what's the frequency of rebalance by the advisor and what's the transaction cost on a per-trade basis."
Not that a lack of transaction fees is always a great thing, either. Vigrass notes that advisors may use transaction-fee-free mutual funds as the basis for a portfolio and may waive an asset fee altogether, but may also receive a commission or fee from a fund company for steering their clients into a specific product. Criscuolo calls this "an obvious conflict of interest" that may cause the advisor to recommend only investments that offer the highest commission.
"Commission-based advisors may be overly active in buying and selling different investments because the more you trade, the higher the commissions – this can lead to a higher tax bill as well by triggering more short-term gains," he says. "This is not to say that all commission-based advisers are bad or dishonest, but investors should be extra careful when selecting this type of adviser and ask for a specific calculation of how the adviser is compensated, and not just by you, but from all sources. All advisers are in this business to make a profit, so if they are not compensated by you, they are being paid by someone else, but it may ultimately be at your expense via sub-par investments and poor long-term returns."

If a commission-based advisor is what you can afford, however, it's best to have a proactive relationship with him or her. Criscuolo notes that investors working with advisors of any kind should ask for specifics when it comes to fees and don't let the adviser try to hide them or brush them off. If you're told not to worry about fees and just focus on these high returns, that's a red flag. Also, if you're being steered toward higher-fee mutual funds, both Criscuolo and Vigrass note that lower-fee funds tend to perform better, as do funds that the advisor invests in himself.
"You want to find an advisor who has a strategy and fee structure you can understand and believe in," Criscuolo says. "A relationship with a financial advisor should be based on trust, and having a clear fee structure should be part of building that trust."
If all of that sounds a bit frightening, Vigrass notes that there is a cohort of investment advisors -- Vigrass cites Garrett Planning Network as an example -- that operates on almost an hourly rate. Instead of paying quarterly or monthly based on a percentage of your assets, you can have an initial consultation based on an hourly fee, get advice and plan for future investments and then go out and make those investments on your own. If necessary, you can follow up once a year or so without keeping that advisor on retainer.
If you can afford a bit more, however, both Criscuolo and Vigrass suggest employing a fee-only advisor whose flat percentage fee for assets under management (AUM) covers trades, transactions and other activity that would otherwise require a separate fee. Ideally, that structure motivates the advisor to help increase a clients assets (and, subsequently, the advisor's own take). It also prevents advisors and investors alike from letting the threat of short-term pain from transaction hinder the long-term gains that those moves might provide.

"Generally who you work for, is based on who pays you," Criscuolo says. "A fee-based adviser works for you; a commission-based advisor works for the fund companies who pay them and need to sell you products in order to make their fees. Ultimately, you should want to hire an advisor who works for you."
This article is commentary by an independent contributor. At the time of publication, the author held TK positions in the stocks mentioned.