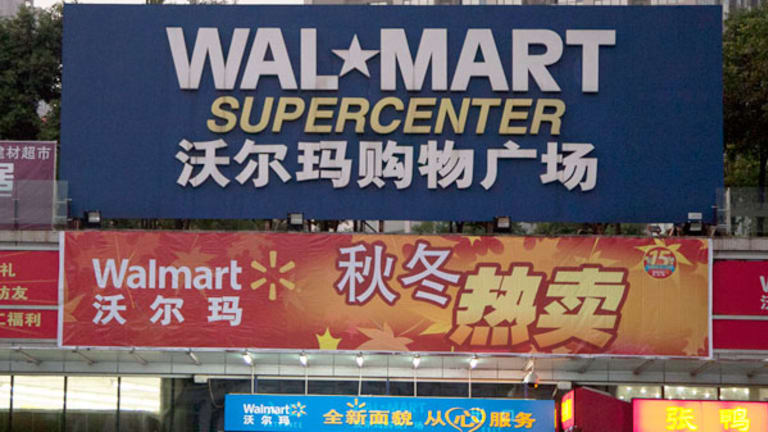 How to Profit From the Coming Emerging Market Downturn
Emerging markets are poised for a fall that few people seem prepared to handle. Here are ways to make money when this occurs.
Emerging markets are poised for a fall that few people seem prepared to handle. Here are ways to make money when this occurs.
NEW YORK ( TheStreet) -- Emerging markets once were the darlings of Wall Street. The mantra among analysts was that every portfolio should have substantial exposure to fast-growing, developing countries where rising middle classes would stoke demand into the foreseeable future.
This past week, though, a gathering of world leaders in Peru assembled by the International Monetary Fund (IMF) highlighted the stark reality today: Emerging markets are poised for a fall that few people seem prepared to handle.
Below are three ways to profit from the coming collapse of emerging markets. Each is what's called an "inverse exchange rated fund," and while other investors lose big, you'll reap big gains.
To be sure, economic storm clouds are already gathering. The September U.S. Retail Sales report released on Wednesday came in weak across the board. On the same day, the nation's largest retailer, Wal-Mart Stores (WMT) - Get Report lowered guidance, which sent its shares tumbling 10%. And in a bad sign for China and emerging markets as a whole, China posted a a 5.9% year-over-year drop in Producer Prices.
Emerging markets look particularly treacherous. Accordingly, this group of 29 dangerous stocks is a terrible place for your money today. In fact, using a little-known, financial health test, the stocks on this list are a failure in every category! Make sure you don't make the mistake of owning one.
China's surprise devaluation of the yuan, Greece's and Puerto Rico's intractable debt woes, a world economy awash in debt, Russia's adventurism in the Levant and Ukraine could all trigger a global correction.
If you're still heartened by continued (albeit shaky) recovery in North America, tech stalwarts such as Apple (AAPL) - Get Report and industrial powerhouses such as General Electric (GE) - Get Report and United Technologies offer a great combination of defensive growth in uncertain times, notwithstanding current softness in the retailing sector. But investors in a more bearish mood about perilous overseas economies should consider some options below.
Concerns are growing that the currency devaluation in China will generate a sustained flow of money from emerging markets. At its annual summit meeting last week, IMF officials expressed concerns that dollar-based debt in major, emerging economies such as China, Turkey, India, and Brazil has increased to unsustainable levels, thanks to the inexorable rise of the greenback.

Meanwhile, slowing demand from China is hurting export-driven economies, the threat of deflation has returned to emerging markets, manufacturing numbers are at multi-year lows, and the once-recovering Japanese economy is flagging again.
Inverse ETFs pegged to emerging markets may offer a good investment option. An inverse ETF uses a variety of derivatives with the goal of profiting from a decline in the value of an underlying benchmark. Investing in these ETFs is akin to holding short positions, or using a combination of strategies to profit from falling prices.
To play an emerging market implosion, the following might be good choices:
ProShares Short MSCI Emerging Markets (EUM) - Get Report which seeks results that correspond to the inverse of the MSCI Emerging Markets Index. The MSCI Emerging Markets Index is comprised of 23 countries, including China, Russia, Greece, Egypt and Brazil and encompasses nearly 900 big companies based on their market cap valuation, such as Taiwan Semiconductor Co. (TSM) - Get Report and China Mobile Ltd. (CHL) - Get Report . If one of these businesses gets clobbered, the fund's returns are lifted. Expense ratio: 0.95%.
ProShares Short FTSE China 25 (YXI) - Get Report, which seeks results of the inverse of the FTSE China 50 Index. The index is comprised of 50 of the largest and most liquid Chinese stocks listed on the Hong Kong Stock Exchange. Expense ratio: 0.95%.
Direxion Daily Emerging Markets Bear 3X ETF (EDZ) - Get Report  seeks to gain 300% of the inverse of the performance of the MSCI Emerging Markets Index. Expense ratio: 0.95%. This fund is for investors feeling especially bearish about the prospects of major developing economies. You'll shoulder more risk, but if there's another, say, Chinese meltdown as occurred on Black Monday, Aug. 24, you'll reap bigger rewards.
Investing in these inverse ETFs is a great way to profit from the coming havoc in emerging markets, even if certain individual stocks pose a risk to your portfolio. 
John Persinos is an editorial manager and investment analyst at Investing Daily. At the time of publication, the author held no positions in the stocks mentioned.