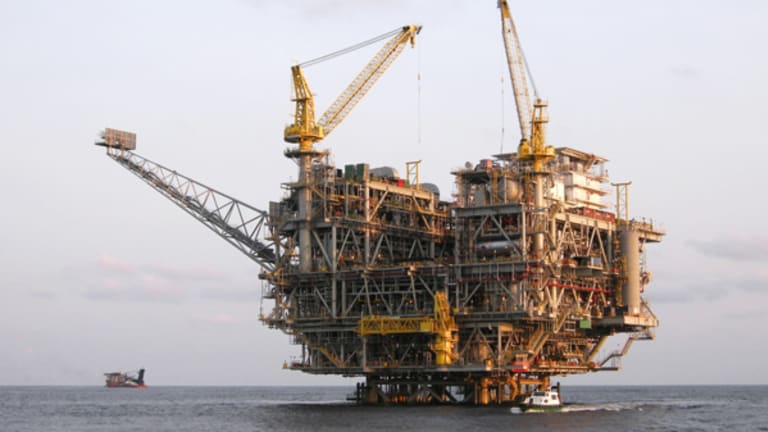 How to Position for a Turnaround at Oil Servicer McDermott
McDermott International has struggled with losses, but the company is seeing light at the end of the tunnel. Here's what investors should watch out for.
McDermott International has struggled with losses, but the company is seeing light at the end of the tunnel. Here's what investors should watch out for.
NEW YORK (TheStreet) -- Houston-based oil and gas services company McDermott International (MDR) - Get Report has struggled with losses on projects, but a turnaround -- and a profitable backlog -- looks to be on track.
In the first six months of operations this year, the oil and gas equipment and services company has reported operating losses of $13.5 million. Moreover, during the second quarter's conference call, the company predicted another round of operating losses in the second half of this year. For the year to date, McDermott's shares have fallen by just shy of 30%, closing at $6.40 on Wednesday and up to $6.45 as of Thursday at 11 a.m.
However, Philip Van Deusen, senior analyst at Tigress Financial Partners, told TheStreet in an email that McDermott has laid the foundation for a turnaround.
The 91-year-old McDermott is one of the oldest providers of engineering and construction services. It's a leading company for offshore oil and gas fields to major state-owned and publicly traded energy companies such as Saudi Aramco, Chevron (CVX) - Get Report , Exxon Mobil (XOM) - Get Report and Murphy Oil (MUR) - Get Report .
Over the last few years, McDermott has struggled to post any meaningful top-line and bottom-line growth. The company's revenue fell from $3.4 billion in 2011 to $2.6 billion in 2013, while it swung from an operating profit of $250.7 million to a loss of $464.7 million. The losses were largely due to execution problems and cost blowouts on some deepwater projects.
However, McDermott's transformation into a profitable business is under way. Steve Oldham, McDermott's spokesman, has said in a phone interview that the company is in the middle of two-year turnaround process that has four main steps. Those are the recapitalization of balance sheet, instilling a "culture change" (which includes replacing the leadership at the top and hiring new talent in other areas), improving execution and building a profitable backlog.
The recapitalization was completed earlier this year. That gave the company the financial flexibility to fuel the turnaround. The management overhaul is "substantially complete," Oldham said. The company has replaced six of its top executive officers, including the CEO, CFO and heads of offshore and subsea businesses.
This new leadership has been running McDermott for just a couple of months, so it is likely too early for them to make a visible impact on the performance of the company. Nonetheless, McDermott has taken two big steps toward achieving a full turnaround of operations.
The next areas investors should watch out for are the improvement in execution and the growth of a profitable backlog. And the company has shown signs of improvement there. During the second quarter, McDermott successfully returned three loss-generating projects to profitability through renegotiations.
McDermott's backlog currently stands at $4.1 billion, which includes several low-margin projects that were bid by the "old McDermott" under the previous leadership. These projects will continue to weigh on the company's performance.
That said, on Monday, McDermott announced the completion of a loss-riddled project for Chevron in the Gulf of Mexico. Van Deusen has called this a "positive development," since it allows the company to bring down the number of loss projects in its backlog from nine at the end of last year to three.
Meanwhile, the "new McDermott" has said during a conference last week that it is eyeing several profitable jobs valued at $9.8 billion. "We expect to see some contract wins announced in the near-term," Van Deusen said. As a result, the company could grow its backlog by the end of this year -- up from $4.8 billion at the end of 2013, another metric investors should watch out for.
In the meantime, it appears that retail investors aren't the only ones keeping a close eye on McDermott's turnaround. Since last year, the markets have been speculating about a possible takeover of McDermott, which represents one of the most well-known brands in the offshore oil and gas drilling space.
Possible buyers could be Italy's Saipem (SAPMY) ; the former employer of McDermott's new CEO, Technip (TKPPY) ; or other engineering companies such as Foster Wheeler (FWLT) or KBR (KBR) - Get Report .
At the time of publication, the author held no positions in any of the stocks mentioned.
This article represents the opinion of a contributor and not necessarily that of TheStreet or its editorial staff.