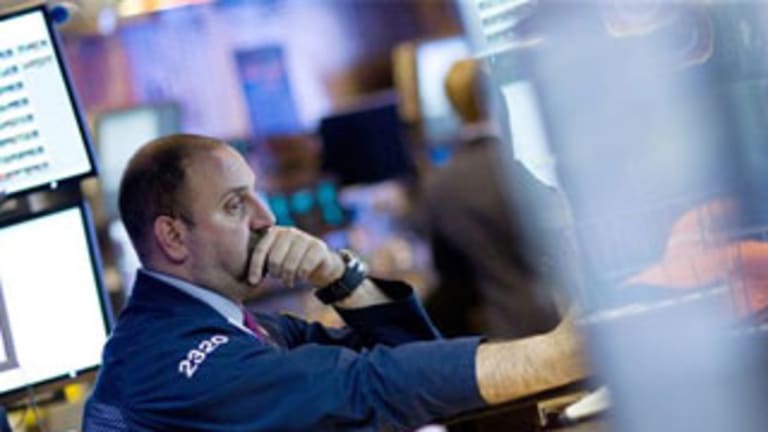 How to Play the Bank Stock Panic
If you're looking to sell shares of large banks after Friday's FHFA lawsuits, it's probably too late. Instead, consider the many solid banks that don't have mortgage targets on their backs.
"Look Dave, I can see you're really upset about this. I honestly think you ought to sit down calmly, take a stress pill, and think things over."-- Hal 9000 Computer, 2001: A Space Odyssey.
NEW YORK (
) -- If you're thinking of dumping large bank stocks Tuesday in reaction to last week's FHFA lawsuit bombshell, you might want to reconsider.
Instead, take a deep breath and mull some other bank stock opportunities, because
the automated traders and other market pros will clean your clock
if you try to trade based on the lawsuit headlines.
It's perfectly understandable for bank stock investors to panic during the long holiday weekend.
After all, it was a week of maximum pain for
Bank of America
(BAC) - Get Bank of America Corp Report
, with the Federal Deposit Insurance Corp., a subsidiary of
U.S. Bancorp
(USB) - Get U.S. Bancorp Report
and
Goldman Sachs
(GS) - Get Goldman Sachs Group, Inc. (GS) Report
joining the throng of parties objecting to BofA's previous $8.5 billion settlement of
Countrywide
mortgage putback claims.
And of course, there was the Federal Housing Finance Agency's (FHFA) "Friday Night Massacre" of
lawsuits against 17 large banks
.
(In case any reminder is necessary, former Bank of America CEO Ken Lewis
and its risk in 2008.)
Shares of Bank of America closed at $7.25 Friday, down 46% year-to-date. The shares traded for just 57% of their tangible book value as of June 30, according to SNL Financial, which is understandable, because neither the bank nor its investors can gauge the ultimate risk from all of the mortgage putback claims.
Of course, the company's tangible book value could decline over coming quarters with additional net losses, but the market has baked a significant cushion into Bank of America's stock price.
That plunge was recorded before the FHFA's demand that Bank of America buy back $57.5 billion in private-label mortgage-backed securities, including those sold to
Fannie Mae
(FNMA)
and
Freddie Mac
(FMCC)
by Merrill Lynch and Countrywide.
For investors who think that the FHFA lawsuits are just "leverage" for the regulators in negotiating a settlement with the nation's largest bank, another price drop on Tuesday could be just what the doctor ordered.
But it's a pretty risky play to assume that such a selloff would be the bottom for bank stocks. There are just too many uncertainties right now.
JPMorgan
(JPM) - Get JPMorgan Chase & Co. (JPM) Report
was trading for 1.1 times tangible book, according to SNL, but that was before the company faced a whopping demand from the FHFA to repurchase $33 billion in mortgage-backed securities, which among the
17 large banks sued by the regulator
, is second only to the demand made of Bank of America.
Shares of
Citigroup
(C) - Get Citigroup Inc. Report
were also trading for just 57% of tangible book value according to SNL, and the FHFA is demanding a much smaller $3.5 billion in securities buybacks from Citi.
With last week's economic news dominated by the dismal announcement from the U.S. Labor Department that the U.S. economy added no new jobs during August, all eyes will be on President Obama when he delivers an address to a joint session of Congress on Thursday at 7 p.m. EDT. The president is expected to propose a large infrastructure program as part of his plan to spur job creation.
If the president also makes a public case for a
broad settlement of the nation's housing mess
, bank stocks could pop on Friday.
The FHFA's vicious blow against many of the largest banks that were part of the federal government bailout of 2008 through the Troubled Assets Relief Program, or TARP, underlines the need for presidential leadership in a coordinated government response to the overall housing mess.
It might be too late for President Obama to
help his re-election prospects
with a mortgage settlement, but the prospect of a mortgage settlement stabilizing stabilize housing prices, to clear out the inventory of empty homes, spur mortgage refinancing and get the economy moving again, could make the market very happy.
Looking beyond the almost daily seesaw for the largest banking names, there are dozens of banks that have achieved strong revenue growth in the weak economic environment and don't face the level of mortgage risk and headline risk faced by the largest and best-known financial names.
For investors who feed on risk, we used a "throw it against the wall and see what sticks" approach to identifying
10 Bank Stock Picks for Bottom-Fishing Investors
, that trade below tangible book value. Then
.
Despite what could be a very rough Tuesday for investors holding financial names, there's always hope. The best thing to do is really put on your thinking cap, stick with quality for new picks, do as much of your own research as possible and, again, don't panic.
RELATED STORIES:
Mortgage Suits May Seal Obama's Election Doom >
U.S. Sues 17 Banks Over Mortgage Losses >
Bank of America May Have to Sell Merrill To Survive >
--
Written by Philip van Doorn in Jupiter, Fla.
To contact the writer, click here:
.
To follow the writer on Twitter, go to
http://twitter.com/PhilipvanDoorn
.
Philip W. van Doorn is a member of TheStreet's banking and finance team, commenting on industry and regulatory trends. He previously served as the senior analyst for TheStreet.com Ratings, responsible for assigning financial strength ratings to banks and savings and loan institutions. Mr. van Doorn previously served as a loan operations officer at Riverside National Bank in Fort Pierce, Fla., and as a credit analyst at the Federal Home Loan Bank of New York, where he monitored banks in New York, New Jersey and Puerto Rico. Mr. van Doorn has additional experience in the mutual fund and computer software industries. He holds a bachelor of science in business administration from Long Island University.