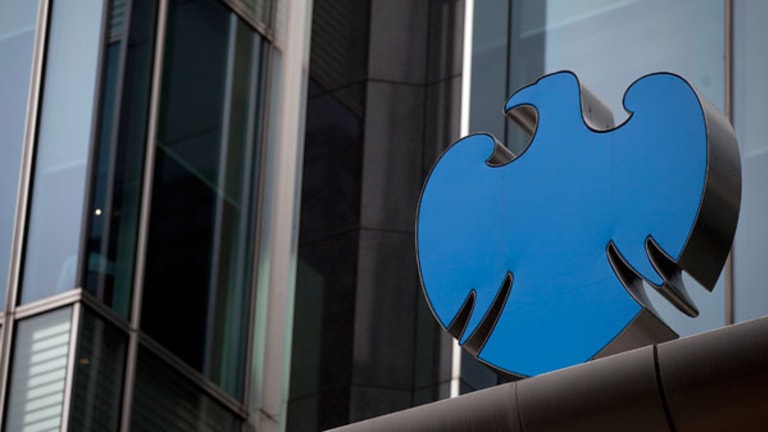 How to Own Financials but Dodge LIBOR Rigging and New Scandals
Financial sector scandals have burned investors. But there is a way to own financials and still avoid the most troubled companies.
Least Favored in 2013: Featuring the year's shockers from Wall Street to Washington. Read Fed Policy shenanigans; Tech spies; SeaWorld tragedy; Caterpillar-China scandal; Bud Beer scandal; Bill Ackman's Herbalife; LIBOR rigging; Forex Scandal; and check out this video CEO Walk of Shame.

NEW YORK (TheStreet) -- One of the most important scandals of 2013 actually came to light in 2012 and won't likely conclude until sometime in 2014. Many large banks allegedly colluded to manipulate the LIBOR, or London Interbank Offered Rate, which contributes to how interest rates are set on various types of worldwide consumer loans and revolving debt. Investigations and prosecutions are ongoing.
Banks alleged to be involved in the trans-Atlantic rigging include Citigroup (C) - Get Citigroup Inc. Report, Barclays (BCS) - Get Barclays Plc Report, UBS (UBS) - Get UBS Group AG Report, JPMorgan (JPM) - Get JPMorgan Chase & Co. Report, Credit Suisse Group (CS) - Get Credit Suisse Group AG Report, Royal Bank of Canada (RY) - Get Royal Bank of Canada Report, Goldman Sachs (GS) - Get Goldman Sachs Group, Inc. Report and Morgan Stanley (MS) - Get Morgan Stanley Report.
Bloomberg reports that 13 banks in all have been sued. The scope of this scandal is wide. So many banks may have been involved in manipulating rates, and by extension manipulating what consumers pay for credit cards, mortgages and auto loans.
While the LIBOR rigging story is not as tabloid-ready as a sex scandal or perp walk -- although there may yet be perp walks to come -- it is arguably the most important scandal of 2013. Its reach is wide. Banks may have fattened profits illegally at the expense of millions of consumers.
There is of course a long history of Wall Street sticking it to customers. As the old skit from Saturday Night Live in the 1970s used to say, it's always something, and if it's not one thing it's another. Think of the line in Michael Lewis's Liar's Poker about customers having "their faces ripped off." Or remember the more recent exploits of Fabrice Tourre, who took the fall at Goldman Sachs for lying to investors about Paulson & Company's position in the now infamous Abacus investment vehicle.
My first job out of college was at Lehman Brothers in the late 1980s. While I don't believe that anything we were pressured to do was illegal, clients truly didn't understood the conflicts of interest. Otherwise they all would have fired the firm.
Conflict, illegal acts and scandal have always been a part of the industry's landscape and always will be. When new laws are enacted, firms get to work right away to figure out how to work around them. Occasionally there is scandal along the lines of what is alleged with LIBOR. Once this scandal is resolved there will be something else that pops up. It is inevitable when young, smart, aggressive bankers see the potential for bigger pay checks.
It is likely that most of the banks will get away with what they have done by simply paying fines that they write down against their earnings. JPMorgan has recently paid $2 billion for its involvement with the Madoff scandal, $13 billion for toxic mortgages and $920 million for losses connected to Bruno Iksil, the London Whale. None of this prevented JPMorgan's stock from going up 26% so far in 2013.
Occasionally a large financial institution will fail -- recall Bear Stearns, HBOS and Wachovia -- although it is rare. It would intuitively seem that there must be a limit to the number of billion dollar checks that can be written, but for now these settlements don't seem to be having an impact.
Investors could reasonably become concerned that there is a limit to how many fines the bigger banks could pay without collapsing.
But there are other segments within the financial sector that generally avoid scandal and offer tremendous return potential.
Sticking with domestic banks, investors could consider the SPDR S&P Regional Banking ETF (KRE) - Get SPDR S&P Regional Banking ETF Report. It fared better during the financial crisis than did the Financial Select Sector SPDR (XLF) - Get Financial Select Sector SPDR Report, which owns most of the scandal ridden banks. KRE has a slightly higher yield than XLF and has better diversification too. KRE has done a good job avoiding scandal-ridden companies, although its holding Zion Bank (ZION) - Get Zions Bancorporation, N.A. Report will have to write down $387 million in CDOs in order to comply with the Volcker Rule.
Where KRE is more of a mid-cap bank fund, investors can go smaller with the PowerShares S&P Small Cap Financial Portfolio (PSCF) - Get Invesco S&P SmallCap Financials ETF Report. Similar to KRE, PSCF avoids scandal, has a slightly higher yield and better diversification than XLF.
Or you might consider another area entirely. Think about the "pick and shovel companies," an analogy to the mining industry that describes publicly traded exchange stocks. There are four exchange stocks in the U.S. and many more foreign exchanges for investors to consider. All four domestic exchanges have outperformed XLF. For now there is no ETF that focuses solely on exchanges.
CME Group (CME) - Get CME Group Inc. Class A Report trades various products but is most dominant in interest rate and foreign exchange products. CBOE Holdings (CBOE) - Get Cboe Global Markets Inc Report is most known for S&P 500 (SPY) - Get SPDR S&P 500 ETF Trust Report and Volatility IndexI:VIX products. Intercontinental Exchange (ICE) - Get Intercontinental Exchange, Inc. Report is the leader in energy products and, of course, recently closed its purchase of the New York Stock Exchange, making it a major player in equities. Finally there is NASDAQ OMX GroupI:IXIC, the other big player in equities.
The exchanges are more likely to face execution risk as opposed to scandal risk. NDAQ famously botched the Facebook (FB) - Get Meta Platforms Inc. Class A Report IPO, but again that was about poor execution not malfeasance.
The exchanges also may catch a demographic tailwind from the sorry state of Americans' retirement savings. Many need to save and invest a lot more to have a reasonable chance for a successful financial future. Exchanges could benefit.
Investors could also turn to exchange traded fund providers not only as a source of mutual fund ETFs, but as companies to invest in themselves. The only pure play currently is WisdomTree Investments (WETF) - Get WisdomTree Investments, Inc. Report. WisdomTree is poised to capture the same demographic tailwind and has had tremendous success with dividend-centric funds and hedged currency ETFs.
If in 2014 you want to exclude scandal and corruption-riddled companies from your portfolio yet still own shares in the financial sector, start your research with these stocks.
At the time of publication, the author held no positions in any of the funds or stocks mentioned.
This article is commentary by an independent contributor, separate from TheStreet's regular news coverage.