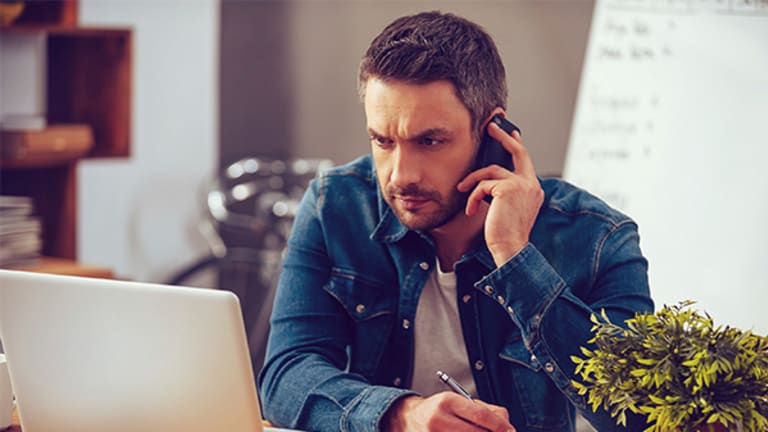 How to Make Money by Listening Closely to Quarterly Earnings Calls
You may think it's boring to listen to companies' conference calls or pore over the transcripts, but it's one of the smartest things you can do.
Let's take a moment from stressing about something we have no control over -- this week's Federal Reserve meeting -- and focus on something we can make money on: quarterly conference calls. This coming week is, by most accounts, the busiest of earnings season. That means a lot of conference calls. How can we benefit?
There is some debate in the financial community on how beneficial conference calls can be to the average investor. Some think they are worthless, others find them critical to long-term success. There's no right answer. To each his own, but I personally find them useful. Here's how.
Management Credibility
All good longer-term investments need good management. There's no two ways around this. For the large majority of investors the only real exposure to a company's management team is on the quarterly conference as well as media interviews management takes part in throughout the year. Listening to or parsing the text of a conference call can offer some very good insight to whether management has a clue.
Here's an example. Let's say during the first-quarter conference call that management says that a strong dollar will impact margins by 4 basis points. That would be called resetting expectations. Now let's say the company reports in the second quarter and margins were affected by 10 basis points. That's a problem.
Barring a huge move in currency, which can occur, how could management have been so far off? Either managers lied or they can't forecast accurately. To be honest, I'm not sure one is better then the other. You can also keep an ear out for catalysts the company says that are coming. If they don't develop, that's a red flag.
Tone
This is something that can be difficult to pick up from the text of a conference call vs. the actual audio. It's not too difficult to hear if management is merely going through the motions or is genuinely pleased about the results it is reporting and the coming prospects.
Some CEOs are routinely optimistic and craft well-orchestrated conference calls as a matter of habit. Think Howard Schultz at Starbucks or Kevin Plank at Under Armour. Other management teams are notorious for throwing cold water on the quarter, no matter what the results are. The Deere management team comes to mind.
Starbucks is a holding in Jim Cramer's Action Alerts PLUS Charitable Trust Portfolio. See how Cramer rates the stock here. Want to be alerted before Cramer buys or sells SBUX? Learn more now.
But others can genuinely change their tone depending on the condition of their company. This can be picked up by actually hearing the words and voice inflection. As a side note, I find video interviews even more helpful in this regard as I can sometimes tell by body language whether someone is full of it or not.
The question and answer session can take on a tone of its own. Analysts drive this conversation. More than 50% of the time the analyst community is attempting to get some more data to plug into their Excel spreadsheets so they can pull out their magical price targets.
But If you listen to the questions and the tone of the analysts you can make a pretty good guess if a bullish analyst is going to bail on a once-loved stock or, conversely, if a slew of upgrades are in the works because the analyst community is thoroughly impressed.
Your opinion of the company may not have changed, but a parade of upgrades or downgrades following a conference call will certainly affect the stock's price. Use that to your advantage.
If it appears that analysts liked the quarter, but you heard something you didn't like and are looking to sell, why not wait a few days and get a higher price? Like what you heard but others don't seem so sure on the call? Use the likely weakness to add or start a position.
Mining for Nuggets
It doesn't hurt to take notes on the conference call on key points for the company moving forward and track them over several quarters.
Here's a recent example. I'm long Microsoft. This last quarter was less than spectacular, and the stock sold off. At the same time it had become a pretty consensus long, so some profit-taking on lackluster results seems warranted. But one thing I'm watching very closely now is Azure margins. Azure is a part of Microsoft's cloud offerings, which basically constitute the company's growth story.
Azure margins compressed significantly sequentially. Not a good sign. It's not hard to conclude that Amazon could be competing on price, hard, in that market. One more quarter like this past one and I'm out. It's a troubling sign, but not a trend -- yet.
Conviction
People capitulate on their positions for many reasons -- fear, greed, panic -- but I would argue many poor decisions are influenced by a lack of conviction. If you own an equity solely based on price action, it's easy to throw your hands up and walk away from what still could be a very good investment.
However, If you know the company inside and out, it becomes much easier to hold or even add to a position in times of emotional tumult. Reading or listening to conference calls while glancing at financial statements can offer that level of conviction that is often lacking in the market. The conviction, or lack thereof, that conference calls can provide is probably the biggest reason why I review them. Maybe you have other reasons. Find out what works best for you.
This article is commentary by an independent contributor. At the time of publication, the author held shares of MSFT and UA.