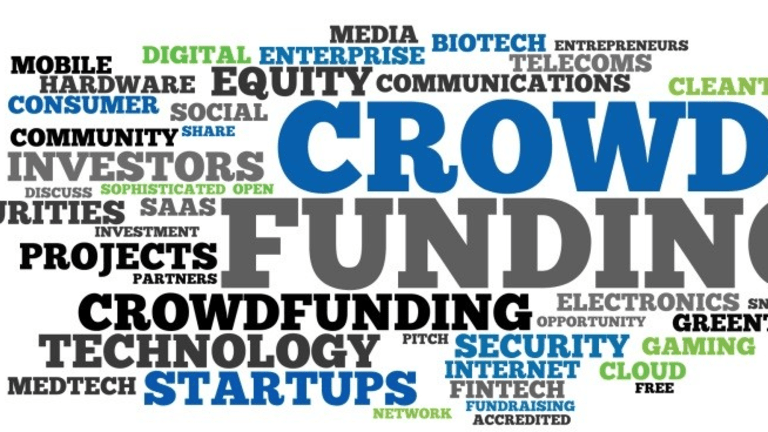 How to Join the Herd: Choosing the Right Crowdfunding Site
Equity crowdfunding is redefining the possibilities of investing and fundraising. But how does an investor determine which platform will produce legitimate returns?
Just five years ago, crowdfunding online was simply an idea. Now it has become an established part of the investment community.
In 2014, crowdfunding helped individuals, companies and causes raise $16 billion. The industry is set to grow to a massive $300 billion in funds raised by 2020.
For an investor, crowdfunding represents a completely different way of investing in start-ups. Until recently, only public companies with extensive operating histories and millions of dollars in revenue could raise capital from the public. Private investing was an opaque, exclusive club that included only institutional investors or ultra high net-worth individuals. Today, crowdfunding, particularly equity crowdfunding, is redefining the possibilities of investing and fundraising worldwide as it opens up private markets to an ocean of new investors for the first time. In light of this financial innovation, new platforms are launched daily, attempting to woo the uneducated and take advantage of this growing trend.  
Like any investment opportunity, your ability to accurately understand the drivers of risk and return will determine whether you choose to invest. Investors should consider the following before using a crowdfunding platform or risking their hard-earned money in start-ups.
Deal Flow: Crowdfunding platforms present deals that you would otherwise be inaccessible. The deals on each platform vary in type, variety, sectors and stages of the company. Investors have different priorities. Some people prefer only to invest in companies where they have expertise or can add value. Overall, some platforms feature a high number of deals, while some offer only a few. The quality of the deals is ultimately most important. 
Due Diligence: Before investing in a start-up, it's wise to conduct due diligence. Analyze the market, product, team, traction and so on. Most platforms leave it up to the investor to conduct due diligence; however, this can be difficult and time-consuming. Imagine investing $5,000 in a start-up which represented a fraction of your portfolio, and then try to conduct due diligence from the other side of the world without direct access to the company. For investors who are new to early-stage investing, it can be hugely valuable to use a platform that assists in the analysis and due diligence process.
Entrepreneurs:Product and market are constantly changing in early stage start-ups, so one of the most important factors in an investment decision is a solid team. Yet being able to meet entrepreneurs face-to-face and form a bond is almost impossible in equity crowdfunding. Luckily, platforms exist which specifically facilitate virtual communication between entrepreneurs and investors. Look for platforms that encourage you to meet entrepreneurs via webinars, interviews, forums and other methods -- it will significantly add to your start-up investing experience. 
Transparency: This is paramount with crowdfunding. A truly transparent platform will guide you through its screening and investment process, make all necessary disclosures, put everything on the table and help you make insightful, well considered decisions. Expect any questions you have to be answered promptly and openly.
Co-investors: There are a small number of crowdfunding platforms that offer new investors the chance to collaborate alongside traditional investors. There are clearly huge advantages to this, as it provides new investors with an excellent starting point to gain mastery in the field and benefit from those in the know.
Potential returns: Potential returns are dictated by four things: entry valuation, subsequent rounds, expected returns, and time horizons. All these factors influence the potential returns you will see from investments. You should evaluate each of these aspects every time you consider an investment. For example, if you are looking at a company valued today at $5 million, and you expect the company to be sold in five years for $100 million with two subsequent rounds expected to dilute your position by 50%, this translates to a 10-fold return on your investment and 58% internal rate of return (IRR). As an angel, aim to invest in opportunities that present significant upside potential. This can help compensate for losses in the rest of your portfolio.
Deal terms: Crowdfunding platforms vary significantly regarding who dictates the investment terms. Consider whether it is an investor-driven platform, in which the investor dictates the terms and will push for better conditions, or an entrepreneur-driven platform, in which the entrepreneur sets the terms which are usually less favorable to the investor. Alternatively, the platform may negotiate the terms on behalf of the investor. There is a lower incentive to fight for terms than an investor as platforms are typically also compensated for the transaction although it is still more favorable than having the entrepreneur decide on the terms.
Incentive structure: To understand the incentive structure, ask yourself: Who is the platform's client? In other words, who pays the fees? If the entrepreneur pays the fees, the platform is obliged to help the company fundraise, but if the investor pays the fees, the platform is obligated to help the investor access high quality deals. Keep in mind that when the entrepreneur pays the fees, there is a higher risk of adverse selection as it could indicate the entrepreneur had difficulty raising funds elsewhere. It's also important to understand the structure of the fees, including what portion is fixed and what is performance-based.
Investor rights: One cannot underestimate the importance of using a platform committed to protecting your rights as an investor. For example, there is a considerable difference if you are investing under the same terms as other investors or buying into a separate class of shares that are subordinate and have less rights than those of other investors in the round. Look for information rights, preemption rights, board of directors seat and reverse vesting of founders. The more protections you have in place, the better your position in the company.
Tax considerations: Depending on your country of residence and where in the world you are investing from, there are tax requirements and treaties that you must consider. It is important to understand the tax implications of your investment, specifically the capital gains tax rate and other taxes on distributions (dividends), as this directly influences the future return on investment.
User experience: In online investments, an easy-to-use crowdfunding platform can simplify the process. Look for automation and portfolio management tools that will assist in each stage of the investment lifecycle and help track your portfolio post investment.
Education: Some crowdfunding platforms go an extra step to help their communities grow and develop their investing portfolios. This is especially important to new investors who are getting acquainted with the high-risk/reward profile of early- stage investing.
Management of the Platform: When you invest your money in a platform, you need to trust the people behind it. A high-quality equity crowdfunding platform is one that protects you as a minority investor and provides you with the tools and quality deal flow that enable you to make effective investment decisions.
Although many platforms may appear similar at first glance - using sleek graphic design and an inviting user-friendly interface - these superficial qualities should comprise a minimal part of your evaluation.  While this article can serve as a reference point when determining which crowdfunding platform is right for you, feel free to read The Blueprint for Investing Intelligently Online, to learn more in depth about each of these considerations and to choose the crowdfunding platform that best suits your investment needs.
As Founding Partner at iAngels, an equity crowdfunding platform for Israeli high-tech start-ups, Shelly has an extensive financial and investment background. Prior to iAngels, Shelly was an Investment Banker at Goldman Sachs, a Research Analyst at Avenue Capital and a Financial Advisor at UBS. Shelly received her EMBA from Kellogg Recanati and BA (Summa Cum Laude) in Economics from Hunter College, CUNY.This article is commentary by an independent contributor. At the time of publication, the author held no positions in the stocks mentioned.