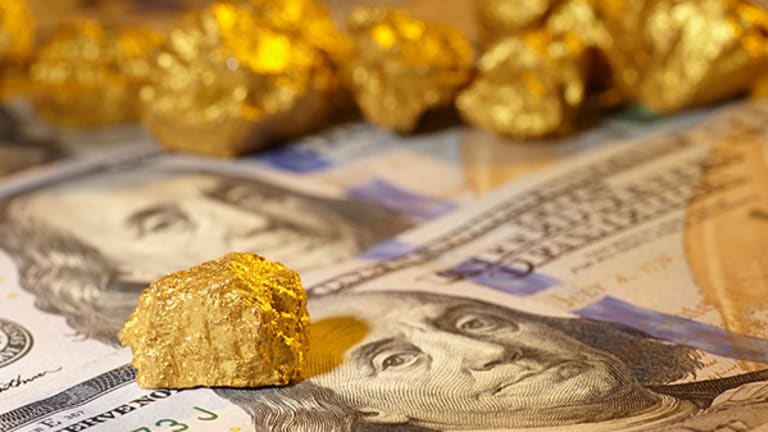 How to Invest When the U.S. Dollar Is Falling
The U.S. dollar is falling, and financial markets are beginning to price in the change. Here's how you play it.
While the U.S. dollar, represented by PowerShares DB US Dollar Index Bullish  (UUP) - Get Invesco DB US Dollar Index Bullish Fund Report , was expected to maintain its rally in 2016, after the Federal Reserve's comments on Wednesday, it looks as if the market is now preferring to sell the currency. The declining U.S. currency is thus having profound effects on other markets around the globe, leading to new investing opportunities.
The asset class people naturally turn to is commodities, also PowerShares DB Commodity Index Tracking. Caution is advised however. The decline in United States Oil during 2014 was magnified by a strong U.S. dollar, but global supply/demand issues are the real culprit. Until the global economy heals enough to justify current record output levels, oil bulls should stay in cash.
SPDR Gold Shares (GLD) - Get SPDR Gold Shares Report , though, has proven a great investment in 2016. The culmination of both a weakening dollar and equity market volatility led investors to buy gold in order to hedge against all risks. The gold rally is just beginning, and will likely continue throughout 2016. You can also catch the gold move by investing in Market Vectors Gold Miners ETF (GDX) - Get VanEck Gold Miners ETF Report , or specific companies within the index.
Another notable effect of a falling dollar has been contracting credit spreads of emerging market debt. The ratio of iShares Barclays 7-10 Year Treasury (IEF) - Get iShares 7-10 Year Treasury Bond ETF Report over iShares JPMorgan USD Emerging Markets Bond (EMB) - Get iShares JP Morgan USD Emerging Markets Bond ETF Report represents the emerging market credit spread. When the indicator falls, it signals contracting spreads, and thus more trust in emerging market assets.
While the spread has not completely reversed course, it has diminished somewhat, allowing short term traders to benefit from appreciating emerging market assets.
The main thing for investors to focus on is how other markets begin to react as the dollar continues to fall. While commodities are strengthening, it is too early to call a bottom. Moreover, the market-based inflation indicator iShares TIPS Bond  (TIP) - Get iShares TIPS Bond ETF Report over iShares Barclays 7-10 Year Treasury is similarly strengthening as a weak dollar could spark inflation pressures in the U.S. While the indicator has put together its best run in some time, it too has not fully reversed course.
Financial market conditions are changing in 2016 amid increased activity from central banks. As investors price in the new environment, it is prudent to watch how particular assets are reacting to alternative markets, such as the interplay between commodities and currencies. This is where opportunities will be found, and profits gained.
This article is commentary by an independent contributor. At the time of publication, the author was long MUX calls.