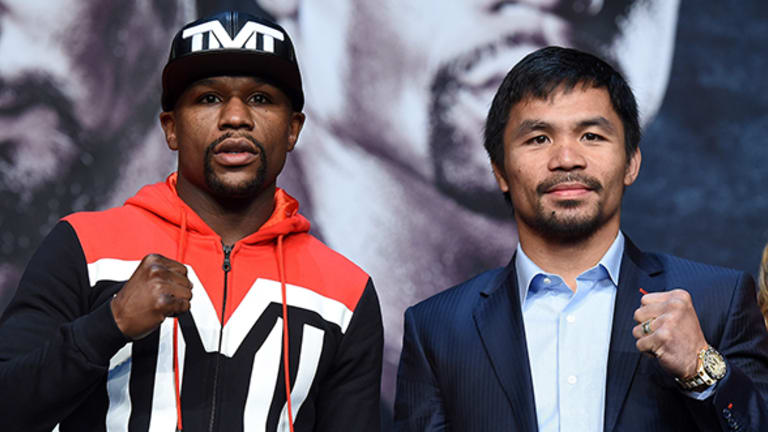 How to Invest in Mayweather-Pacquiao Without Betting on the Fight
When Floyd Mayweather and Manny Pacquiao face each other late Saturday evening, it will be, most likely, the most lucrative fight ever. And some companies are poised to capitalize.
When Floyd Mayweather and Manny Pacquiao face each other late Saturday evening, it will be, most likely, the most lucrative fight ever. And some companies are poised to capitalize.
In Las Vegas, they say the house always wins.
When it comes to the Floyd Mayweather-Manny Pacquiao superfight, the cliche has morphed into "every house wins."
From hotels and restaurants to satellite TV providers and cable companies ... to the boxers themselves, the markup on this fight is truly exponential. Everyone is making money, and some public companies are front and center.
Hotels are all sold out, many for at least 10 times the average room rate. Wynn  (WYNN) - Get Report, Caesars (CZR) - Get Report, Las Vegas Sands (LVS) - Get Report all stand to benefit.
But the big winner is likely to be  (MGM) - Get Report.
Despite weak expectations for the first quarter when it reports early next week, the company should be poised to boast of a turnaround for the current quarter, and it will all be based on one weekend.
How about with the actual arena, which seats more than 16,000. Obviously, it's sold out, but only a few hundred tickets actually made it to a public market. Those sold out faster than a Mayweather jab -- actually reports were that it took about a minute to sell out.
The retail price ranged from $1,500 to $10,000, but it's the secondary market that has been eye popping. One story had a UFC champion paying a quarter of a million dollars for two ringside seats.
For the average seat, the market actually has eased somewhat as fight night approaches -- with eyes toward a big payday, more supply has hit the market -- but the buy-in for a seat on the secondary market remains over $3,000.
Then, there's the boxers.
Floyd Mayweather boasted this week that he expected to earn close to $200 million for the fight. That's basically double what he made in all of 2014, which was good enough to make him the highest-paid athlete on the planet -- more than Christiano Ronaldo and Lebron James.
Pacquiao won't make as much, but he almost assuredly will earn enough money to make No. 2 on that list for 2015.
The question for this space: What about the revenue for the publicly traded companies closely tied to this event?
First, a little more on MGM. They get a portion of the gate receipt, which isn't as big as you might think, considering a couple of factors. First, the fighters get some, too. Second, the real money being spent on tickets is in the secondary market, mostly through StubHub (EBAY) - Get Report.
Having said that, a good chunk of the projected record $70-plus million should funnel back to MGM, which is also showing the fight to several thousand on closed-circuit television. From that alone, the company will make more than $5 million from the $150-a-pop tickets. That's just for people watching in and around MGM properties but not in the arena itself.
That the MGM hotel is sold out is a given. That the tables -- from high rollers to low-end blackjack -- will be packed for probably 72 straight hours ... is a given.
Bottom line: Expect second-quarter results to beat even heightened expectations.
Then, there's the viewing outside of Las Vegas. Put aside the dozens of countries where this will be available for purchase. Just focus on the United States.
Bars and restaurants have to pay based on occupancy, so it's expensive. Even huge chains, like Buffalo Wild Wings (BWLD) , are charging a cover because of the high cost. And because of equally high demand, it will probably still be a profitable endeavor.
The total buy across the country is expected to surpass 3 million. (How many emails have you received from friends asking if you wanted to pitch in money for the fight?).
Most providers are charging $90 for standard definition and $10 more for HD. Say the average is $95, and you are talking in the neighborhood of $285 million.
Who gets a cut of that?
The fighters get a portion as do (CBS) - Get Report -owned Showtime and Time Warner's HBO  (TWC) , which are producing the broadcast. Then, a much larger chunk will go toward the providers like Direct-TV (DTV) , Verizon (VZ) - Get Report and Time Warner Cable (TWX) .
If you want to switch to (DISH) - Get Report and sign a long-term contract, you can get it for free.
But as we all know, and it's reinforced by the naked capitalism of this fight, nothing is truly free. Be prepared for a two-year commitment to DISH, to which you will have to pay when it's time for Mayweather-Pacquiao II.
This article is commentary by an independent contributor. At the time of publication, the author held TK positions in the stocks mentioned.