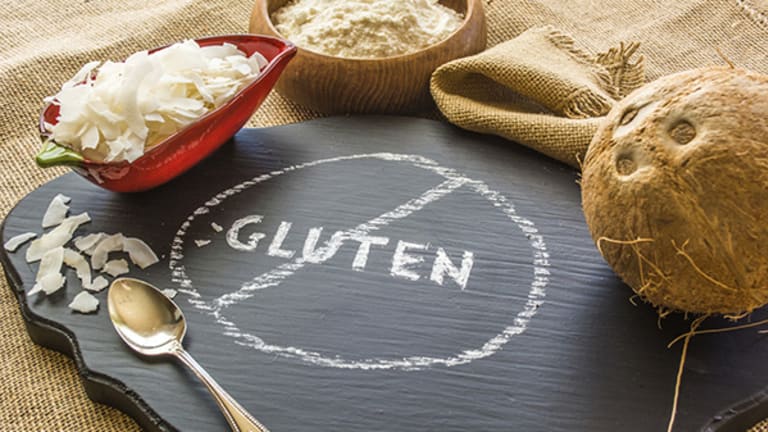 How to Get Stock Exposure to Gluten-Free Movement
Everywhere, there's talk of gluten-free diets. Here's an undervalued growth stock to get exposure to the trend.
NEW YORK (TheStreet) -- The gluten-free diet movement is all over the news and, more importantly, in more and more restaurants. Reports estimate the size of the gluten-free market to be anywhere from $500 million to $10 billion. That's a rather large expanse, but just view it as growth potential.
A gluten-free diet excludes foods containing a protein composite found in wheat, barley, rye and triticale. It is also the only medically accepted treatment for celiac disease, an illness attacking the small intestine due to the presence of gluten. 
There are a few publicly traded companies that sell products aimed largely at consumers honing to a gluten-free diet. They are stocks with small market capitalizations, meaning that share liquidity is low, volatility can be high, factor that can make such stocks difficult or risky to trade. 
RiceBran Technologies (RIBT) - Get RiceBran Technologies Report is a human-food ingredient and animal nutrition based in Scottsdale, Ariz. focused on the procurement, bio-refining and marketing of products derived from rice bran. Rice Bran Technologies has proprietary and patented intellectual property that allows it to convert rice bran, one of the world's most underutilized food sources, into a number of highly nutritious human food ingredient and animal nutrition products.
RiceBran sells products which are used by food manufacturers to create gluten free, hypoallergenic, minimally processed and non-GMO, nutrition-rich products used in pasta, baked goods, pizza dough, cereals, ground meats, healthy beverages and numerous other applications.
RiceBran generated $35 million in revenue in 2013, though it wasn't profitable on the basis of earnings before interest, taxes, depreciation and amortization, or EBITDA, a widely-followed metric. The 2014 forecast is for 69% revenue growth and $2 EBITDA per share. RiceBran has approximately 3 million shares outstanding and a market capitalization of approximately $19 million. 
A second stock focused on the gluten-free market is Senomyx  (SNMX)  discovers, develops and commercializes flavor ingredients for packaged foods and beverage. The San Diego-based company has a market capitalization of $319 million and has forecasted revenue to fall in the range of $32 million to $35 million for 2014, generated a loss of about $10 million to $12 million.
Amira Nature Foods (ANFI) - Get Amira Nature Foods Ltd. Report , which is based in Dubai, United Arab Emirates, engages in processing, distributing, and marketing packaged specialty rice and other food products. Amira has a market capitalization of $459 million and trades at trailing 12-month EV/EBITDA of 9.1.
If RiceBran were to trade at 5 times its 2014 EBITDA, it would be a $10 stock, and at 10 times its 2014 EBITDA, the stock would trade at $20. RiceBran is as a nice way to get exposure to the gluten-free diet movement, which is why I'm long on the stock.
At the time of publication, the author owned ANFI.
This article represents the opinion of a contributor and not necessarily that of TheStreet or its editorial staff.