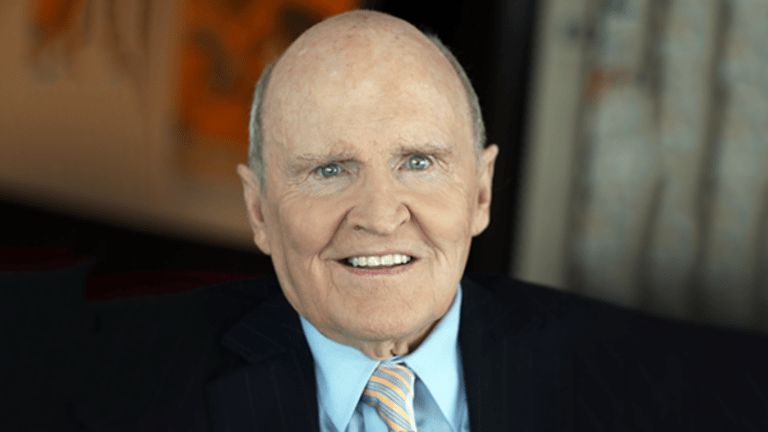 How to Fire People Like Former General Electric CEO Jack Welch
They don't call him 'Neutron Jack' for nothing. TheStreet examines Welch's biggest tips on firing people.
Former General Electric Co. (GE) - Get Free Report CEO Jack Welch is known as one of the most famous and highly regarded managers of all time.
His whip-it-into-shape attitude led to widespread change at GE, trademarked by spartan cost-cutting and wholesale reorganization. Welch earned the nickname "Neutron Jack" for his attitude -- and for increasing GE's value by a massive $300 billion during his 20 years at the helm from 1981 to 2001. He's known as the manager who turned a struggling company into a global leader through sheer force of will.
He's also known for firing people (and so to will be new GE CEO John Flannery).
Here, take some tips from old "Neutron Jack" on how to effectively streamline your workforce.
Rank and Yank
This has become a hallmark of GE's operations. Formally known as the "vitality curve," this rank n' yank system is Welch's most famous practice.
Group your employees into three sections - the top 20%, the middle 70% and the bottom 10%. The top-level employees are the crème de la crème and should be left to continue their good work.
The middle section is the bulk of your workforce, but those workers should be "given coaching, training and thoughtful goal-setting, with an eye toward giving them an opportunity to move into the top," Welch wrote in his 2005 book "Winning." The key is to keep this group motivated and geared toward improving.
And as for the bottom 10%, Welch is no nonsense. "There is no sugarcoating this," he wrote. "They have to go."
No Surprises
Welch has said his first rule of firing an employee as a manager is to avoid any element of surprise. Your workplace ought to be built on constructive criticism and feedback.
Expectations should be so clear that anyone in the aforementioned bottom tenth of your firm knows they'll be there before the ranking and yanking starts. "Anybody who is fired and surprised? That's the bosses' fault," Welch said on Bloomberg TV in 2015.
Keep the Roster Fresh
"The team that wins fields the best players," Welch said. "A leader's job is to sweep away the action blockers, the change resisters, the process obsessives ... these people are nothing more than self-appointed, self-righteous scolds. They drain energy," Welch wrote in his 2015 book "The Real Life MBA." Even if an employee isn't in the bottom 10% of performers, know when they're dragging others down.
Watch: You can Become a Millionaire if You Make $35,000 a Year
More of What's Trending on TheStreet: