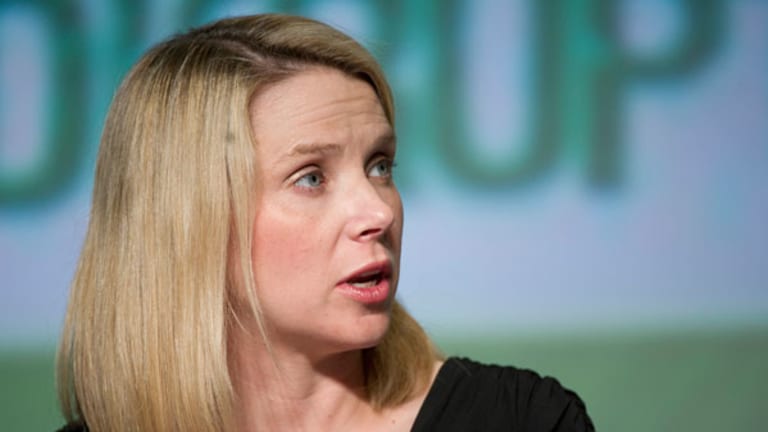 How to Cover Your Assets in a Speculative Stock Position
A plan and some discipline can help make spec investing less risky.
A plan and some discipline can help make spec investing less risky.
NEW YORK (TheStreet) -- Speculative investing gets a bad name.
That's because too many investors treat it like they do phone calls, text messages,
Facebook
posts and Tweets after having too much to drink. Drunk dialing, texting, Facebooking and Tweeting are all sloppy, not very well-thought out endeavors that tend not to end well.
When you speculate, you should do it not only in moderation, but with companies you know well.
All too often, investors associate low-priced stocks or once-healthy, now-depressed companies with speculation. While these and similar factors might ultimately be ingredients of a speculative play, you absolutely cannot use them -- in and of themselves -- to identify specs.
I like to take spaces I know well and search for speculative opportunities within them.
For example, I break media and telecommunications stocks down into large companies with their hands in a bit of both (e.g.,
VZ, T, RCI, BCE
), pure-play old guard media (e.g.,
TWX, DIS, NWSAB
) and new/social media tech types such as
Yahoo!
(YHOO)
and
Pandora
(P)
.
Because I know the space well and have had success with several of its not-so-speculative plays, it makes sense to up the risk here and there.
As a general rule, I do not go long a speculative stock if it's not optionable. It must not only have options available to trade, but there needs to be liquidity and a healthy selection of strikes and expirations. Sufficient volume to keep me away from crazy bid/ask spreads helps as well.
Consider Yahoo!
In
Marissa Mayer is a Woman, Hear Her Roar and Buy Yahoo!
, I suggested that, with the stock trading around $15.80, it might be time to buy.
I did just that, accumulating a small position at a cost basis of $15.89. The stock promptly ran past $16.00, pulled back and then, after closing Monday's session at $15.77, bolted to around the $16.50 level in earnings-induced after-hours trading. In case you missed it, Yahoo! turned in a
Monday afternoon.
On Friday, I wrote weekly YHOO $16.50 calls (expiring Oct. 26) against part of my position.
That's the type of hedge I like to make on speculative plays. The premium I collect from writing the calls helps cancel out or offset downside, depending on the extent of it. And, if I get my shares called away, so be it. I will have returned 4% on the trade (buy at $15.89/sell at $16.50) in just over a week's time.
On broad market weakness or something stock-specific, I can buy more YHOO shares to add to what's left of my position, assuming the bulk of it gets called away at options expiration. For the record, I don't think it will.
Now, consider Pandora.
I accumulated shares, settling on a cost basis of $10.19.
Hindsight can have this effect, but I could kick myself for not taking at least some profits in Pandora at or around its Sept. 6 closing high of $12.57.
Thanks to rumors that
Apple
(AAPL) - Get Report
has plans to introduce a competing service, the stock sunk as low as $9.95 on Sept. 7, closing that session at $10.47. It's been a rough ride from there. Pandora has spent time under $9 per share, ending the day Monday at $9.10.
If I sell at $9.10, I record a 10.7% loss on the trade. Not awful, but considering the 20-plus percent gain I let slip away, it's a minor irritant.
Here's what actually happened. I ended up selling some, though not all, of my Pandora position at $9.00 over the weekend. That's because I got assigned on Pandora Oct. $9.00 calls I wrote against the position. I was merely continuing a strategy I have had in place for months -- writing around-the-money calls against 600 shares of Pandora.
A straight stock sale at $9.00 from a cost basis of $10.19 results in an 11.7% loss. In real dollars, that's proceeds of $5,400 from a cost basis of $6,114. Again, not very satisfying. Of course, that's not what I did because that's not how I roll.
It takes some discipline to stick to prudent rules you set for yourself, particularly when dealing with speculative plays. That's because of the huge reward you often calculate in your head on stocks with significant upside.
I fell victim to that emotion when I was up 20%. I got greedy. That can turn a winner into a loser in the blink of an eye. I kick myself a little less for not taking profit, however, because I stayed true to my options strategy, even though I knew it might result in not only having my shares called away, but at less than market price.
I have written Pandora covered calls a total of six times in recent months. That covered call writing generated about $832 worth of income. For the record, I bought calls back for a gain three times, had them expire worthless twice and was assigned on the transaction this past weekend.
Factor that $832 into the proceeds from my sale of Pandora shares at $9.00 and, not including transaction costs, I made money on the position. Thanks to aggressive covered call writing, my would-be double-digit loss is actually a 1.9% gain. Throw commissions in the mix and I'm slightly above breakeven.
It doesn't always work out quite so textbook, but with some discipline that includes sticking to a covered call options strategy, you set yourself up for less pain -- or not much pain at all -- when a speculative play hits speed bumps.
At the time of publication, the author was long P and YHOO
.
This article is commentary by an independent contributor, separate from TheStreet's regular news coverage.
Rocco Pendola is a private investor with nearly 20 years experience in various forms of media, ranging from radio to print. His work has appeared in academic journals as well as dozens of online and offline publications. He uses his broad experience to help inform his coverage of the stock market, primarily in the technology, Internet and new media spaces. He has taken a long-term approach to investing, focusing on dividend-paying stocks, since he opened his first account as a teenager. Pendola, 37, is based in Santa Monica, Calif., where he lives with his wife and child.