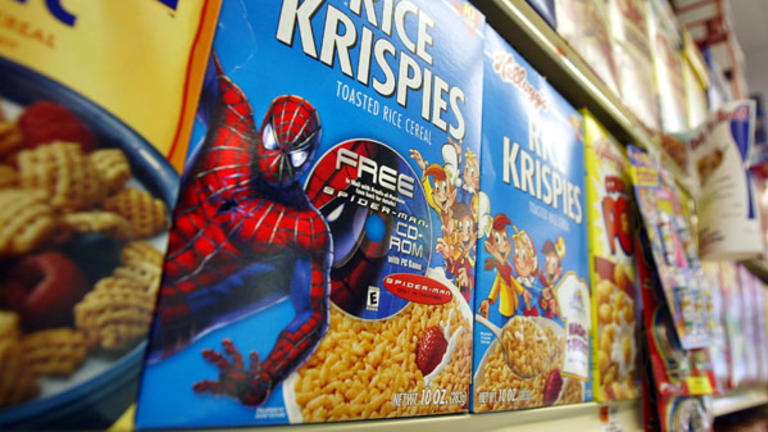 Publish date:
How to Capitalize on Kellogg's Takeover Rumors
Kellogg's investors should focus on the critical upcoming quarterly results instead of acquisition plans.
Kellogg's investors should focus on the critical upcoming quarterly results instead of acquisition plans.
NEW YORK (TheStreet) -- Kellogg's (K) - Get Kellogg Company (K) Report shares rose 6% Thursday following speculation that the company may be a takeover target. Is this a likely scenario for the branded cereals and snacks company?
With a market capitalization of around $23 billion, any bidder would need big pockets. Looking back through history, one sees that bigger deals in the branded consumer goods sector have occurred.
In February 2013, a consortium including Warren Buffett bought Heinz for just over $28 billion. When the deal was announced, Buffett placed great emphasis on the strength and sustainability of the Heinz brands. A similar case could be made with Kellogg's. Few households in North America or Northern Europe will not have a packet of at least one of the company's core brands such as Corn Flakes, Special K, Pringles or Nutri-Grain in their cupboards.
Despite good brands, recent corporate results from the company have disappointed, with company guidance suggesting that "underlying internal operating profit" is expected to rise between 0% to 2% in 2014. Pretty dull.
This low profitability increase centers on consumers around the world impacted by austerity downtrading to cheaper supermarket generic brands or just simply consuming less. Kellogg's has hiked advertising and marketing to try to battle back. It has launched a cost-cutting campaign called "Project K" that will send about 7% of the company's workforce packing.
Any impacts from these initiatives will take time. The same is true with Kellogg's push into emerging markets.
This is a brand that will survive for many years but that does not directly mean that it becomes a bid target. As the company has not formally said anything, investors should assume there is currently nothing to say. More likely is that rumors like the one driving up Kellogg's share price are based on investment bank hype than anything else.
Years of cheap money combined with distance from the financial crisis have boosted financial sector confidence to the extent that only the very largest companies could be deemed bid-proof. The reality is that most of these rumored takeovers and deals are based on no underlying firm ground at all.
Investors would be wise to focus more on profit or cash flow trends than listening to the latest takeover and deal talk.
As for Kellogg's shares, I anticipate that they will lose the bump from Thursday's rumor.  Investors should focus much more on the company's upcoming quarterly results on May 1 for insight into the share price outlook for the company.  
At the time of publication, the author held no positions in any of the stocks mentioned.
This article represents the opinion of a contributor and not necessarily that of TheStreet or its editorial staff.