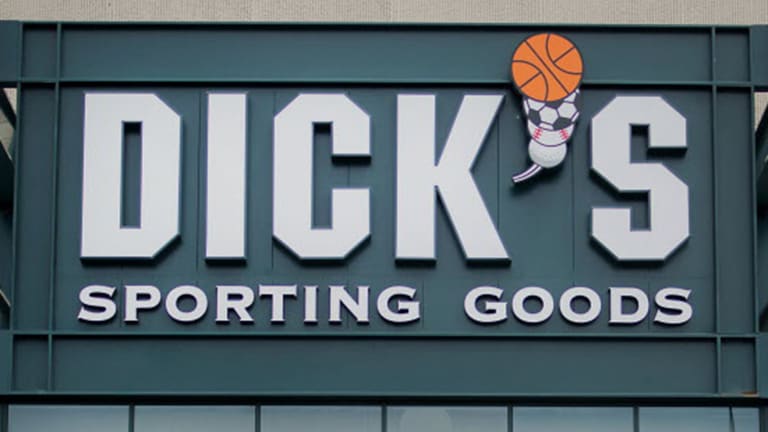 How This Options Trade on Dick's Sporting Goods Returned a Quick 32% Profit
If you used this recommended stock options trade to bet on a rebound in shares of Dick's Sporting Goods (DKS) following its earnings report, you made a sweet profit.
Dick's Sporting Goods (DKS) - Get Dick's Sporting Goods, Inc. Report shares slumped last Tuesday after the retailer announced disappointing quarterly results. This article published Wednesday morning said that the selloff was an overreaction and that the stock would bounce back. The article also recommended that investors sell a put option to profit from that expected rebound.
The updated chart shows what has happened.
As of Friday afternoon, shares of Dick's Sporting Goods had come back enough to make the recommended sale of a put option profitable. The recommendation was for the sale of the December 36 put option with a bid of 1.10. Including trading costs, selling that put would have netted $101. Around 1:15 p.m. EST Friday, shares of the stock had risen to $38.78. At that time, the ask for the 36 put was 0.60, meaning that buying back the option it to close the recommended trade would have yielded a net profit of $32 in just three days. That's a 32% profit in a short time. Note also that since Friday afternoon the stock has traded even higher. Early in Monday's session, it was trading at $39.18.
This article is commentary by an independent contributor. At the time of publication, the author held no positions in the stocks mentioned. 
Besides blogging at TheStreet.com, Michael Thomsett also blogs at theCBOE Options Huband several other sites. He is author of 11 options books and has been trading options for 35 years.  Thomsett Publishing Website