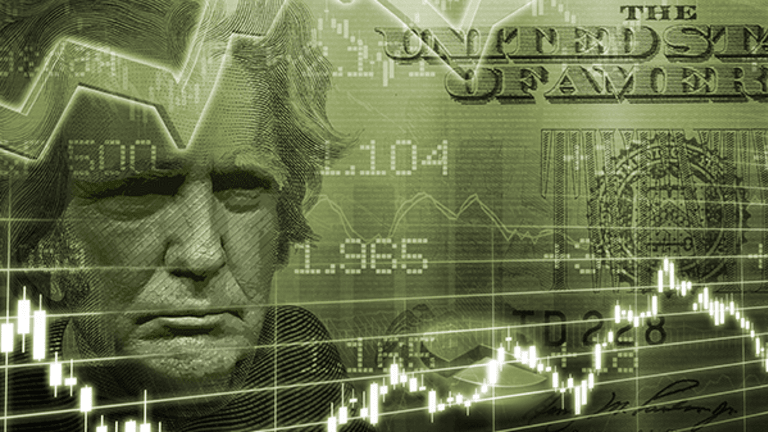 How the Trump Trade Survived a North Korean Missile, Russian Sub and the NYT
Commentary: The markets are singularly focused on tax and regulatory reform.
On the darkest day yet for the Trump Administration, Wednesday, with national media and intelligence officials swarming, the second of the President's proposed advisers out in two days, a new North Korean threat in play, and a Russian sub off the coast of Connecticut, the markets... rose?
Not only rose but surged to another record, the longest run in 25 years, since the first President Bush. Nasdaq, Russell, Dow, FANG, financials, retails, transports; the worse the drama out of Washington, the bigger the tear.
It's not the Fed, which is sticking to its plans for more rate rises despite a higher dollar. It's not Europe or Asia markets, which also are strong, but not leading. Bibi? Forget it.
What's happening here is the home stretch of one of the most powerful bull markets in memory, which next month turns eight years old. Most bulls are happy with a good five. Eight is amazing. But the thing about these final lunges is that they can go on far longer than anyone expects. Just ask Warren Buffett or Carl Ichan, both buyers at these inflated price-earnings levels.
My colleague Jim Cramer, whose column today somehow combined the rally with Jim Jones and the Kool-Aid massacre at Jonestown, which he covered in the '70s, points out that behind the hysteria, some of the numbers look pretty solid. Particularly the transports, which in Wall Street lore need to confirm a Dow Jones Industrials high with a high of their own to give it credibility. As Jim points out, that's happening.
The financials were so oversold that their rally is easier to believe, and the techs continue to push higher despite the scene over immigration and H-1B visas. On Wall Street, deals are off to a strong start, with more than 335 just since the start of the year, including the Softbank purchase of Fortress Investment Group this week and the approval by Time Warner (TWX) shareholders to sell the media giant to AT&T (T) - Get AT&T Inc. Report for $85.4 billion.
Every market run needs a rallying cry though, and this time it's the steady drumbeat of a roll-back in financial regulation and a massive tax reform package, which promises to cut corporate tax rates. Forget that these both will be difficult to achieve; just the attempt is so welcome by Wall Street that it's good enough. Any major threat to either of these will hit markets hard, as would, I think, any attempt by Trump to take on Janet Yellen in a combative way. Though that's never stopped him before.
It's tempting to think that like everything around the new president, it's all about him. That it's some massive battle between the media and Trump's supporters. That each time the New York Times or Washington Post turn over another rock and find another scandal, the buy orders kick in and take us higher. A reality-themed, trillion-dollar, end-of-the world bet on the staying power of King Donald of Orange.
It's not. It's more than that. It's a breakout almost a decade in the making, primed by a new theme and new players, detonating the uncertainty of the interest-rate-spike era with a new uncertainty far more chaotic, fast-paced, and exhilarating. As another colleague, Real Money columnist Doug Kass, coined in a speech at The Money Show last week in Orlando, Trump has made volatility great again.
It's a story that's well overlooked in the circus of insults and accusations that dominate most of the news cycle these days. It may end next year. It may end Thursday. And when it does, there will be hell to pay. In the meantime, forget fake news. This is the one thing in this whole upside down new world of ours that is real.
David Callaway is Chief Executive Officer of TheStreet, Inc.